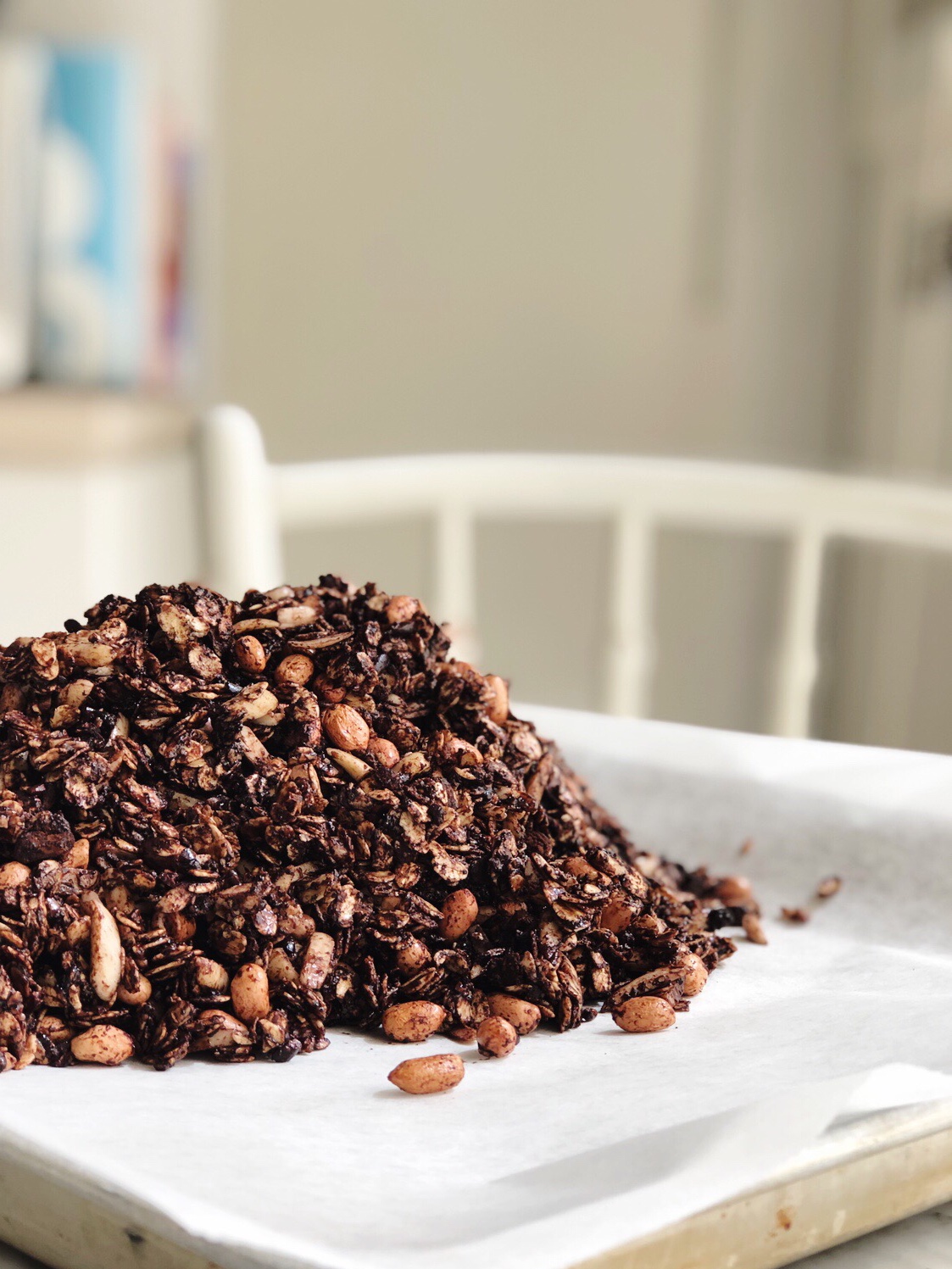 This is my absolute favourite chocolate granola recipe. It's studded with peanuts and almond slivers, as well as cacao nibs. And just as it emerges from the oven, we stir dark chocolate pearls into the chocolate granola. The residual heat melts the chocolate, resulting  in a chocolate granola which gives us the license to have chocolate nut clusters for breakfast. I add quite a generous helping of kosher salt to the chocolate granola to allude to the Snickers bar on the palate, but feel free to adjust the salt to your taste preference.
Our family obsession with dark chocolate
Our household consumption of dark chocolate has skyrocketed since T2 has been able to articulate her food preferences. The chocolate and chocolate products we like to work with most in the kitchen are from Valrhona (not a paid post. I've been a Valrhona fan for nearly two decades). For this chocolate granola, we use the French chocolate manufacturer's cacao powder, cacao nibs, as well as dark chocolate baking pearls (their luxe equivalent to chocolate chips).
But T2's greatest contribution to this chocolate granola recipe is her commitment to ensuring that all the ingredients are evenly dispersed using her "bottom to top, stir, stir, stir" method. I've observed her technique. She scoops up the cacao powder and coconut sugar from the base of the bowl, tossing it to the top of the chocolate granola mixture. Then she stirs it in carefully to ensure that the finer ingredients don't all settle to the base.  
Granola prep tips
I've come to realise that the size and cut of the ingredients also impact your experience of eating a granola quite dramatically. Both T2 and her paternal grandfather object to having whole nuts in their granola. This family quirk forced me to pay closer attention to mouthfeel when I prepare granola. Almond slivers and slices are great additions. Peanuts aren't too large either. But pistachios, hazelnuts, pecans, walnuts work better crushed.
While I absolutely love having peanuts and almond slivers in this chocolate granola, T2 and I devised a version that contains sunflower seeds (her favourite), pumpkin seeds and a small portion of sliced almonds. This is her favourite way to have chocolate granola (see second ingredient list below).
It's also important to pay attention to oven temperatures (purchase an oven thermometer, it'll save you from the heartache of many baking disasters). And I use the timer function on my smartphone to remind myself to stir the chocolate granola every 15 minutes.
Chocolate granola isn't just a breakfast food
Depending on the ingredients you choose to use in your granola, each batch yields between 800g to 1 kg. One of my favourite ways to enjoy this chocolate granola is to drizzle it with milk, top it with Greek yoghurt (both full fat because flavour otherwise suffers), then spoon roasted cherries over it (recipe to come). But don't limit yourself to having this chocolate granola only at breakfast time. It's just as delicious sprinkled over ice cream or incorporated into a plated dessert. I'd scoop it into clusters for all day snacking.
Chocolate Granola
(peanuts & almond slivers)
300g old fashioned rolled oats
170g slivered almonds
150g raw peanuts
30g cacao nibs
40g Valrhona unsweetened cacao powder
80g coconut sugar
1.5tsp kosher salt
75ml grade B maple syrup
75ml olive oil
150g Valrhona dark chocolate pearls 55%
Tara's Chocolate Granola
(sunflower & pumpkin seeds)
300g old fashioned rolled oats
125g raw pumpkin seeds
135g raw sunflower seeds
55g sliced almonds
30g cacao nibs
40g Valrhona unsweetened cacao powder
80g coconut sugar
1.5tsp kosher salt
75ml grade B maple syrup
75ml olive oil
150g Valrhona dark chocolate pearls 55%
Method
Preheat the oven to 150° Celsius using the convection/fan setting. Line a rimmed half sheet pan with parchment paper.
In a large bowl, combine all the dry ingredients except the chocolate pearls. Stir to mix. Add the olive oil and maple syrup, and stir until well combined.
Spread the mixture in an even layer on the prepared sheet pan. Bake, stirring every 15 minutes, until the granola is dry to the touch and toasted, about 55 minutes.
Stir in chocolate pearls and place on a rack to cool completely. Store in an airtight container.
Su-Lyn is Aun's better half and for many years, the secret Editor behind this blog known to readers simply as S. Su-Lyn is an obsessive cook and critical eater whose two favourite pastimes are spending time with her three kids and spending time in the kitchen. She looks forward to combining the two in the years to come.