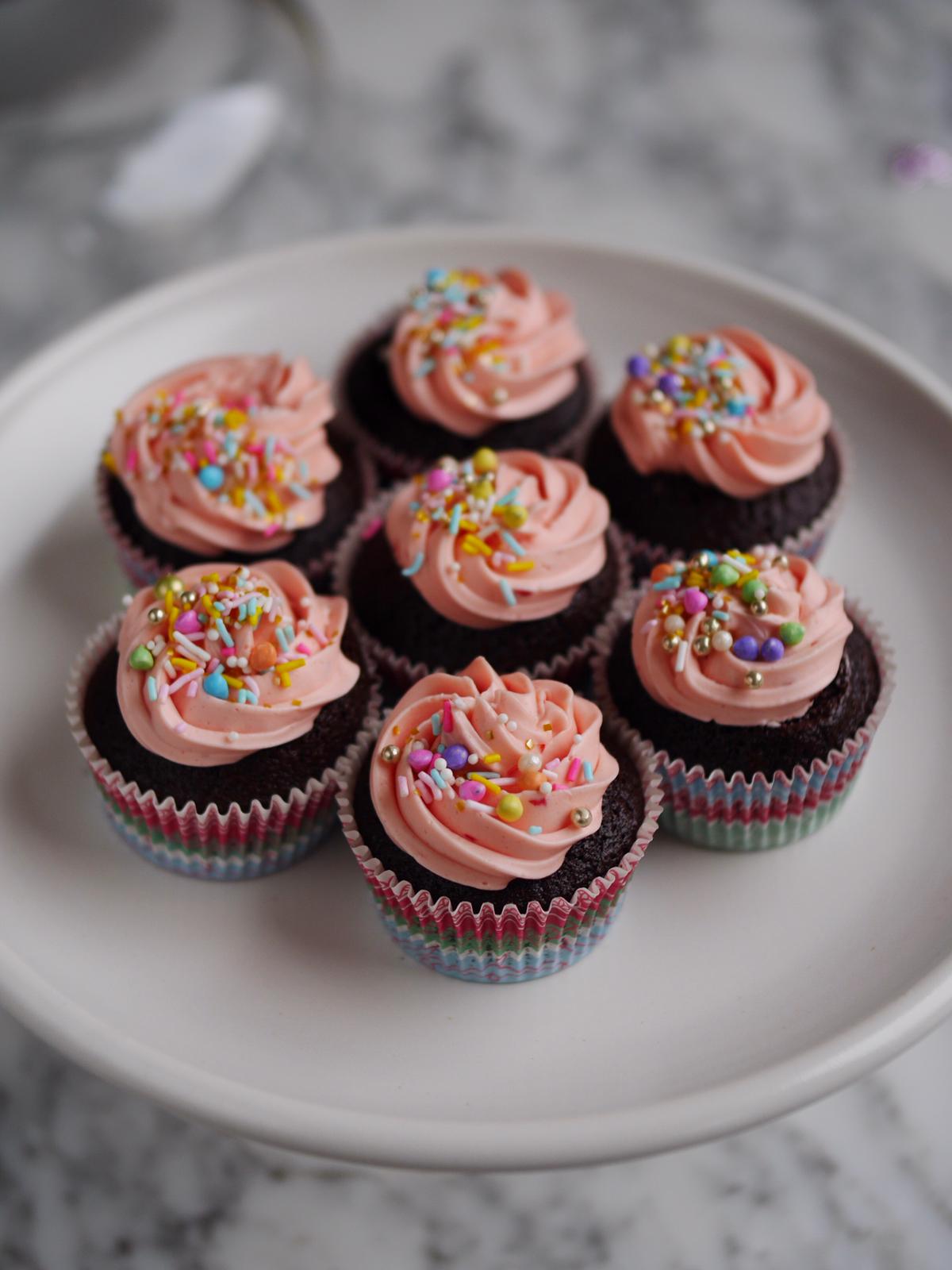 This is the sort of madly moist, easy-to-make chocolate cake recipe that gets passed down generations. I first discovered it when I made this elaborate multi-component dessert aeons ago. I was blown away by the chocolate cake's flavour and texture. It reminded me so much of the simple, yet deeply satisfying chocolate cakes of my childhood—the sort you associate with kids' birthdays as well as after school treats selected from the supermarket freezer section. I found myself scarfing down the cake trimmings when no one was watching.
This easy chocolate cake recipe is unsophisticated for all the right reasons. While I rarely found the opportunity to make it, it was a recipe that firmly wedged itself into the filing cabinet at the back of my mind. The original cake recipe was a little vague in certain respects. So, as I returned to it now and then, every couple of years or so, I'd tweak and refine it with notes scribbled in the margins.
I've finally gotten around to writing it all down, inserting my preferred ingredient quantities and steps. This is the chocolate cake equivalent to the little black dress. It serves well in a multi-layered cake destined for decoration. It would also perform well in a cupcake format injected with salted caramel or topped with chocolate-peanut butter ganache. But it's equally moreish baked into bite-sized snacks for constantly ravenous children.
This is is the sort of moist chocolate cake I'd stash away in the freezer in case of last-minute dessert emergencies.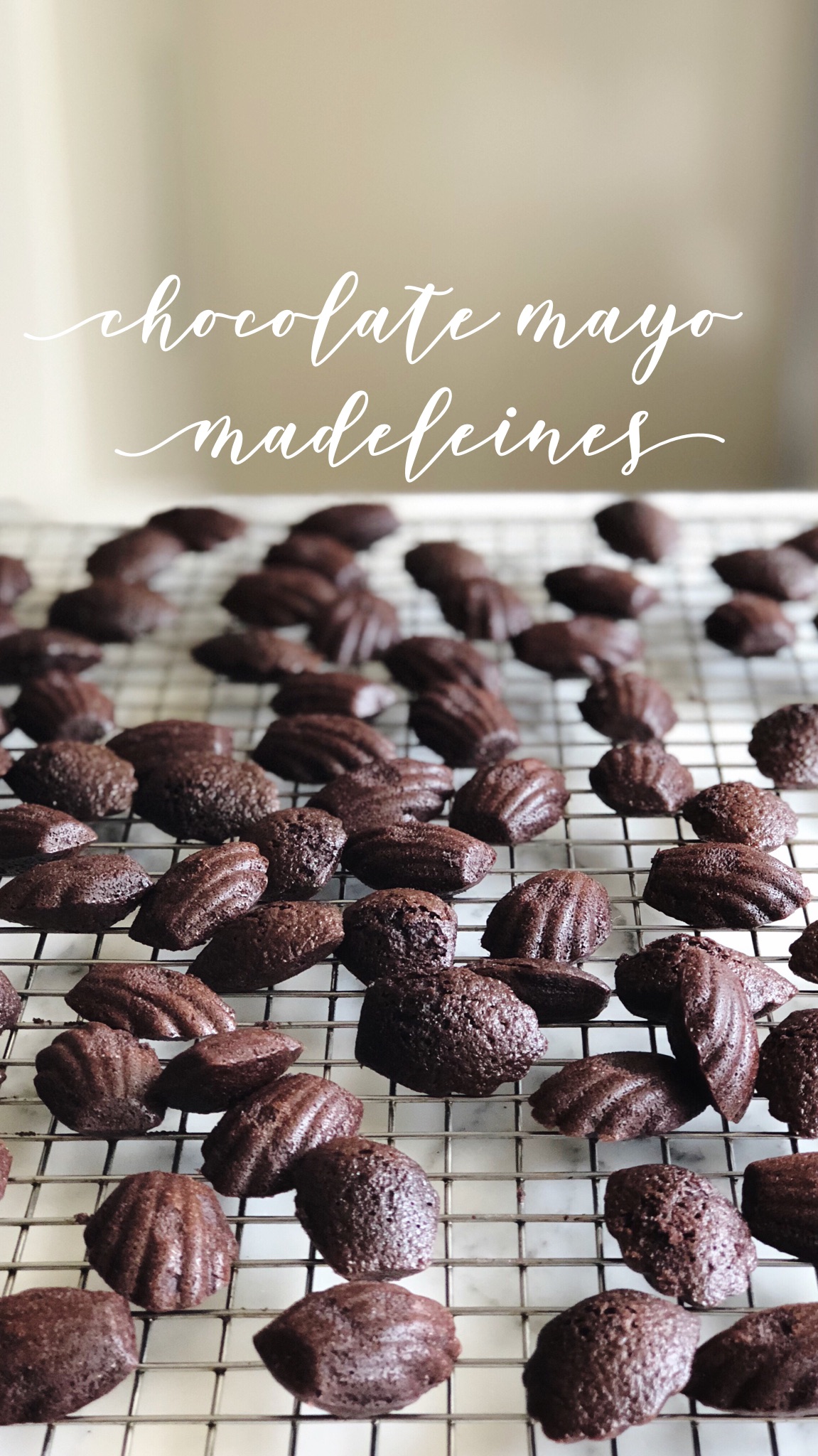 Super moist chocolate mayo cake
Makes two shallow 6 inch cakes or at least 200 mini madeleine shapes
290g all purpose flour
60g Dutched cacao powder
1/2 tsp fine sea salt
1 1/4 tsp baking soda
1/4 tsp baking powder
3 large eggs
330g castor sugar
240g store bought mayonnaise
1 tbs pure vanilla extract
335ml (1 1/3 cups) water
Pre-heat oven to 180 degrees Celsius using the convection setting. If using a baking pan, grease and line base and sides with baking paper.
Combine flour, cacao powder, salt, baking soda and baking powder. Sift and set aside.
Place eggs in the bowl of a cake mixer. Whisk on low just until the eggs break up. Gradually add sugar and whisk on medium until the mixture is pale yellow and forms a slight ribbon (about 5 minutes). When the whisk is lifted, a bit of the mixture should fall from it and form a ribbon which dissolves on the surface.
Replace whisk with the paddle attachment. Add mayonnaise and vanilla. Beat until combined.
Next, I ncorporate the flour mixture in four additions alternating with a third of the water each time. Beat on medium-low each time until well combined, scraping down the sides of the bowl if necessary. The batter will be watery. You will wonder if you've either messed up somewhere or this recipe is abysmally flawed. Fear not and carry on.
Pour the batter into prepared cake tin or silicone moulds. I used silicone mini madeleine moulds.
For cake tin: bake for 20-30 minutes or until a cake tester inserted into the centre comes out clean and the top springs back when lightly pressed. Let the cake cool in the pan for 20 minutes before inverting onto a wire rack. Cool to room temperature. Wrapped tightly in cling wrap, it can be stored at room temperature for up to 2 days.
For mini madeleine moulds: bake for 10 minutes or until a cake tester inserted into the centre comes out clean and the top springs back when lightly pressed.
Su-Lyn is Aun's better half and for many years, the secret Editor behind this blog known to readers simply as S. Su-Lyn is an obsessive cook and critical eater whose two favourite pastimes are spending time with her three kids and spending time in the kitchen. She looks forward to combining the two in the years to come.