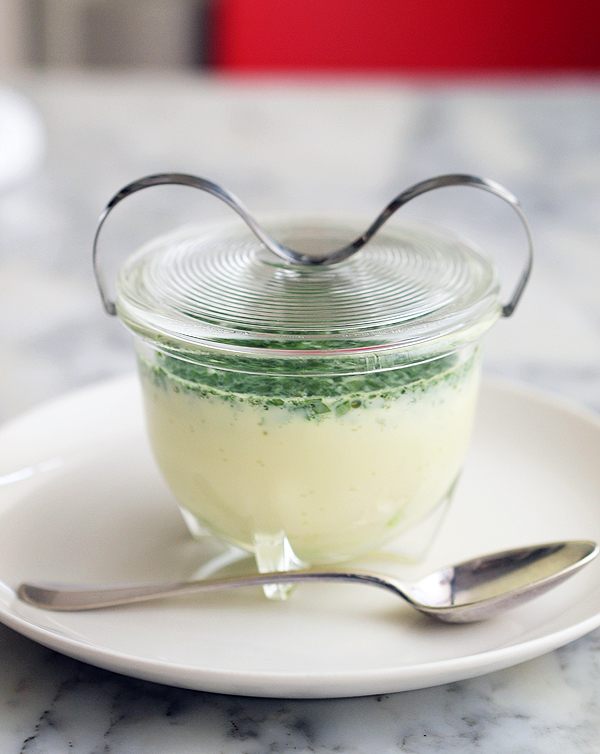 Whether I'm making chawanmushi (茶碗蒸しwhich broadly means 'steamed in a teacup' but specifically refers to Japanese steamed savoury custard), zheng shui dan (蒸水蛋 or steamed eggs), egg tofu or a savoury custard of my own invention, my base ratio for the custard ingredients is 1 egg to 100ml liquid. With this master recipe, the custard consistently retains a meltingly delicate quiver that possibly accounts for its comforting, nursery-food like qualities. And it takes just 20 minutes to steam.
The first zheng shui dan recipe (3 eggs to 450ml stock) I used (back in university) was from the first Chinese cookbook I had ever bought, Kenneth Lo's Classic Chinese Cuisine. It served me well (it is the basis for my own minced pork and steamed custard recipe) and I probably used it for a good decade before I tried Shizuo Tsuji and Koichiro Hata's chawanmushi recipe in Practical Japanese Cooking (3 eggs to 600ml stock), which became my go-to choice when I made chawanmushi. The high stock to egg ratio gives you a sexily soft, barely set texture. But both recipes would always take what felt like an interminable length of time (45 minutes or more) to cook—yes, even when the chawanmushi was steamed in individual cups. This made them dishes that couldn't be thrown together after a workday unless we wanted to eat at 9pm. It was only when I recently adapted a recipe for spinach tofu from New Chinese Cuisine, the TungLok Group's cookbook which I'd once used with great success for a Chinese new year reunion dinner menu, that I realised how the egg to liquid ratio could be appropriated for a range of savoury custards.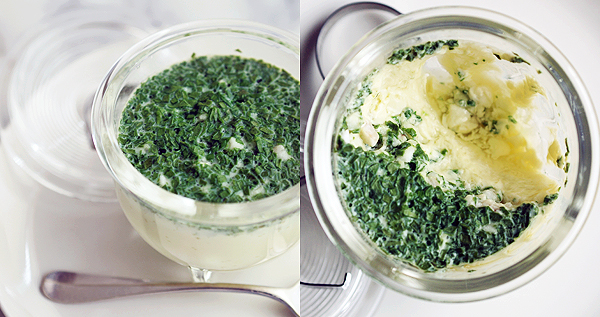 I've been using this savoury custard master recipe regularly because we've discovered that savoury custard is one of the dishes that appeals to my 18 month old son T when he's feeling under the weather. It's clearly a comfort food for him. I guess he's truly a chip off the old block. CH is happy to eat savoury custard filled with minced pork studded with salted duck egg yolks for dinner once a week!
For T, I often use homemade soymilk (or in a pinch, unsweetened soymilk from Medi-ya where it is made fresh daily) as the base liquid and add finely chopped spinach or other leafy green, finely diced vegetables (carrots or pumpkin for some sweetness) and diced fish or minced pork or chicken. He loves it served with rice. Alternatively, when we make chawanmushi or Chinese steamed eggs for the family, we simply adjust the seasoning and fillings in his portion to suit his preferences.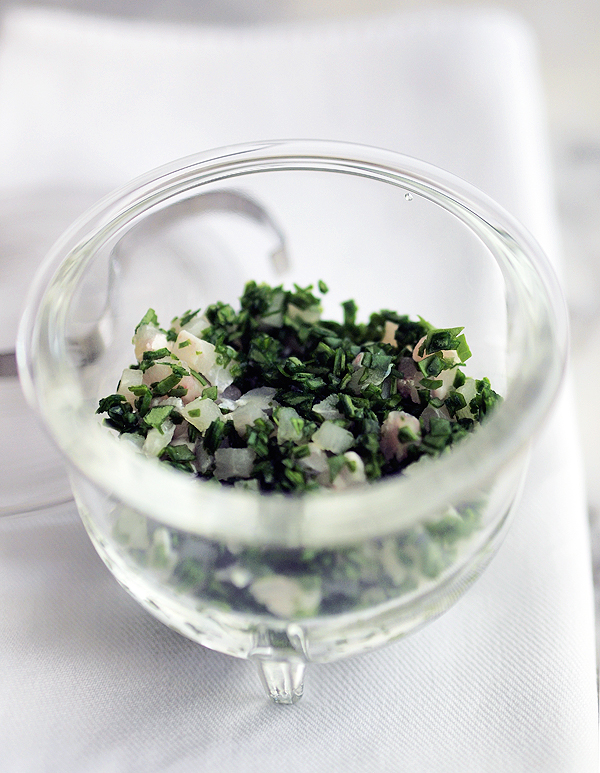 For chawanmushi, I use homemade dashi seasoned with mirin, usukuchi (light soy sauce) and salt as the base liquid and fill each bowl with bite-size pieces of blanched prawns, marinated cubes of chicken thigh, ginkgo nuts or whatever else I happen to have that is appropriate (the danger merely lies in overdoing it); for Chinese steamed eggs, I use seasoned homemade chicken stock and usually fill each bowl with CH's favourite soy sauce and sesame oil marinated minced pork stir-fried with shallots and garlic plus a chunk of salted duck egg yolk. To make the spinach tofu that is served at many Chinese restaurants here in Singapore, I just use soymilk seasoned to taste and add finely chopped spinach.
This is a dish you can easily dress-up or down. One of my favourite menus is chicken rice paired with plain Chinese steamed egg that has been carefully seasoned with just soy sauce and sesame oil (and when I don't have the time to cook it, I go to Sin Swee Kee for my fix. They serve theirs with century egg and salted duck egg). At the other end of the spectrum, we glammed it up for a Chinese New Year reunion meal and topped it with slices of abalone and a rich, heavily reduced stock .
Steamed Savoury Custard Master Recipe
This recipe can easily be multiplied to yield more portions. I usually combine all the eggs and liquid and season them collectively, but I prefer to steam them in individual portions to reduce the cooking time. If everything is in one large dish, it needs to be steamed for a longer period of time. With individual portions, it's also easier to alter the ingredients for T. Please note that you're meant to choose one of the fillings listed below, not use all of them simultaneously.
Serves 1
Toddler's filling
50g boneless fish fillet, finely diced or 30g minced pork
1 tbsp minced baby spinach leaves
1 tbsp finely diced carrot or pumpkin
Chawanmushi filling
½ large prawn, peeled and cut into 1cm lengths (about 3 pieces), quickly blanched
2 cubes (measuring 1cm) of chicken thigh sprinkled with sake and soy sauce
1-2 cooked gingko nuts
Minced pork and salted egg yolk filling
Please refer to the recipe here, using roughly 30g of minced pork per individual serving.
Custard
1 large egg
100ml dashi, chicken stock or soymilk (depending on the kind of custard) seasoned with a pinch of salt, 1 tbsp light soy sauce and 1 tsp mirin (for 4 portions of chawanmushi) or just a pinch of salt to taste (for the other custard variations), then cooled to room temperature
Preheat a steamer. I use a combi-steam oven set at 100° Celsius and 100% humidity.
Place the fillings of your choice into a heatproof container.
Beat the eggs lightly with a pair of chopsticks and combine with the stock. The goal is to combine the liquids without creating too many bubbles. Strain the egg mixture into the heatproof container, over the fillings. Try to keep the sieve as close to the container as possible as this minimises the distance that the egg mixture travels from the base of the sieve into the container. This minimises the creation of bubbles.
Cover and steam for 20-22 minutes until set but still wobbly in the middle. If you're making the minced pork and salted egg yolk version, dress the top of the custard with some soy sauce and sesame oil, and garnish with chopped spring onions.
Su-Lyn is Aun's better half and for many years, the secret Editor behind this blog known to readers simply as S. Su-Lyn is an obsessive cook and critical eater whose two favourite pastimes are spending time with her three kids and spending time in the kitchen. She looks forward to combining the two in the years to come.