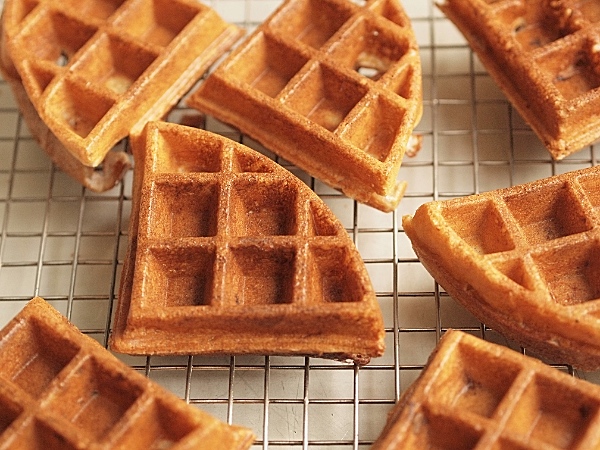 Two years ago, I bought a Belgian waffle iron purely on the strength of Molly's post recommending two outstanding waffle recipes, Marion Cunningham's yeast-raised one and the Food Network's Waffles of Insane Greatness (WIG). Prior to reading Molly's post, I had never considered making waffles at home. Waffles weren't even high on my list of favourite breakfast (or dessert) dishes. Today, waffles are permanent fixtures on my breakfast repertoire. Both T and CH love homemade waffles. The recipe for Waffles of Insane Greatness resides in my Blackberry because WIGs deliver a shatteringly crisp exterior (a priority in CH's books) while maintaining a tender, moist interior (vital to T). And because they don't call for yeast, they can be made pretty much at the drop of a hat (of high importance to me).
Why am I only sharing this recipe now? I guess things have been a little insane with our little man of late. Over the past month, he came down with the flu, then a cough, and now an intestinal bug. So, he has been sleeping badly and he's lost his appetite. Dealing with sustained sleep deprivation, projectile vomit and a kid that doesn't yet know how to blow his nose leaves mommy a little barmy, too. Somehow, in situations like these, whipping out a recipe with a trippy title like Waffles of Insane Greatness seems appropriate.
Earlier this week, while the rest of the family was fast asleep, T and I were in the kitchen at 5am making WIGs because T woke up with a tummy ache and couldn't be coaxed back to sleep. He sat in his high chair nibbling on toddler-friendly homemade nut-free granola, occasionally raising his arms to rock to a favourite tune—Elmo's Song rates high on his playlist (I am grateful that our son generally remains genial even when ill). Across from him, I measured out waffle ingredients. In my sleep-starved stupor, I mistakenly added ground cinnamon to the wet rather than dry ingredients. Thankfully, it made no perceptible difference to the finished product. As I took in our little domestic tableau, I concluded that it was rather apt that we were making Waffles of Insane Greatness. Our life is currently insanely great and greatly insane.
These waffles, on the other hand, are always great—no insanity required. My own little tweak to this popular recipe is to occasionally add a little fruit to the batter. They are best served straight out of the waffle iron, although they hold up well to freezing and reheating. They are lovely topped with a pat of butter and drizzled with maple syrup. But I personally prefer mine with jam, especially the soft set kind that Christine Ferber is adored for. Sometimes I serve these waffles with a quick blueberry compote and some whipped cream. T gets his served with the faintest drizzle of maple syrup or topped with homemade apple puree. He also enjoys them neat. My unhealthy husband likes to slather his with whipped cream and maple syrup. And recently, he's whipped up a batch of peanut butter caramel which he likes to dollop on the waffles with great glee. For dessert, whipped cream, homemade vanilla ice cream, lashings of David Lebovitz's CBS (caramel beurre sale) and chocolate fudge sauces from The Perfect Scoop and a sprinkle of toasted almond flakes do make these waffles ludicrously good.
P.S. The 30-minute wait for the batter to do its thing was the perfect interval for me to give T his bath. Thereafter, he ate almost an entire cinnamon-banana waffle, which I hope means that he's on the road to recovery. I usually have half or two-thirds of a waffle at most.
P.P.S. If you're searching for a whole-wheat waffle recipe, do check out our  contributor, Dawn's awesome recipe!
Waffles of Insane Greatness
Adapted from Molly Wizenberg's blog, Orangette. These waffles are great as they are. But if you wish to add some fruit, I have included apple and banana waffle options which are highlighted in red. I've also read that cooked bacon bits are lovely sprinkled into the batter.
Makes 3 waffles on the Waring Pro
105g (¾ cup) all-purpose flour
30g (¼ cup) cornflour/corn starch (not cornmeal)
½ tsp baking powder
¼ tsp baking soda
½ tsp fine sea salt
1½ tsp sugar
(Optional) For apple waffles: ¼ tsp ground cinnamon; ¼ tsp ground ginger;  ⅛ tsp allspice
(Optional) For banana waffles: ¼ tsp ground cinnamon
120ml (½ cup) whole milk
120ml (½ cup) buttermilk
80ml (⅓ cup) vegetable oil (I use coconut)
1 large egg, lightly beaten
1 tsp pure vanilla extract
(Optional) For apple waffles: ½ apple, grated
(Optional) For banana waffles: 2-3 small bananas (between 85-130g), peeled and roughly mashed
In a medium bowl, combine the flour, cornflour, baking powder, baking soda, salt, sugar and any spice you may be using. Whisk to mix well.
Add the milk, buttermilk, oil, egg and vanilla extract. Whisk to blend well so that few (if any) lumps remain. Set aside to rest for 30 minutes.
Preheat your waffle iron.  We usually leave ours at its maximum setting. It's useful to grease the waffle maker just for the first waffle. If you're adding fruit to the batter, do so at this point, just before you use the batter. Gently stir to ensure that you get some fruit into each portion of batter. Pour the appropriate amount of batter into the hot waffle iron (ours comes with a measuring cup). Cook until golden and crisp.
Su-Lyn is Aun's better half and for many years, the secret Editor behind this blog known to readers simply as S. Su-Lyn is an obsessive cook and critical eater whose two favourite pastimes are spending time with her three kids and spending time in the kitchen. She looks forward to combining the two in the years to come.