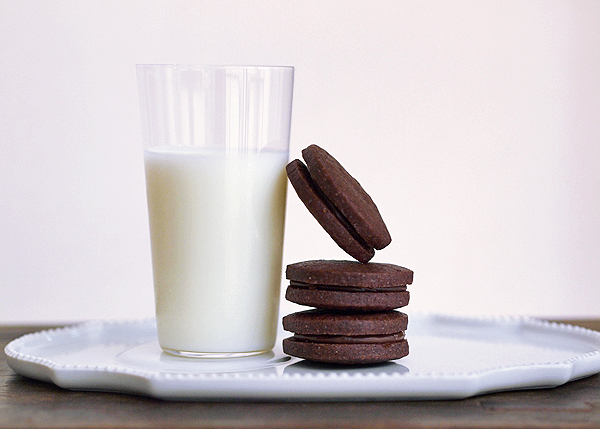 These whole wheat chocolate cookies are my toddler's favourite baked goods of the moment. I serve them to him plain. But CH likes them with Amedei's chocolate-hazelnut cream, Nutella, or a scoop of homemade vanilla ice cream. I like that these cookies are crisp and burst with the full flavour of cocoa. I've kept them mildly sweet and added a generous pinch of salt for contrast on the palate so that they work well with an attention-grabbing filling. But I do genuinely enjoy these whole wheat chocolate cookies unadorned. Especially when they're washed down with a glass of cold milk.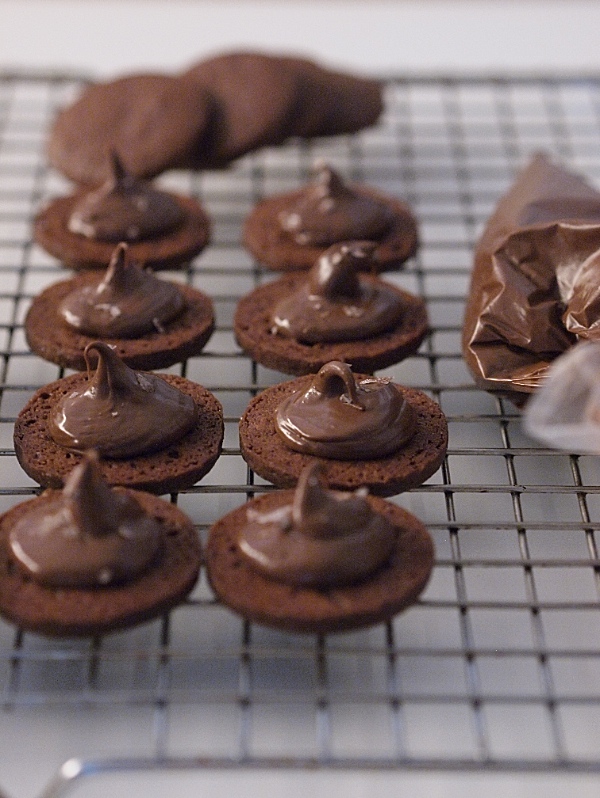 I must confess that I just adore the clean lines and uniformity of rolled cookies. They're also perfect for making cookies in fun shapes for my little one. The dough may be a little fiddly to work with, but the results are well worth the effort. I often bake only half a batch and keep the second portion of dough frozen until we need another batch of freshly baked whole wheat chocolate cookies. I hope you enjoy them as much as we do!
Whole Wheat Chocolate Cookies
The cookie sandwiches in the photograph actually measure 4cm across. But I usually make these 3cm across and serve them plain as everyday treats for my toddler. If you prefer to omit whole wheat flour, you can replace it with all-purpose flour.
Makes about 90 cookies measuring 3cm across
125g whole wheat pastry flour
125g all-purpose flour
30g unsweetened Dutch-processed cocoa powder
1 tsp baking powder
½ tsp crushed cocoa sea salt flakes or fine sea salt
150g unsalted butter, diced and softened
2 tbsp flavourless vegetable oil
150g castor sugar
1 large egg
2 tsp pure vanilla extract
Combine flours, cocoa powder, baking powder and salt in a bowl. Whisk to combine and set aside.
Combine the butter, oil and sugar in the bowl of an electric mixer. Beat (first on low, then medium speed) until light and fluffy. Scrape down the sides of the bowl. Add the egg and vanilla extract, and beat until just combined. Beat in half the flour until evenly incorporated. Stir in the remaining flour with a spatula until evenly incorporated by scraping down the sides of the bowl then pressing any unmixed flour into the forming dough. When evenly incorporated, bring the dough together and shape it into a square about 2.5cm (1-inch) thick. Wrap with cling wrap and refrigerate for at least an hour or until it is firmer. If you leave it for longer than this, the dough may get too firm and you will need to let it soften a little before you proceed with the next step.
Divide the dough into 2 portions and roll each portion out to approximately 0.5cm or ¼inch thickness between sheets of cling wrap (I actually find that a sheet of baking paper on one side and a sheet of cling wrap on the other works best). Just check that the paper and cling wrap don't get caught in folds of dough. Gently peel it off if it does and place it back onto the dough. I stop at 0.5cm thickness because I find it difficult to cut cookie dough that is thinner in our climate even if I freeze it. But for cookie sandwiches, 0.25cm or ⅛inch is actually preferable for an ideal cookie to filling ratio. Place the wrapped pieces of rolled out dough on a cookie or baking sheet and freeze them for at least 1 hour.
Remove a piece of rolled out dough from the freezer. Remove cling wrap from 1 side and use a cookie cutter measuring 3cm across to cut out cookies. Gently transfer the cookies onto a baking sheet lined with baking paper. Place them in the freezer and work on the other piece of dough. Freeze all the cut out cookies for at least 30 minutes.
Preheat the oven to 175oC using the convection/fan setting. Place the cookies roughly 1cm or ½inch apart on a baking sheet lined with baking paper. Bake, one sheet at a time in the upper third of the oven for about 9 minutes or until the cookies are almost firm when pressed in the centre. Use a spatula to transfer the cookies onto a wire rack to cool completely.
Cookies can be kept in an airtight container for up to a week.
Su-Lyn is Aun's better half and for many years, the secret Editor behind this blog known to readers simply as S. Su-Lyn is an obsessive cook and critical eater whose two favourite pastimes are spending time with her three kids and spending time in the kitchen. She looks forward to combining the two in the years to come.