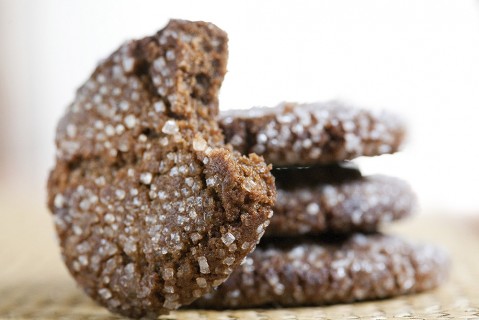 When I was growing up in North Carolina there were a great many Christmas traditions – a lot of them involving the Moravian traditions of some of the early settlers of North Carolina. The Moravians were among the first Protestants who fled Europe to America in search of religious freedom from Eastern Europe. Because they were in North Carolina for so long, even if, like me, you are not religious or from a Eastern European heritage, Moravian Christmas traditions and foods have been synonymous with central North Carolina Christmas tradition and foods. And so for me, a nostalgic taste and scent memory of childhood Christmas is Moravian-inspired molasses cookies that my mother used to make.
Many of the baked goods rely on molasses and cinnamon as key ingredients – refined sugar was a rare and special treat in those times, so was used quite sparingly. They have a crunchy outside thanks to being rolled in sugar prior to baking, while the inside remains chewy and soft.
This recipe has been in my family for at least three generations… we think maybe four in fact, so I am happy to share it with you from another part of the world and spread the Christmas goodness that is my mother's molasses Christmas cookies.
Molasses Cookies
¾ cup shortening
1 cup sugar
¼ cup molasses
1 egg
2 tsp baking soda
2 cups flour
1 tsp cloves
½ tsp ginger
1 tsp cinnamon
½ tsp salt
extra granulated sugar for rolling dough in
Melt shortening over low heat and cool. Add sugar, eggs and molasses. Beat well. Sift together rest of ingredients. Mix well and chill. Roll into 1-inch balls and roll in granulated sugar. Bake on greased cookie sheet 2 inches apart for 8 to 10 minutes at 375 degrees Fahrenheit.
Nothing smells more like Christmas than these cinnamon and ginger scented cookies baking in the house. Merry Christmas all!
Joanna Hutchins is a culinary travel blogger based in Shanghai, China.. In 2009, Joanna founded Accidental Epicurean, a culinary travel blog focused on Asia. Joanna is also a contributor to CNNGo, Look East magazine, SE Asia Globe and Two magazine.