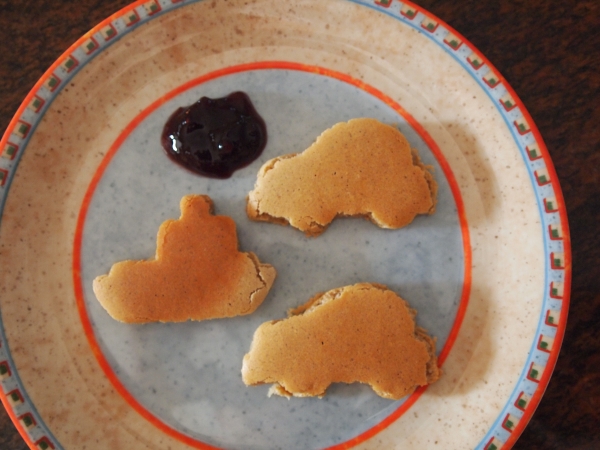 A very bizarre thing about my hubby, is that he slathers peanut butter onto his cheese burgers, nestling it between the lettuce, tomatoes, onions, mayonnaise, melted cheese, ketchup and pickles. It's apparently the way things are done in a family diner called Triple XXX in West Lafeyette, Indiana (where he spent six years, as a young and impressionable student). The Duane Purvis All-American is a house favourite among Triple XXX's avid followers, and after all these years, the hubby still deems it the best burger in the world. We could be eating the most sumptuous Waygu burger, and he would still woefully lament that it lacked creamy peanut butter (never chunky!), preferably a ¼-inch thick.
I was perturbed by this, and was secretly certain he would suffer damnation under the hands of the burger deities, having disfigured too many a legitimate burger. But my hubby is, for the most part, a sensible man, who prefers good-tasting to bad-tasting food. So I scarily started to consider the possibility that there might be some sense in this madness after all. After all, nut and seed butters lend a richness and creaminess to lots of savoury dishes. The more familiar inclusions are in hummus, Japanese sesame salad dressing and gado-gado (an Indonesian salad where a chunky chilli peanut dressing is poured over boiled vegetables, and peanut butter satay sauce, for dunking skewers of grilled meat). Hence, the Purvis probably works like it does for satay, with the flavours of the meat and nuts complementing each other, boosting the overall depth and body of the dish.
Unlike my hubby, my four-year old son A is not so fond of peanut butter and would fight me on it almost every time. So the cogwheels started turning and I thought if peanut butter could find a home in something as unlikely as a burger or boiled vegetables, then I should easily be able to incorporate it into A's favourite food and still rock it. One morning, I hit jackpot with this pancake recipe. The peanut butter subtly flavoured these fluffy pancakes and the fragrance emanating from them beckoned me to taste-test quite a number as I cooked. I'm partial to honey with these, but my hubby prefers squelching blackberry preserves between two pancakes as a deconstructed PBJ, and my son quickly caught on. I don't always win battles with my kids, but this time, I walked away victorious.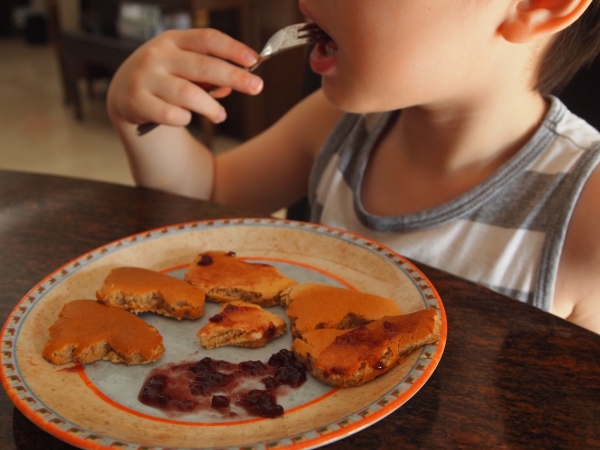 Peanut Butter Pancakes
(Very loosely adapted from Rachel Ray's recipe)
1 egg
¼ cup smooth peanut butter
2 tbsp honey/ brown sugar
1 cup milk (I use full-fat cow's milk)
1 cup flour (whole wheat pastry flour or spelt flour are brilliant in this. But plain flour will work too)
1 tsp baking powder
Whisk egg until frothy. Beat in peanut butter until well-combined. Mix in honey or brown sugar. Add the milk and mix until you achieve a smooth consistency. Sift in flour and baking powder. Mix gently just to combine.
Allow the batter to rest for 5-10min. Meanwhile, heat up a non-stick pan.
Lightly coat the pan with butter. Cook pancakes, one dessert-spoonful at a time, for about 1 to 2-min on the first side, and 1-min on the other. Keep an eye on them as they brown more quickly than regular pancakes.
Cut them into fun shapes with a cookie cutter as desired. Serve warm with honey, preserves or maple syrup.
Dawn, a lanky food-crazed lady, started out writing for lifestyle magazines, and later spent several years in banking. When not eating, she's cooking, reading about, hankering after, and writing about food. On her first date with her boyfriend (now husband), they dined at four restaurants across Singapore. He's gained 25lbs since, and their culinary escapades continue after welcoming two rotund angels. Dawn's committed to feeding them with the best, and creating lasting food memories and traditions for her family.