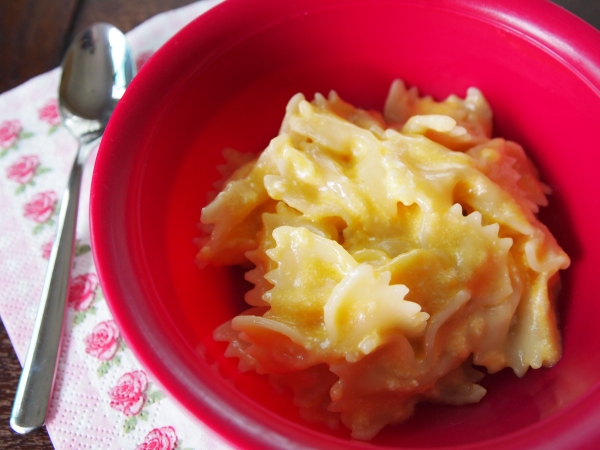 This is not gourmet macaroni and cheese. This is not mac and cheese with a crunchy breadcrumb topping, made from a roux base, and garnished with crispy deep-fried sage leaves and shaved white truffles (although I have a weak spot for this deluxe version). This is mac and cheese, where a rice cooker does all the work for you; and with a little light stirring, the result is a comforting, kid and baby-friendly meal in just 30 minutes.
I make this lunch on a whim, when I need something quick, easy, and that everyone loves. And I think you will particularly enjoy cooking such a simple meal after going through the more time-consuming, complex recipes over Christmas and New Year's. This is also a great recipe to get the children involved in the kitchen. My four-year old son loves pouring in the ingredients and stirring them together. Even pressing the "start" button on the rice cooker thrills him. I often add cauliflower or broccoli to make the meal more nutritious, and also because I love the combination of cheese and cruciferous vegetables. Or if you prefer meat in your mac and cheese, you could stir in some pulled pork, shredded ham, crispy bacon bits or prosciutto at the end. Bon appetit!
Rice Cooker Mac and Cheese (adapted from Weelicious)
Serves 2 adults and 2 children
2 cups (roughly 250g) pasta (macaroni, penne or farfalle work well. I used farfalle here.)
1½ cups home-made vegetable/chicken stock (or use granules if you don't have stock on hand)
½ tsp sea salt (optional)
1 cup full-cream milk
200g cheese, coarsely shredded (I used a mixture of mozzarella and cheddar. You can also try Swiss, Gruyere and Monterey Jack.)
1 cup cauliflower/broccoli, cut into small florets (optional)
Black pepper to taste
Place pasta and stock in rice cooker. (I don't add any salt here because I feed my 15-month old baby girl this, and the cheese makes the dish savoury enough. I season my own portion at the end. But if cooking for adults, you can add the salt at this point.)
Cook pasta in rice cooker for 15 to 20-min. The pasta and stock should be rapidly boiling when you open the lid.
Add the milk (and vegetables if using), stir and cook for another 10-min.
Open the lid and check that most of the liquid has been absorbed. Otherwise, close the lid and give it 3 to 5 more minutes. Then add the cheese and stir until all the cheese melts.
Turn off the rice cooker, season with black pepper and serve immediately.
Dawn, a lanky food-crazed lady, started out writing for lifestyle magazines, and later spent several years in banking. When not eating, she's cooking, reading about, hankering after, and writing about food. On her first date with her boyfriend (now husband), they dined at four restaurants across Singapore. He's gained 25lbs since, and their culinary escapades continue after welcoming two rotund angels. Dawn's committed to feeding them with the best, and creating lasting food memories and traditions for her family.