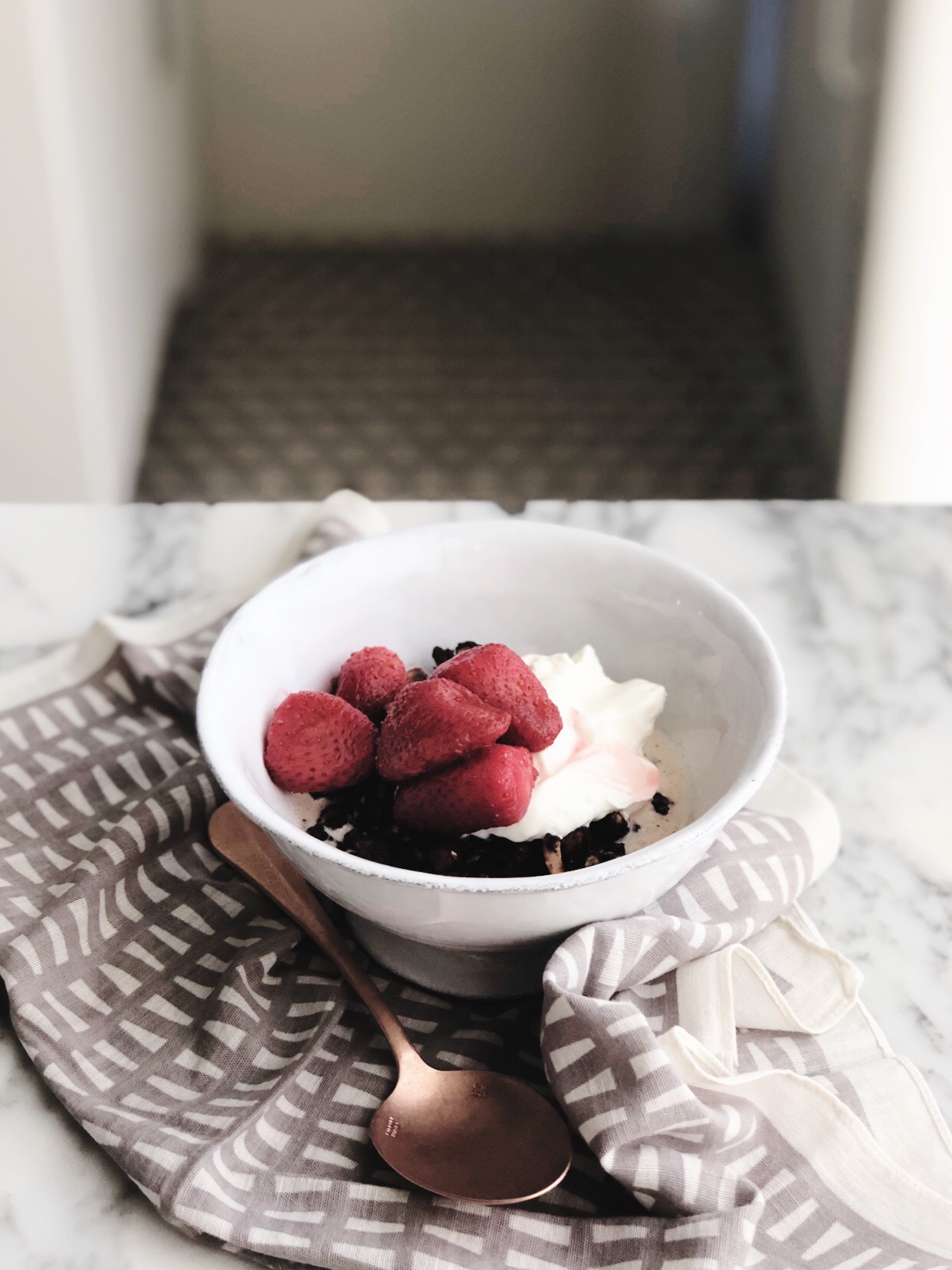 I love the jammy, sweet intensity and appealing acidity in these roasted strawberries. Roasting is, for me, a simple way of extending the shelf-life of fresh, in season fruit. While I try my best to enjoy most fruit fresh and uncooked, the hours I keep sometimes prevent me from doing this. The worst thing is when I've invested a hefty chunk of change in the season's best fruit only to forget them or take too long to get around to eating them and they go past their prime in the fridge.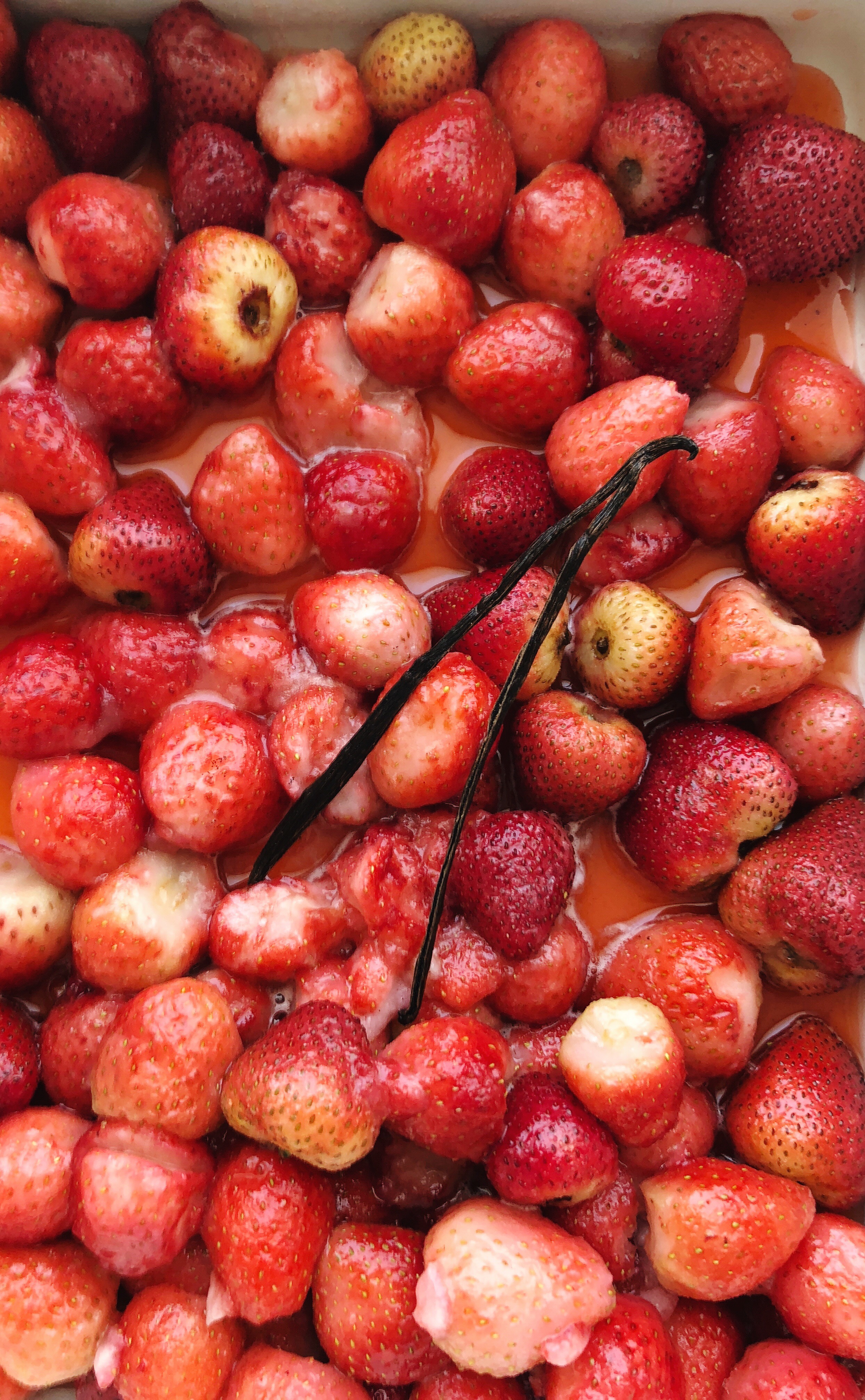 Roasting also transforms strawberries into a versatile form that makes them more relevant to the way my family eats throughout the day. I have these roasted strawberries over homemade granola all the time. As is, these roasted strawberries are fabulous paired with ice cream or Greek-style yoghurt. To be honest, I also love them smooshed into double cream scones for breakfast or an afternoon snack. They'd be fabulous in a plated dessert.
I sometimes whizz these roasted strawberries in smoothies and milkshakes for the kids. They can also be blended and stirred into an ice cream base for a simple strawberry ice cream. I reckon roasted strawberries would also be delish strained and rolled into the core of a roll cake.
We use the roasting liquid in cocktails and mocktails. Occasionally, I throw the roasted strawberries into my kombucha's second fermentation, then serve the whole fruit with the booch over ice.
Roasted Strawberries
My recipe is a riff on the one from Serious Eats.
Ingredients
900g strawberries (I often use frozen fruit, defrost before use)
100g caster sugar
1/8tsp kosher salt (I used Morton)
Freshly squeezed juice of 1/2 to 1 lemon (to taste)
A dash of pure vanilla extract (or a vanilla pod if you're feeling extravagant)
1/4 teaspoon rose water (I use Neilsen Massey)
Directions
Preheat oven to 190 degrees Celsius.
Trim the caps off strawberries if necessary. Try to remove as little fruit as possible. Halve larger strawberries if you wish. I generally leave mine whole.
Pat fruit dry and combine with sugar, salt and lemon juice in a non-reactive oven proof dish (glass, ceramic or enamel). Toss to combine. Add a split and scraped vanilla pod of using.
Roast in the oven for approximately 30 minutes, stirring once or twice. The fruit should be tender but still hold their shape.
Remove the pan from the oven and stir in rose water (and pure vanilla extract if you didn't use a vanilla pod). Serve warm or set aside to cool and store roasted strawberries in syrup in a sterilised, airtight container in the refrigerator for up to two weeks.
Su-Lyn is Aun's better half and for many years, the secret Editor behind this blog known to readers simply as S. Su-Lyn is an obsessive cook and critical eater whose two favourite pastimes are spending time with her three kids and spending time in the kitchen. She looks forward to combining the two in the years to come.