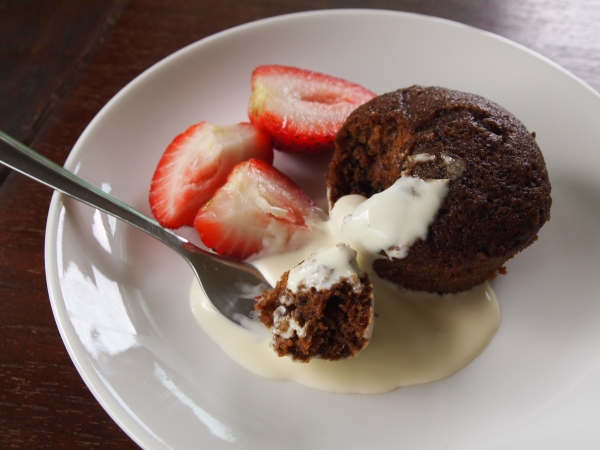 When I'm skimming through a dessert menu contemplating what to have, the words that make me stop browsing and come to an immediate decision are "sticky date pudding". I see those three magic words and I'm done. I close the menu, order and impatiently wait to indulge in my dessert. It doesn't help that my hubby is similarly, a sticky date pudding fanatic. This basically means we have plowed through a significant number of sticky puds together, and unfortunately, only a third of them were stellar, some were stodgy and hardly any good and  startlingly, many fell downright flat. Recently, I stumbled upon a sticky date pudding recipe on Nigella's site, and registered that it's actually a really easy dessert to make! I tucked that thought at the back of my head, and a few days later, found a bag of dates in the pantry. You can all guess what happened next.
With a food processor, you can get these babies ready for the oven in barely any time at all. I used a muffin tin to make individual servings so the baking time is shortened, and also for the purposes of presentation and portion-control. I love how the aromatic flavour of the dates shine through in this recipe, and because I only added a modest amount of sugar, the puddings are not tooth-achingly sweet. Although vanilla ice-cream and caramel sauce are the traditional accompaniments to a sticky date pudding, I find that with this combination, the dessert ends up being altogether too heavy, and not to mention, too sinful. At home, I very much prefer having some double cream swirled over, and simply adorned with a few fresh strawberries. That, plus an espresso in hand, is my ultimate sticky, gooey treat, anytime of the day.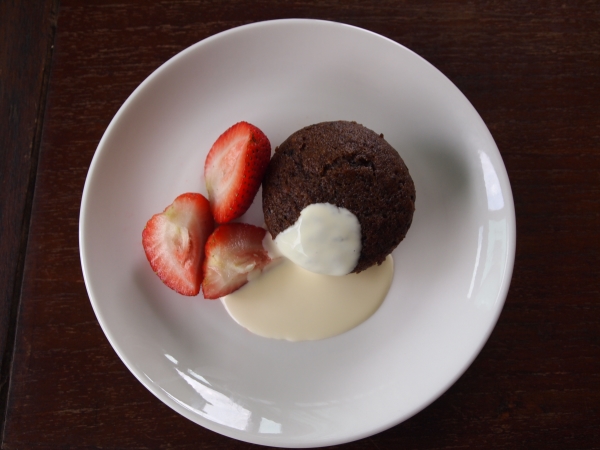 Sticky date pudding
adapted from this recipe
Makes 12-14 individual portions
275g pitted dates
310ml boiling water
1 tsp bicarbonate of soda
50g butter, plus more for greasing
⅓ cup dark brown sugar, packed
2 eggs
1 cup flour
2 tsp baking powder
½ tsp ground ginger (optional)
Preheat oven to 180ºC. Butter some standard muffin moulds and set aside.
In a food processor, submerge the dates in the boiling water. Add the bicarbonate of soda, stir, and leave to steep with lid on, for 5 minutes.
After soaking, blitz the date mixture until only very small bits of dates remain.
Add the butter, sugar and eggs, and blitz until combined.
Sift in the flour, baking powder, and optional ground ginger, and blitz until you achieve a smooth batter.
Distribute the batter evenly between 12-14 muffin moulds, and bake for about 20min, until a toothpick inserted comes out moist with a few crumbs sticking to it. Don't overbake.
Let stand in moulds for 10-min before turning out.
Serve warm, with luscious double cream.
Dawn, a lanky food-crazed lady, started out writing for lifestyle magazines, and later spent several years in banking. When not eating, she's cooking, reading about, hankering after, and writing about food. On her first date with her boyfriend (now husband), they dined at four restaurants across Singapore. He's gained 25lbs since, and their culinary escapades continue after welcoming two rotund angels. Dawn's committed to feeding them with the best, and creating lasting food memories and traditions for her family.