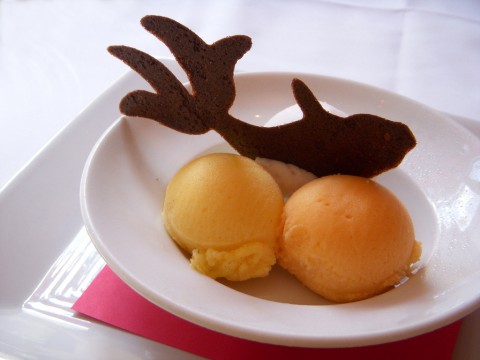 I relish the tastes of summer – BBQ, cold beer on a hot day and delicious fruity desserts like sorbet. One of summer's rituals is a trip to the ice cream shop, but if you are like me, maybe you prefer to chill at home (directly under the air con) on those sweltering days. Well, in that case, you can do both. What you may not know is homemade sorbet is quick and easy. In fact you might be shocked just how easy it can be.
I share with you my shockingly simple sorbet recipe. All you need is 1 ingredient. Yep, you read that right, just one. See below:
Choose a fruit*
Freeze it (best if you peel and cut into slices and freeze the pieces individually, not touching on a baking sheet)
Take all the bits and put in a food processor, blend until you reach the desired texture (you can also use a good blender)
Serve immediately
* Meaty fruit like mango, pineapple and banana work best, but you can also use end of season berries. Also experiment with fruit combinations for more sophisticated flavour profiles in your sorbet desserts.
I like to serve mine with some whimsical cookies placed jauntily around the sorbet, or with a chocolate square to dress it up a bit. A sprig of fresh mint is always elegant and fresh. And finally, to make it even more special, consider an unexpected serving dish – for example a martini glass.
So there you have it! Mind-blowingly simple, single ingredient fresh fruit sorbet recipe. It doesn't get much easier than this!
Joanna Hutchins is a culinary travel blogger based in Shanghai, China.. In 2009, Joanna founded Accidental Epicurean, a culinary travel blog focused on Asia. Joanna is also a contributor to CNNGo, Look East magazine, SE Asia Globe and Two magazine.