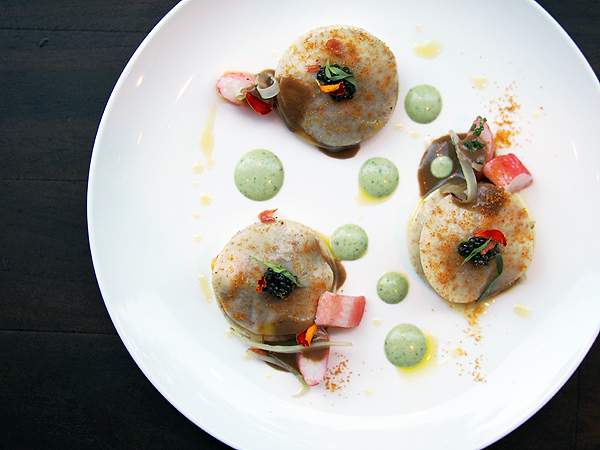 Singapore is currently enjoying quite the culinary renaissance. It feels like there are new restaurants and cafes opening weekly. And to be honest, I can't even keep up with all these new places. Unfortunately, judging from my dining-out experiences over the past year, far too many newbies prize style over substance, i.e. while many of these new eateries look great and attract a growing pride of local hipsters, the reality is that their food is often both mediocre and very expensive. One restaurant that opened this past year, however, whose culinary program has continued to impress me is Bacchanalia, located (oddly enough) in the city's Masonic Hall.
It helps of course, that Bacchanalia is helmed a chef with incredible credentials and two owners that have wined and dined widely and globally. Executive Chef Ivan Brehm has a CV that other chefs dream about. He's worked for the best of the best in world famous restaurants, including Per Se, Mugaritz, La Terraza del Casino, Hibiscus, and (most famously) The Fat Duck. He's also brought two former Fat Duck colleagues to work with him at Bacchanalia.
If asked to describe the menu, I'd call it Contemporary Post-Classic, meaning that the foundations and flavours draw from classic dishes and tastes. But the dishes are contemporary departures that use these classic references as launchpads to create new dishes. Which means you are not getting a modern version of an old dish; you are getting a new innovative dish whose starting point may have been a familiar flavour, but has long since skidded into a whole other realm. More evolution than re-interpretation.
The dishes have been designed for you to share plates with friends. But I wouldn't call this, nor would the chef and owners, a tapas bar. Think of it more as a grazing place, in which you can sample a variety of lovely, fully composed dishes.
I love, love, love Bacchanalia's wagyu beef sandwiches, which are served at the bar, so consider having a drink there before dinner. They made me think of the fried ham and cheese sandwiches from Harry's Bar in Venice, Italy, that S and I are obsessed with. These are actually more mature and more complex, and equally sensational.
From the dinner menu, I can highly recommend the Cauliflower Gratin, which is nothing short of a bowl of light, cheesy, yummy, umami wonderment. The French Onion Soup is interesting; it showcases the natural sugars found in onions in concentrated flavour punch. If, however, you're a purist expecting a traditional French onion soup, stay away from this dish. The Tahitian Vanilla Confit Salmon is a nice, nuanced and very well-balanced dish that should please almost any customer. My wife S is a big fan of Ivan's Hamachi Carambola, citrus cured yellowtail with pickled starfruit, garlic and walnut praline. It's light, slightly acidic, and really quite yummy.
The Duck Confit, which is nothing like a duck confit, is beautiful. It's more like an Asian duck dumpling served with a gorgeous corn and cucumber dashi broth. I really love this dish, but again, it's not a duck confit.
In addition to the great food, Bacchanalia also has a great wine list and expertly made cocktail menu. It's one of those rare restaurants in which you can start or end the evening off at a great bar without changing venues.
The two gents who own Bacchanalia are probably most well-known for throwing ultra-chic and ultra-boozy brunch parties, also under the Bacchanalia brand. It would be a shame, however, to dismiss the high quality and inventiveness of their flagship restaurant's culinary programme because of this reputation. In fact, dinner at Bacchanalia is decidedly civilised. Fun definitely. But still civilised. Which, now that I'm an old fart with a kid and a belly, works perfectly for me.
Bacchanalia
Masonic Hall, Singapore
Tel: +65 6509 1453
www.bacchanalia.asia
Aun has always loved food and travel, passions passed down to him from his parents. This foundation, plus a background in media, pushed him to start Chubby Hubby in 2005. He loves that this site allows him to write about the things he adores--food, style, travel, his wife and his three kids!