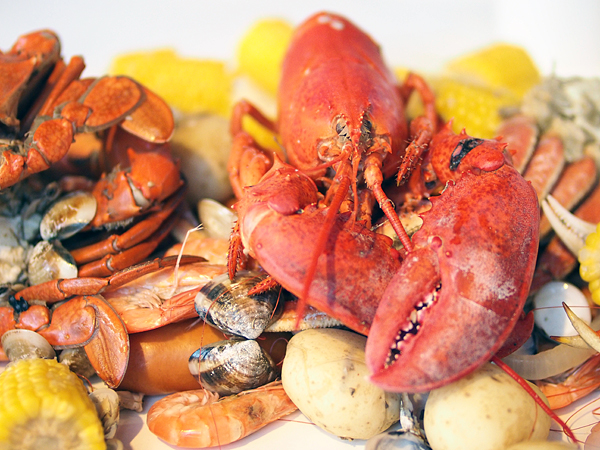 With the holidays coming around, you may be looking for some fun, laid-back, affordable dining spots suitable for large groups. One great place that I recently had the opportunity to feast at, and that I highly recommend, is Crab in da Bag, a seafood joint located at the Big Splash complex in East Coast Park. While you might instinctively give this place a wide berth — it admittedly looks cheesy and theme-parkish — the food is awesome, the portions bountiful, and the booze well-priced.
Crab in da Bag, which claims to be a "Southern Louisiana style seafood restaurant with a local twist", opened its doors in early September. True to its name, Crab in da Bag serves up seafood dishes tossed in sauces made from the company's own recipes and served informally in plastic parcels. In addition to the bags of food you can order, the restaurant also offers a massive seafood pot, enough for a half dozen hungry people, called The Caboodle Boil. I've been told that they are the first folks on our fine island to offer this kind of mixed seafood boil.
Crab in da Bag was opened by two friends, one of which is the co-owner of another popular seafood joint, Brussels Sprouts. While Brussels Sprouts clearly derives its culinary parentage from Belgium, Crab in da Bag is a little more mixed up. It draws influences from the United States, Singapore and Northern Malaysia. It was in California that one of the owners first discovered seafood restaurants in which diners ate off the table and food was cooked in plastic bundles. She loved the convivial atmosphere of these places and wanted to bring this casual and fun multi-sensory dining experience to Singapore. But she also wanted a restaurant through which she could share some of her mother's Northern Malaysian recipes. Which is why, at Crab in da Bag, you can have seafood cooked and/or served with simple garlic butter, a Northern Malaysian curry, a nostalgic sweet and sour brown sauce, or a mix of local and Cajun spices.
I dined at Crab in da Bag earlier this month with a whole host of friends. It was a fantastic evening filled with messy hands, massive amounts of seafood and cold drinks. We started off our meal with Crinkled Cauliflower and chicken wings, both yummy and addictive. We then moved on to bags of prawns cooked in garlic butter. We followed this up with squid cooked in the Northern Malaysian Curry that was Oh My God Good! One of the best things was slathering the sauces from the prawns and the squid over rice. (I have to admit that while it is encouraged to eat with your hands here, I asked for a spoon for my sauce and rice.)
This was then followed by the star of the show, The Caboodle Boil, a Southern Louisiana-style seafood boil that consists of mini lobsters, Sri Lankan crabs, king crab legs, tabbies, prawns, clams, chicken bratwurst sausages, corn on the cob and potatoes boiled in a blend of herbs and local spices. Waiters bring over the mixed boil in a giant pot and ceremoniously yet gently empty out all of its contents onto your table. It is (and was) definitely an exercise in gustatory over-indulgence. Everything was delicious, especially dipped in the Caboodle Boil's accompanying sauces. My only gripe is that there was actually too much food; it was painful to see uneaten food left on the table.
I washed all of the seafood down that night with multiple glasses of Somersby Apple Cider, a very light and refreshing and only somewhat alcoholic drink.
Crab in da Bag is getting popular. So if you intend to visit it this holiday season, definitely book ahead. And don't wear anything you can't afford to get dirty. Even with the bibs they gave us, I managed to get seafood and sauce stains on my clothes. But boy was it worth it.
Crab in da Bag
902 East Coast Parkway
Big Splash Block D #01-25
Singapore 449874.
For reservations and advanced bookings for The Caboodle Boil, ring +65 6440 0083.
Aun has always loved food and travel, passions passed down to him from his parents. This foundation, plus a background in media, pushed him to start Chubby Hubby in 2005. He loves that this site allows him to write about the things he adores--food, style, travel, his wife and his three kids!