When I received word that Bochinche was going through a bit of a rebrand with a more accessible menu and a small gourmet market, I was excited. Argentine food isn't easily found in Singapore but knowing how palatable and full of flavour the cuisine can be, I thought it was high time that we got a little more serious about our Argentine food education. And who better to give us the low down than Bochinche's Chef Patron, Diego Jacquet.
I arrive on a Saturday afternoon when the restaurant is in full swing with brunch service. Completely unfazed, Diego greets us with the biggest smile and is clearly eager to showcase some of his signature dishes and let us in on how to adapt them for the home kitchen.
Based primarily in London, he owns and operates two Argentine restaurants in the city – Casa Malevo and Zoilo – and this year, opened Abasto, the first Argentine butcher and wine merchant in the UK. But Diego never really aspired to be a chef – growing up in Argentina's South, he wanted to be a football player. His kitchen career started in 1993 and he's since racked up quite a CV, including stints at award-winning restaurants El Bulli and Aquavit.
We started with the basics – steak. Marinated in a fragrant blend of melted bone marrow, chicken stock and thyme and sous vide for eight hours, each 150g cut of flank is then grilled on high heat for three to four minutes on each side. The perfectly medium rare steak is sprinkled with sea salt before serving. For most of us at home without a sous vide machine, he recommends marinating the meat in a similar warm stock before wrapping in cling film and leaving it overnight in the refrigerator; a great dish to prep ahead and essential to any Argentine meal.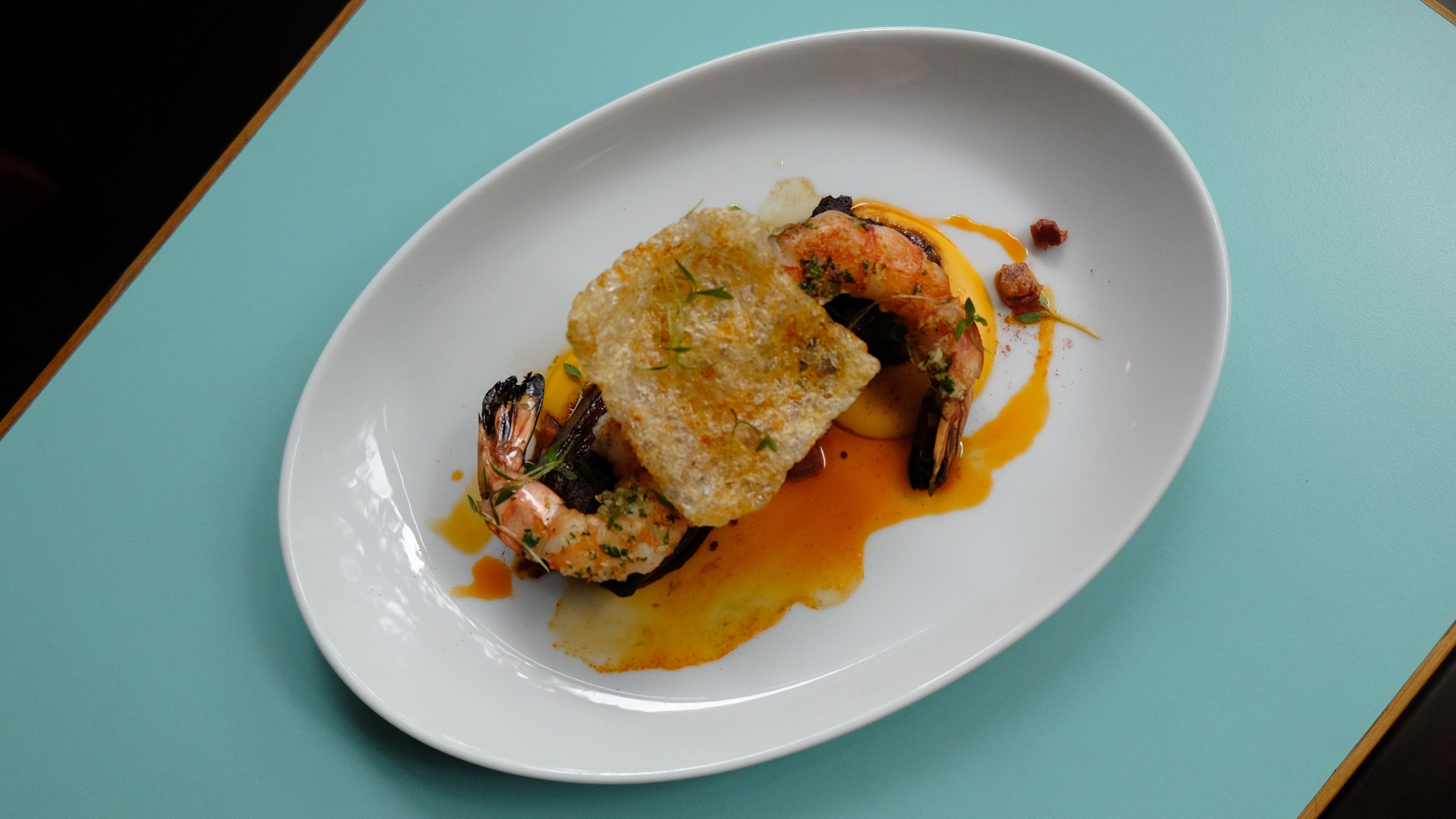 When I ask him to describe Argentine flavours in three words, he says, "gutsy, deep and unforgettable." The next dish he demonstrated seemed to fit the bill. Braised pork belly is served with grilled prawns, sweet potato puree and topped with crackling, a dish full of contrasting but complementary flavours and textures.
We move on to a few more dishes, including a sweet baked Provolone dish that I could not stop eating and pleaded for a recipe (which you can find below). By this point, I didn't need anymore convincing that Argentine food could be a part of our regular diet and asked Diego to share his best tip for those of us who want to try our hand at creating an authentic Argentine feast.
"Don't be afraid to grill big cuts of meat for long periods of time. Play around! Don't just stick with steaks and burgers – get a whole flank, or a shoulder – don't be afraid to make mistakes. No one will get it right the first time around but the ceremonial aspect of it is totally different and you will have a much more engaging experience," he said.
While Diego is certainly a great ambassador for Argentine cuisine, perhaps more than anything, I found that his love of food and cooking was evident – a real chef's chef, as they say. And that is someone whose food I think we can all certainly stand behind.
Bochinche
22 Martin Road
Singapore 239058
Tel: +65 62335 4990
www.bochinche.com.sg
All photos by Melissa Guan.
Caramelised pork belly, grilled prawns, sweet potato and chorizo
Serves 6
Ingredients:
1 kg pork belly
18 grilled prawns
Sweet potato puree
Diced confit chorizo
Fluffy pork skin (chicharron)
Marinade:
330ml beer
100ml Kecap Manis (sweet soy sauce)
100g honey
2 tbs whole grain mustard
1 red chilli
For the pork skin, boil for about 2 hours, then lay the piece on a flat tray to cool. Once cool, scrap off the excess fat, then cut in small pieces. Let dry for 48 hours until hard. When ready to serve, deep fry each piece until it expands into a light, crispy cracker.
Mix all the ingredients of the marinade together and put aside, clean the pork belly and vacuum it with the marinade. When ready, put in the water bath and slow cook it for 12 hours at 70°C. When cooked, remove the meat from the water bath and let it cool down. (If you don't have a water bath, use an oven roaster, cover with aluminium foil and cook at 160°C for 3 hours.)
Once pork is cooked, slice and caramelise it on slow heat with the marinade juices, around 10 minutes. Serve with grilled prawns, sweet potato pure, chorizo and pork skin.
Provoleta, Almonds & Honey
Serves 4
Ingredients:
500g Provolone cheese
4g dried oregano
4g fresh oregano, chopped
4g fresh parsley, chopped
20g honey
20g sliced almonds, toasted
Pre-heat the oven at 200°C.
Place the diced cheese into an 11cm terra cotta dish or blini iron pan and distribute the dried oregano, fresh oregano and place into the oven until just melted and bubbling, around 5 to 10 minutes.
Remove from oven, sprinkle with the sliced toasted almonds and finish under the grill/broiler until golden and crispy. Immediately top with a drizzle of honey and fresh parsley. Serve very hot with plenty of toasted sourdough.
Charissa is a constantly caffeinated publicist who plans her vacation itinerary around the availability of restaurant reservations. She likes honest, uncomplicated food, Sadie her Shetland, and alliteration. A regular documentation of her unabashed foodie life: @charissa__g.