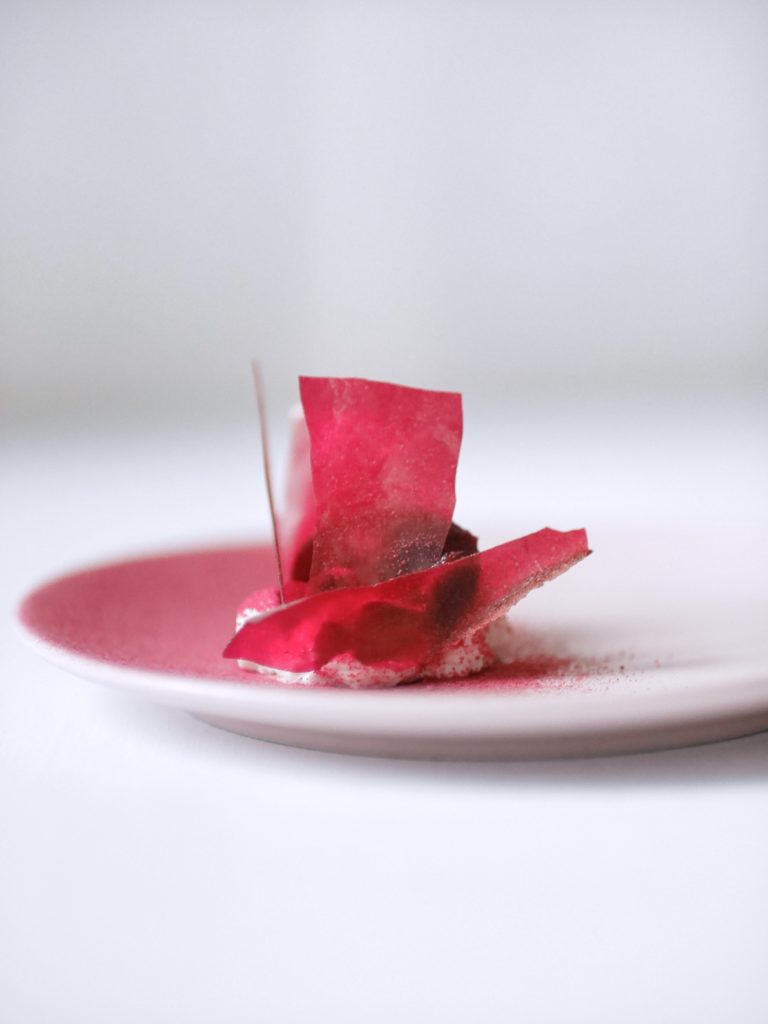 It's hard to impress my wife. She has a very discerning palate. We've both been very fortunate in that we've eaten very widely. She counts many chefs whose restaurants have earned Michelin stars and World's 50 Best accolades as friends. As a former food journalist, food magazine editor and cookbook author, she knows a lot about culinary history, ingredients and technique. And she's also an expert cook (although she rarely finds the time to cook an entire meal these days). In sum, she's someone who I trust absolutely when she tells me a chef or a restaurant is worth paying attention to.
In 2017, she went with colleagues to Kuala Lumpur. It was an exploratory trip to assess a new restaurant (and possible client) that had opened in March that year. She came back completely amazed. She said that the meal she had at Nadodi was the best she'd had that year. And by year's end, she hadn't changed her mind.
One of Su-Lyn's greatest joys is working with young chefs who are both immensely talented and who are humble enough to listen to feedback. She takes great pleasure in spotting talent and working tirelessly to help the men and women she believes in to achieve greatness. In many ways, it's a thankless job (because her job is to shine the spotlight on someone else, never to step into it), but it's one that she is passionate about. I know — as a second-hand observer — that she's been thrilled to help represent Nadodi and the three young men who have opened this very special restaurant in KL.
While she and her team at The Ate Group have been working with them — as their content strategist and communications agency — for almost two years now, I did not get the chance to visit the restaurant until a few weeks ago. The agency is entirely Su-Lyn's business today (I sold her all of my shares quite a while back) so it wasn't quite appropriate for me to tag along when she was visiting for work — especially if she was hosting media. But recently, Head Chef Sricharan Venkatesh invited me to visit. I immediately said, "Yes!" I've been dying to try his food and the cocktails prepared by Head of Beverage Programme, Akshar Chalwadi for almost two years now!
The food programme at Nadodi is built around exploring the cuisine of the South Asians who emigrated to the Malay peninsula. So, for anyone who has grown up in Malaysia or Singapore, or who has been living here a while and taken the time to explore Indian cuisine, the flavours and many of the building blocks of dishes will be familiar and often nostalgic. But that's where similarities end. This is not your neighbourhood Indian takeaway. Chef Sricharan is creating highly imaginative, modern dishes using the South Asian diaspora to this region as his starting point. His dishes are beautiful, smart, artistic and most importantly, delicious! Similarly, Akshar's cocktails are quite stunning. I can honestly say that the cocktail pairing I had at my dinner at Nadodi was the best cocktail pairing I've experienced… EVER!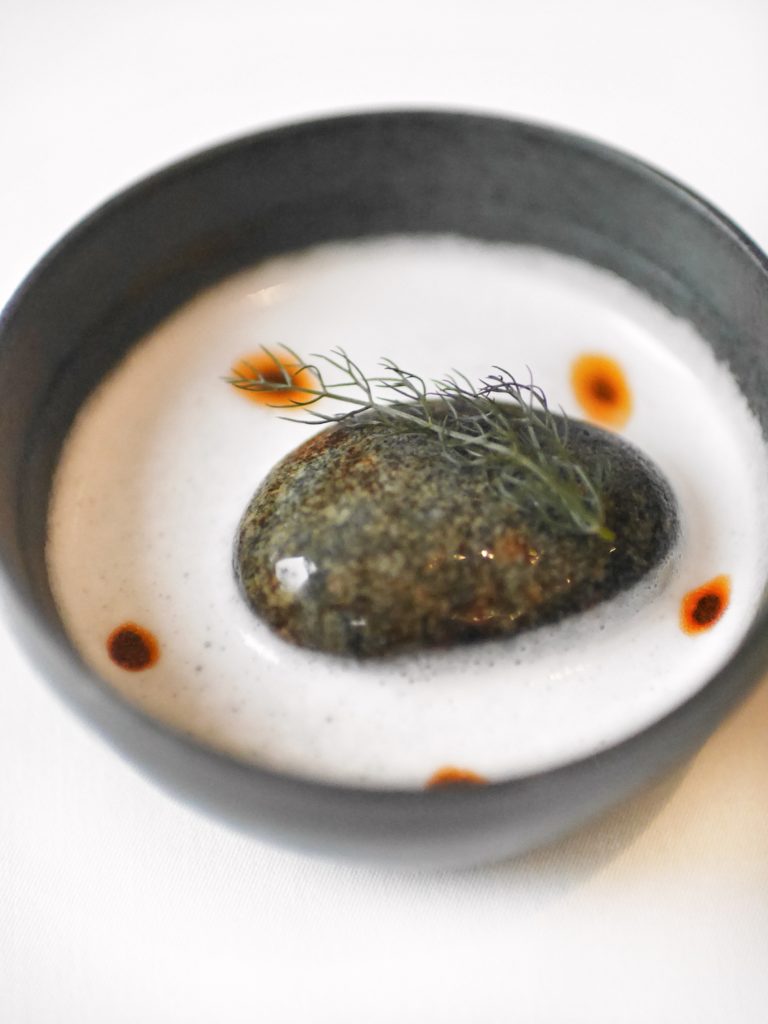 Let me explain that. Too often, cocktails, when served with food, are too big and too strong. By the end of a meal, you're trashed. And while that may have been fun in your early 20s, it's not what I am looking for these days. I also find that, again too often, mixologists are emphasising their own skills and imagination instead of really thinking about how to make something that doesn't just go with a dish but actually enhances the tastes and overall experience of the food you're being served. Akshar — who is clearly a brilliant mixologist— has put his ego aside and is crafting drinks designed to go with Chef's dishes. Many of these drinks are not things you would ever order on their own. Take for example Frozen Lake, made with smoked salmon infused gin, basil infused vodka, fennel and chilli. It's literally a fishy cocktail. But served together with Street Staple, a dish made with silky egg mousse, masala spices, puffed rice, Kaluga caviar and seaweed powder, and everything comes together in gustatory harmony.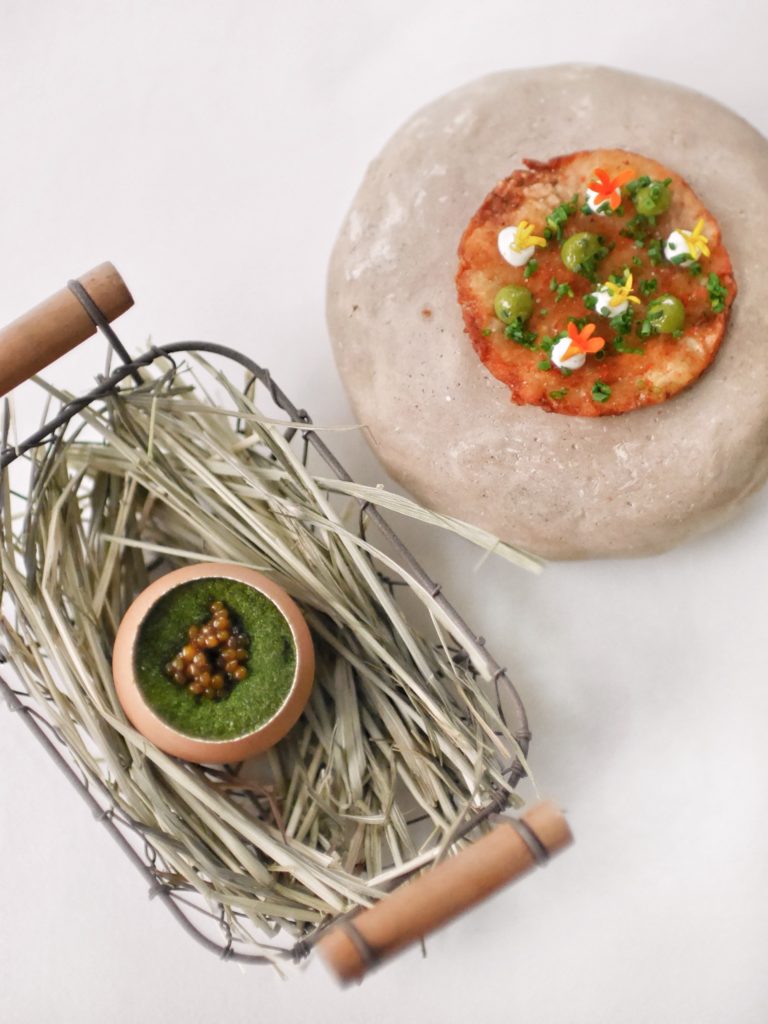 The menu I had was called The 11 Mile Journey (11 courses); there are also 5 Mile and 7 Mile menus available but if you're making the trek to try Nadodi, do what I did. Skip lunch and go for the full menu. It's so worth it.

I won't go through every course — partly because that would just take too long but also because I want you to discover the food for yourself. But I will talk about my favourite dishes. Street Staple, the egg mousse dish I mentioned earlier, was tiny but terrific. It was rich, warm, umami and full of contrasting textures. As the first course after a round of snacks, it really set the mood for a great meal to come. Pictured at the top of this post is Red Kari, a visually exciting abstract play on Sri Lankan beetroot and coconut curry. The dish clearly looks amazing. I really liked how Sricharan played with the idea of serving an ice cold, spicy dish here. Plus I happen to love both beetroot and any very lemak curry, so this appealed to me on a number of levels.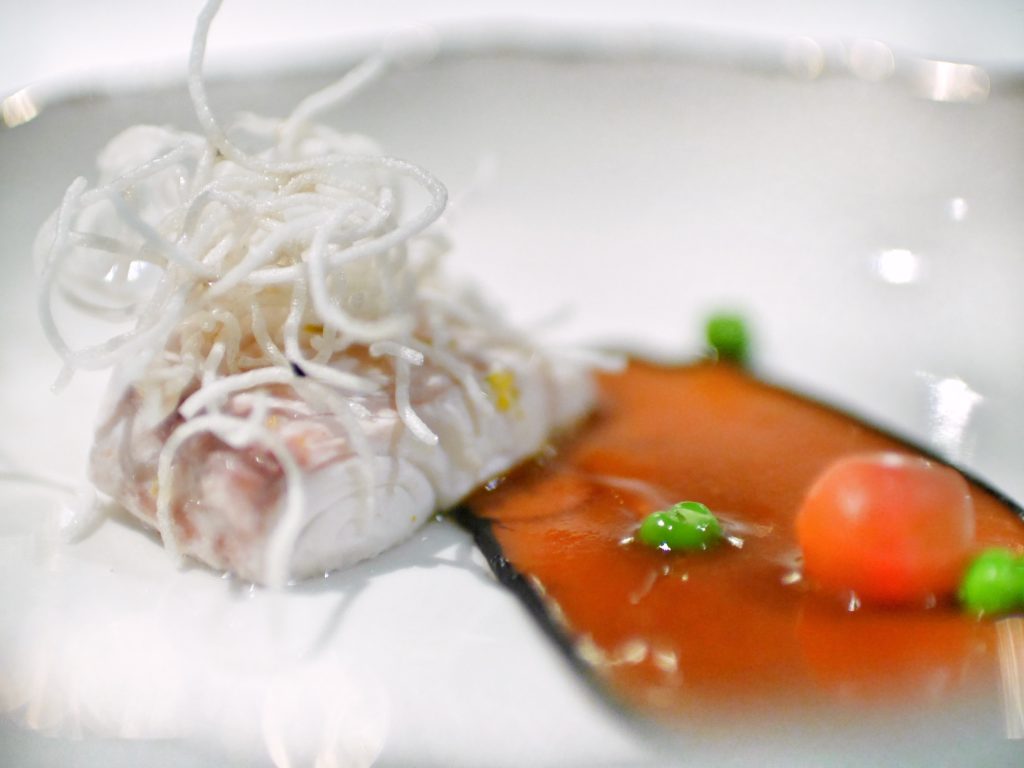 While not the most beautiful dish of the night (visually), Chef's Meen Curry, a local Kurau served with a curry made from sardines and semi-stewed vegetables, punched up with the addition of black garlic, was perfectly cooked and delightfully subtle in its flavours. I also liked that this came in between two spicy dishes. Chef was able to show his range by giving us a clean, lovely, fragrant dish that didn't need to be overly powerful to communicate flavour.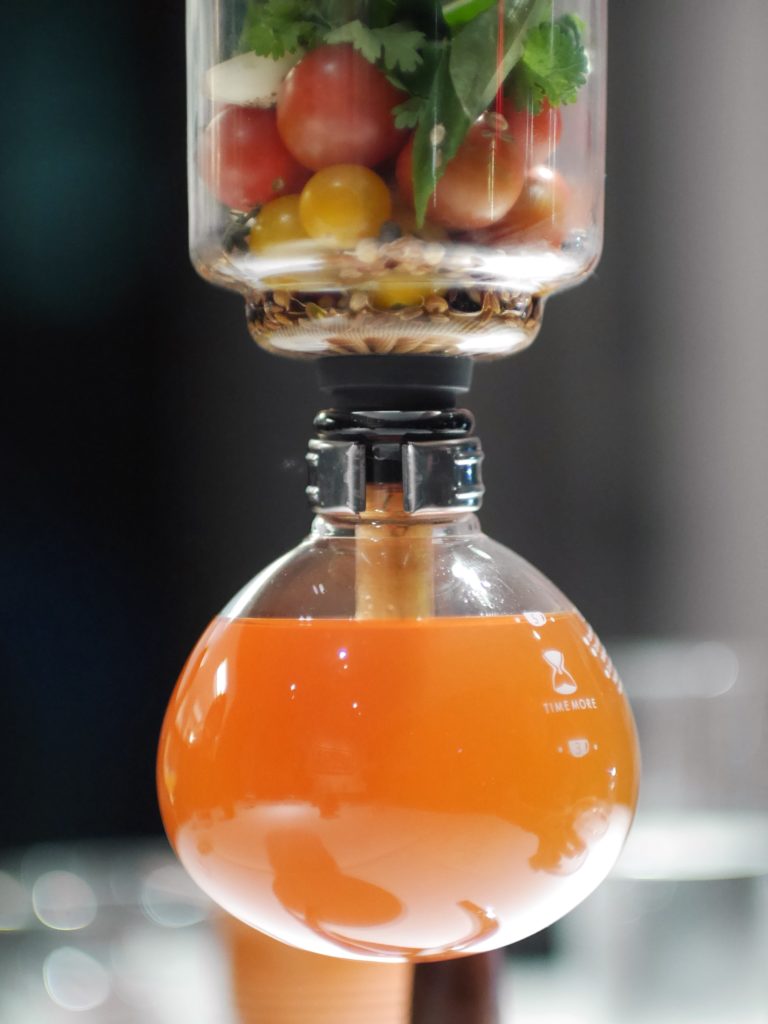 The dish after the Kurau was called Humble Broth but in reality it's anything but. This is based on the classic South Indian rasam, a piquant soup consisting of a blend of tamarind, tomatoes, chilli pepper and cumin. Poured tableside, Nadodi's rasam broth is made from heirloom tomatoes flavoured with a blend of peppercorns, cumin, fenugreek seeds, coriander seeds and coriander stems, curry leaf and green chilli. Quinoa grains are added to the bottom of the soup bowl for added crunch. This is an incredibly aromatic, umami broth with some serious heat. It's so good that one of my dining companions was moaning between sips.
This was also paired with an equally incredible cocktail. Simply called the Rasam Cocktail, the soup is reimagined as a two-part libation. Leftover rasam remains from the soup are cooked sous-vide with vodka to create a rasam distillate. After 12 hours, this is then combined with a cordial of seven-day-old lacto-fermented tomatoes for maximum flavour. The cocktail is cold but when served, it is topped with warm rasam foam. The combination of the hot and cold, along with the sweet, spicy, and sour aspects of the drink made this an unforgettable beverage.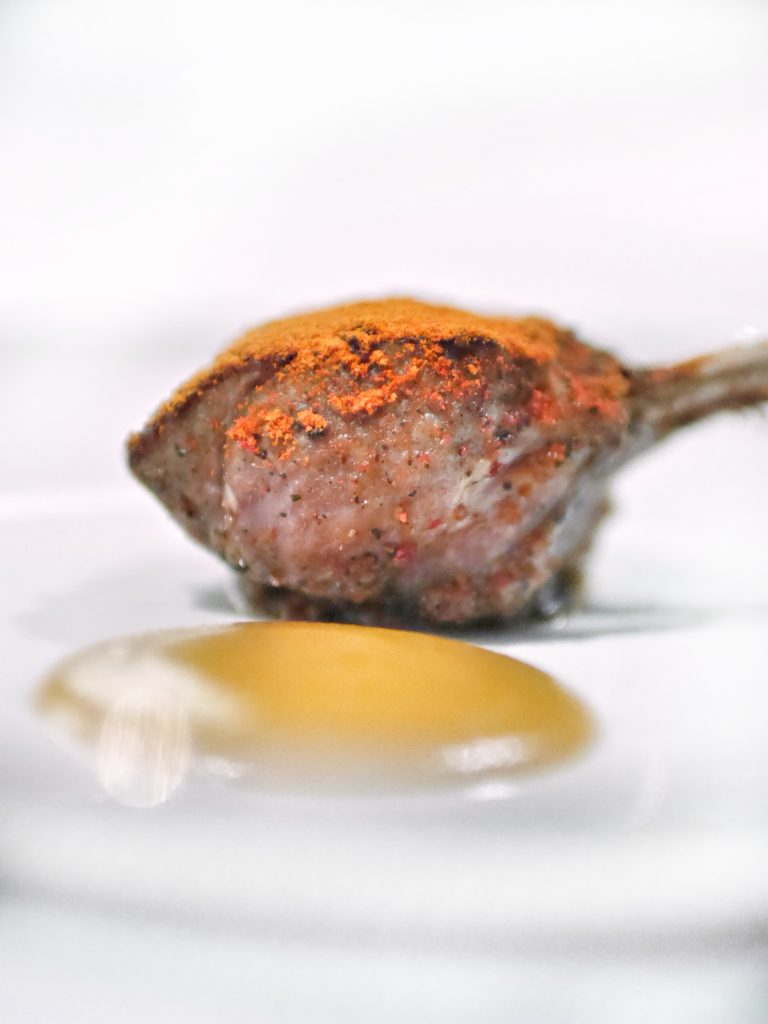 My single favourite dish of the night was called Silence of Our Lamb. Seriously, best restaurant lamb dish I have had all year! Seared Iberico lamb was marinated with a powder made from coriander seeds, peppercorns, red chillies and cinnamon. The lamb was served on a bed of masala, made with a blend of the same spices that went into the marinade, fenugreek and dried chillies. The dish was then finished with a flaming-red bell pepper powder for a touch of sweetness. Aged pumpkin sauce, served on the side, added some balance to an already winning dish.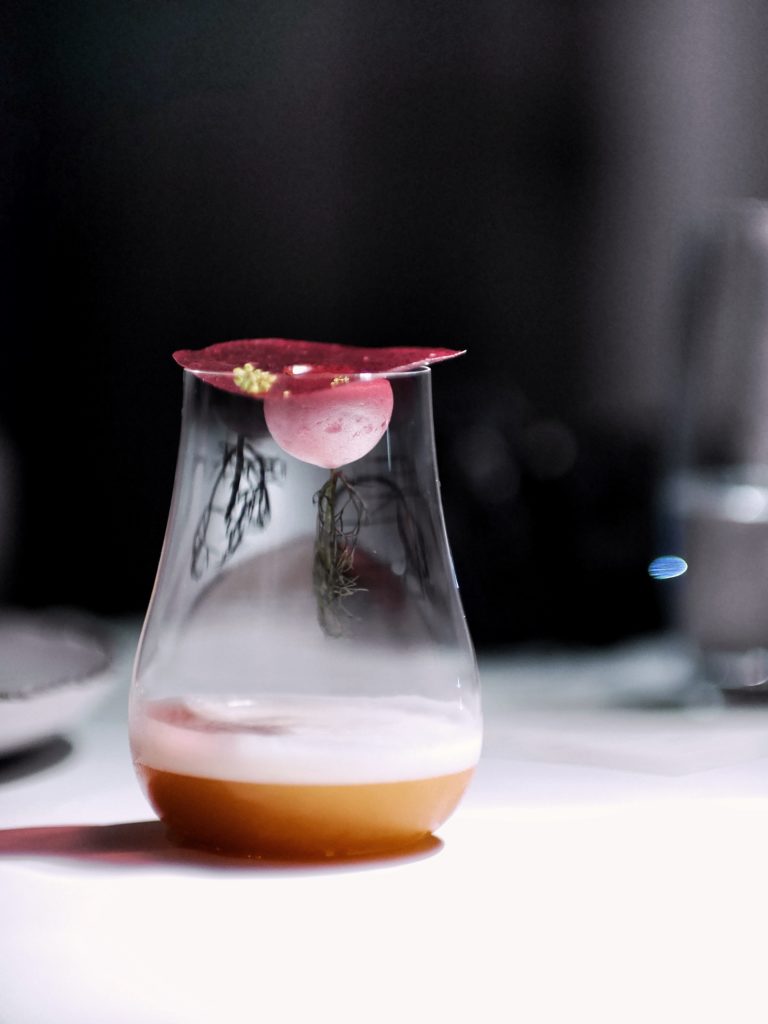 This was served with Akshar's Sour Carrot Cocktail, made with spiced vodka, carrot vodka, sour carrot juice and Bentong ginger cream syrup. The glass was topped with a beetroot disc, airy beetroot meringue and fennel leaves. This serves to give the cocktail a crisp bite, and made the presentation simply gorgeous.
Obviously I could go on and on and cover every dish and drink… but I won't. I want you to enjoy that sense of discovery and surprise when and if you decide to go. And truly, you should go. This is a restaurant that more people need to try and be talking about! And I promise I am not just saying that because my wife helps them.
If you don't have plans to get to KL anytime soon, the team will actually be in town this week. Chef Sricharan is doing a four hands with one of my own favourite Singapore-based chefs, Drew Nocente, of Salted & Hung. The Nadodi x Salted & Hung pop up takes place 2 and 3 October. They are offering a 9 course menu at SGD$158, which given how talented these two guys are, is a great value. I don't know if there are any seats left, but if there are, you should definitely book! Additionally, Akshar will be conducting a cocktail masterclass on 3 October. That should be loads of fun.
Aun has always loved food and travel, passions passed down to him from his parents. This foundation, plus a background in media, pushed him to start Chubby Hubby in 2005. He loves that this site allows him to write about the things he adores--food, style, travel, his wife and his three kids!