This is a real short post. My colleagues and I just had a wonderful lunch at Mayang Sari Nasi Padang, at 54 Zion Road.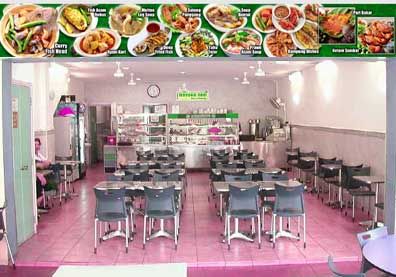 Zion Road is famous for Nasi Padang (originally from Sumatra, this simply describes rice served with a variety of dishes, many of them spicy). This is thanks to Nasi Padang River Valley, a coffee shop that has reigned as one of the city's best Nasi Padang purveyors for decades. Very recently, however, a competitor (Mayang Sari) has popped up, right next door.
Ever since Mayang Sari has opened, I've heard various rumors. The most popular is that the original owners of Nasi Padang River Valley had sold out and then started Mayang Sari right next door. Another was that Mayang Sari was started by the old chefs of River Valley. An SMS from KF Seetoh, the "makanguru" of Singapore, informs me that River Valley (for those who go–it's the one on the left when facing them) is "still" the original.
Being a tad adventurous, and because one of my colleagues had recently been to the "original" and had been disappointed, we tried Mayang Sari. And it was fantastic. The 9 of us ate like pigs and kings, stuffing ourselves silly for just S$50. New, old. Doesn't really matter so long as the food is good and the price is right.

Aun has always loved food and travel, passions passed down to him from his parents. This foundation, plus a background in media, pushed him to start Chubby Hubby in 2005. He loves that this site allows him to write about the things he adores--food, style, travel, his wife and his three kids!