It's no secret that my wife and I are big fans of Chef Willin Low and the Modern Singaporean food he's been pioneering for the past 9 years through his restaurant Wild Rocket. Fans of Willin's, including us, were rather distraught last year when he announced he was closing down this flagship eatery in search of a new location. After a few months of looking around, however, he decided that his original location on Mount Emily Hill was better than anything he'd seen. And so, instead of moving, he renovated the old space, re-opening with a brand new look last week, and with the very notable addition of a dining bar, at which Willin has begun to serve a new 8 course degustation menu.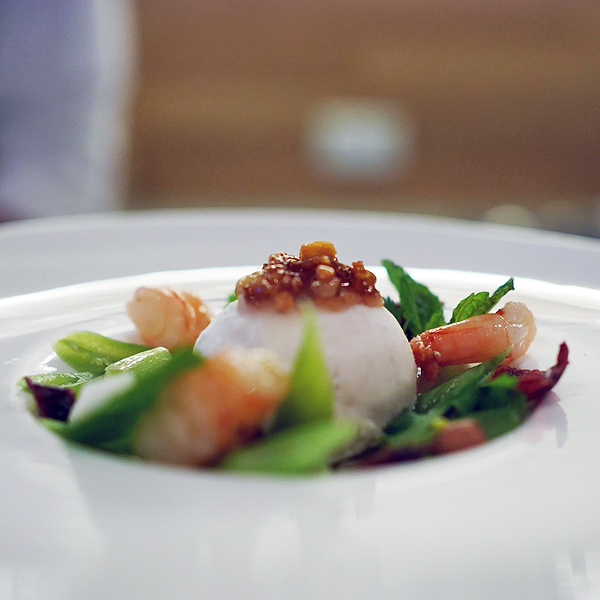 The new Wild Rocket's design aesthetic is very modern, somewhat Japanese, and elegantly warm and inviting. It's a much more grown-up space, suitable for a chef who has himself grown leaps and bounds over the last decade. The counter is very smart without being overly formal. From here, diners can easily interact with the chef, who comes out to personally introduce each of the dishes on his new tasting menu.
The tasting menu kicks off with a dish that Willin has been perfecting over the last year or so — a pomelo salad with tiger prawns and a frozen coconut dressing. This is a gorgeous, refreshing, tart, and somewhat spicy dish that has enormous potential and that I can see becoming synonymous with Willin and his ever-evolving cuisine.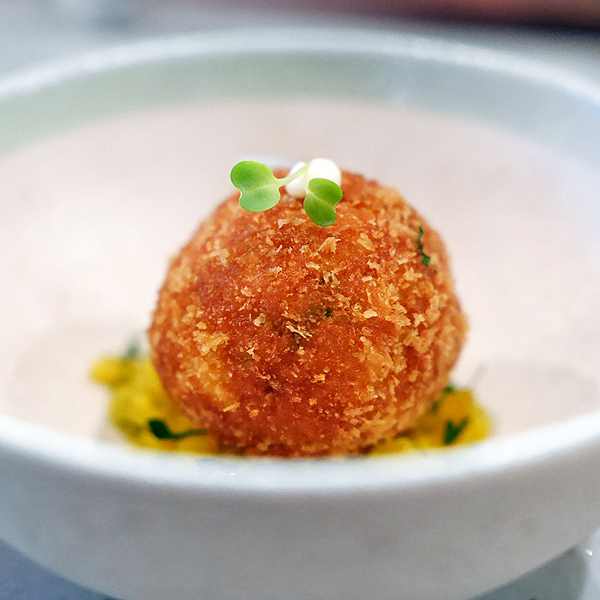 The second dish was gorgeous. Both to behold and to taste. Willin calls it his "salted egg crab ball". Which translates on the plate as a perfectly executed crab cake shaped as a ball on top of a lovely rich salted egg yolk paste.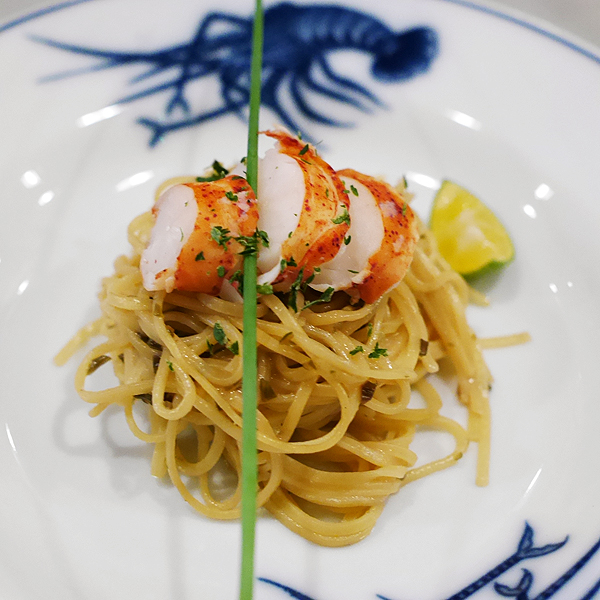 Next is a dish that Willin says will change constantly. He calls it his "Singapore Noodles" course. Through this course, he hopes to exorcise from our culinary vocabularies that horrid, curry-powdered fried noodle dish served at hundreds of Chinese takeaway restaurants across the Western world. His versions of "Singapore Noodles" instead will be inspired by the different noodle dishes that are truly representative and iconic of our culture and our cuisine. When we visited, the dish was a tagliarini with konbu and king prawn.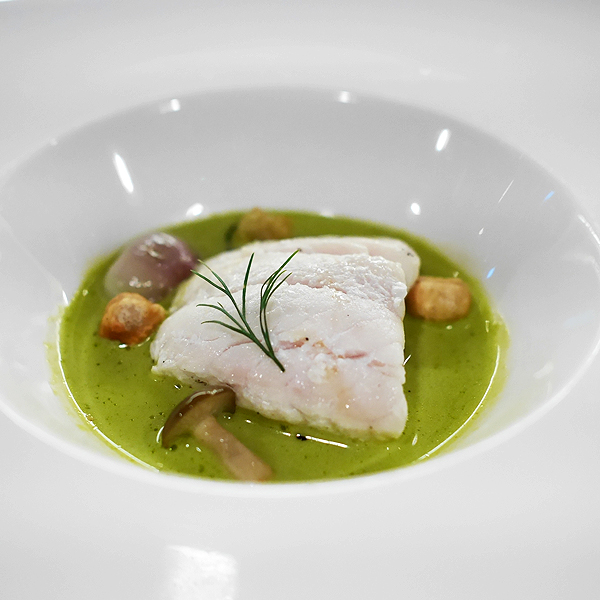 The next dish, I hate to admit, was the only thing on the menu that I did not enjoy. It was a roasted filet of grouper with spring onion and ginger. I found the dish oddly bitter and otherwise under-seasoned. But since I tried this on Willin's first night back in action, I am hoping that he'll perfect it over the next few weeks.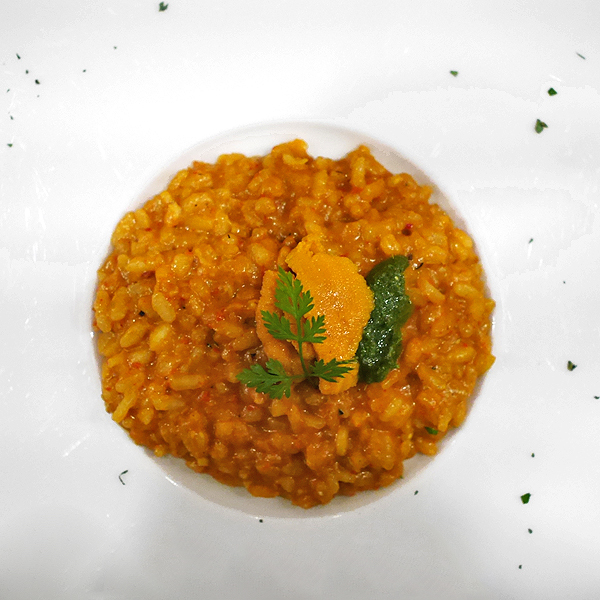 After the fish, you'll be served an umami spice bomb, aka laksa pesto risotto. This dish pays homage to the lakes pesto pasta that Willin is very well-known for. Here, the pesto is used as an accent for a risotto cooked in a laksa prawn stock and topped with sea urchin.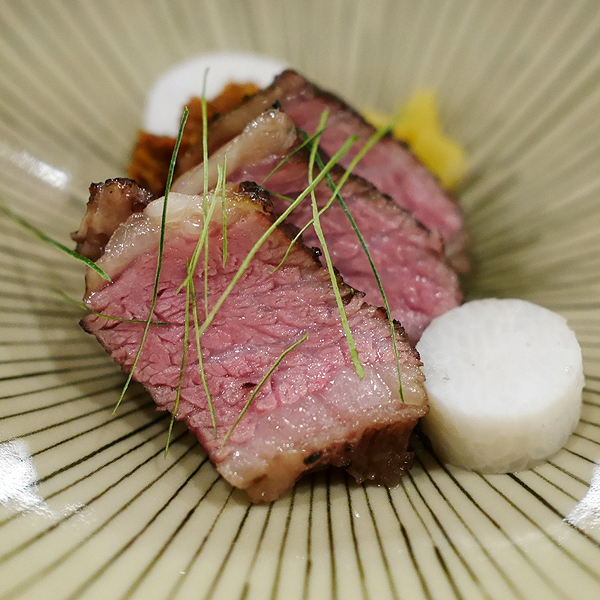 The next course was my favorite and my only criticism was that I wished it was double in size — but I'm a bit of a greedy pig. Willin's beef short rib rending is beautifully seasoned. The beef was moist and juicy and cooked perfectly.
When taking the tasting menu, you will get two desserts. In my enthusiasm of the first — a pineapple sorbet with soy sauce salt and chilli — I devoured it before I realized I had completely forgotten to take a photograph of it. Let's just say it is really great… different but delicious. The final dessert is a lovely slice of green tea sugi cake with coconut ice cream. Also a winner.
Willin's tasting menu is definitely worth having. I still think Willin and his cuisine will continue to change and improve. Despite the fact that he's already a celebrity here in Singapore, I don't think he's quite reached his full culinary potential yet. That said, he's already producing some pretty delectable dishes, so don't wait. Book a seat and taste what he's working on right now. And, when dining at the counter, you'll get the chance to create a real personal connection with this hard-working, earnest and innovative local chef.
Wild Rocket
10A Upper Wilkie Rd, Singapore 228119
Tel: +65 6339 9448
Aun has always loved food and travel, passions passed down to him from his parents. This foundation, plus a background in media, pushed him to start Chubby Hubby in 2005. He loves that this site allows him to write about the things he adores--food, style, travel, his wife and his three kids!