Yesterday, I was fortunate enough to tag along with my wife (the food writer) and her editor as they checked out one of the city's newest restaurants. Townhouse is an airy, comfortable and civilised space that ironically sits above one of the loudest and most popular Irish pubs in town. A joint venture between the company that owns said pub—Molly Malone's—and a restaurateur famed for his fancy French cuisine and somewhat fiery wife, Townhouse is a sanctuary for wine lovers.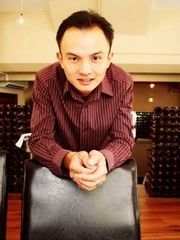 The wine list, lovingly prepared by Townhouse's manager Tye (pictured above), is both huge and humorous. It boasts some 500 wines, 22 by the glass. But instead of offering up either no descriptions whatsoever or poncy oeneologist's terms—neither any help to novice wine drinkers—Tye has penned some pretty funny and simple descriptions on this amazing wine list. Some, like the one pictured here, are only one word long.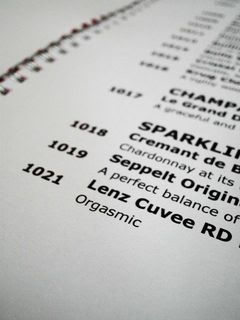 In addition to these cheeky descriptions, Townhouse offers up simple varietal descriptions printed on paper and wrapped around the vintage silverware. Here, for example, are two shots of a Champagne description that held my fork and knife together.
The menu is a simple and pleasing mix of seafood, charcuterie and bistro classics. We tasted a large variety of dishes, each paired with a different wine, as suggested by Tye. I started with a plate of 4 small items, followed by some escargot (pictured here) and then a chicken vol au vent. After that we shared a cheese plate and a selection of tarts.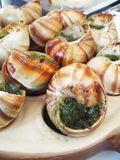 While the food was good, the wines were better. I tried 5 different wines yesterday, leaving only around 495 left on the list to get through. And I'll definitely head back. Townhouse is, as I mentioned, a lovely space for a quiet drink after work…or for a long, boozy Friday lunch.
Aun has always loved food and travel, passions passed down to him from his parents. This foundation, plus a background in media, pushed him to start Chubby Hubby in 2005. He loves that this site allows him to write about the things he adores--food, style, travel, his wife and his three kids!