As a sushi fetishist, I've been rather jaded by the recent flux of new sushiya – it's all too easy nowadays to offer the 'freshest' toro and 'melt-in-your-mouth' uni, in an 'authentic' edomae setting. But the imminent opening of one Sushi Mitsuya, and the arrival of one of the most inspiring shokunin I've had the pleasure of meeting, has my fullest attention. Over the course of two lunches during the restaurant's soft opening in February, I experienced a maturity and obstinate passion absent from other more glamorous sushi bars here. Quite simply, I fell in love. I wasn't expecting much when I paid my first visit to Sushi Mitsuya. Sitting pretty next to Brasserie Gavroche on the nouveau gourmand thoroughfare of Tras Street, Sushi Mitsuya has the cathedral trappings you've come to expect from a modern sushiya – a façade that takes pains to look unremarkable; a preponderance of hinoki; a hallowed silence that immediately makes you forget the raucous din of Tanjong Pagar.
Step through the noren in the restaurant's small receiving room, though, and you'll instantly know that Mitsuya means serious business. Other than a puzzle-box-like private room for 6, the only seats in the restaurant are at an imposing, 18-person counter (yes, it's hinoki), with full frontal views of a chefs' working area. Soft light (which, in Japanese, can be translated as 'mitsu') pours in through what I think is a translucent screen or window carved out of the high ceiling.
Bathing in the glow is Mitsuya's ebullient Harada Ryosuke. A seasoned chef of 13 years whose recent work includes stints in Hong Kong and Tokyo, Harada-san is from the new old school of sushi, the latest generation of Japanese whose cantankerous career paths have been romanticised by the food porn extravaganza, Jiro Dreams of Sushi. Like his peregrinating peers, many of whom have also set up in Singapore, the thirty-something year-old apprenticed under a master chef for years before striking out on his own.
The experience is obvious. As expected, Harada-san gets his fish from suppliers in Tsukijishijo – twice a week, with plans to import more frequently once business steps up. It's also a given that the man's technique is well seasoned – the surgical application of knife to flesh, the economy of hand movement honed to perfection with practice and patience. Like most of the new wave of Japanese restaurants here – at least those with lofty ambitions – the menu is strictly omakase, with three choices of varying price and scope. The only other decision you'll have to make is whether to order a bottle of sake from Mitsuya's carefully crafted collection.
But the similarities to other Japanese restaurants end there. Sushi Mitsuya's take on edomae is rather atypical, a respectfully iconoclastic approach that one of the restaurant's business partners impishly calls "Harada-style."
A meal at Mitsuya waxes and wanes like a Pink Floyd gig, each successive course a new dimension of taste or a riff on the familiar. My starter dish of spinach, tofu, and ankimo looked safe enough, but small surprises abounded – the tofu was made from cheese; the ankimo not steamed, as is the custom, but simmered in a homemade consommé of shoyu and sweet mirin. It was a cheeky prologue from Harada-san – stay on your toes, and expect the unexpected.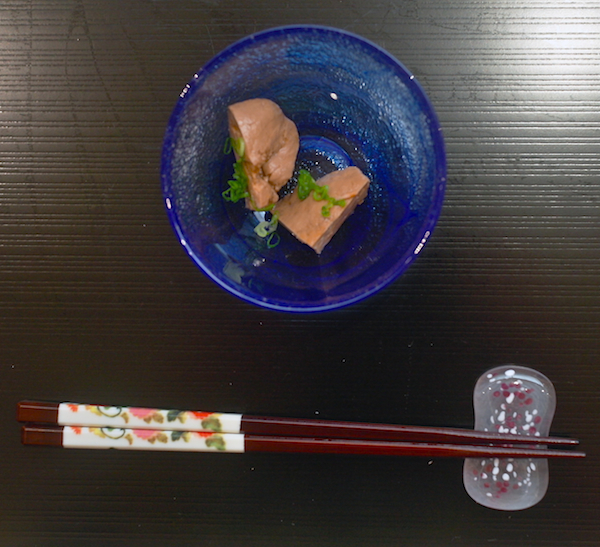 One of the biggest surprises was Harada-san's use of old techniques. Way before airfreight and freezing made super-fresh seafood the name of the game, edomae was about serving weeks-old fish, like vinegared mackerel or tuna marinated in shoyu. Both featured in my meals at Mitsuya – the saba alongside sawara and aji, all similarly seasoned to a briny robustness; and the maguro as part of a contrapuntal sashimi dish with beautiful, fresh kanpachi and more mackerel.
Two more pieces of sushi ­– flounder and grouper – were aged for three weeks, a hoary practice I haven't seen outside Japan. I'd wanted to try aged fish since Aun's post on Sushi Sho, and I now echo his enthusiasm. The fish oozed with a gentle, savoury flavor that matured with every successive bite, lingering like truffle cream on the tongue. It was like the shiromi I'd had before were one-dimensional rip-offs.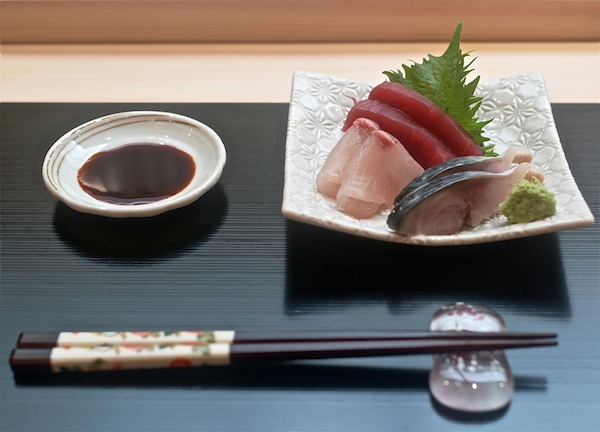 "Fresh fish is boring," was Harada-san's reply when I complimented him on his technique. It's reassuring that a young chef who's spent a chunk of his career outside of Japan has so much respect for the traditional, and the balls to set up shop in a city awash with brand-name, Michelin-starred modernists.
But some of Mitsuya's other dishes were more experimental, and owed less to Harada the traditionalist than Harada the tinkerer. "As an apprentice chef, I had to prepare meals for my master after the restaurant closed," Harada-san tells me.  "I didn't want to serve him the same sushi day after day, so I tried many different combinations of fish and ingredients." This explained, among others, the smidgen of luscious minced shrimp on top of a piece of sea bream sushi; a gentle ablution of sudachi on kamasu, served aburi-style; and, in one of the highlights of my meals, tender slices of yari ika, poached for seconds in hot water before being cooled in an ice bath and then dotted with yuzu pepper paste. Riddled with minute striations from Harada-san's knife, the squid's texture was almost as tender as the barracuda, almost as nectarine as the next course – tairagai sashimi served two ways – one sliced horizontally, one sliced vertically. "The taste, the feel is very different," Harada-san insisted. And so it was.
Special mention must be given to Harada-san's extensive selection of shellfish, by far my favorite sushi. After having some succulent kobashira sushi, gunkan-style, on my first visit, I asked if Harada-san had more shellfish, and if I could try some on my second visit. I was glad I asked– akagai, aoyagi, aoyagi himo, hokkigai, hamaguri, puissant and crunchy, were served in the most triumphant line-up of clams I've had outside of Sushi Yasuda in New York. Harada-san tells me that not many people order shellfish sushi outside of Japan, and consequently, not many restaurants stock shellfish in their kitchens. It's hard to see why, given that clams and scallops are just as fresh as other more celebrated cuts, just as flavourful, and at Mitsuya, made with the same attention to detail and quality. Instead of brushing his hamaguri with the same sauce used for anago, or other fish, Harada-san prepares a clam-based reduction that he says is a much better match. "Why use an eel sauce for clam sushi? I don't understand."
What's equally baffling is why it's taken so long for a restaurant like Mitsuya to come to Singapore. Harada-san's cuisine is neither fusty nor fusion, equal parts experience and education. What he seems to be doing, is exploring different combinations of elemental edomae ingredients, and creating dishes that straddle across the familiar and the novel. It's activist restaurateuring, with a mission to win over the capricious local palate.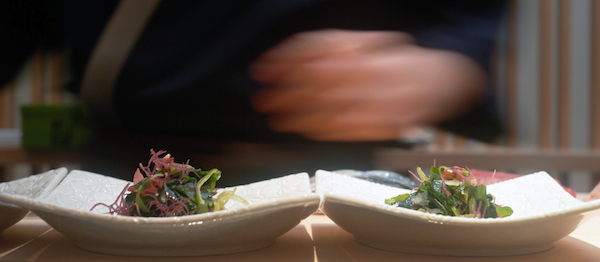 By the time this post is published, Sushi Mitsuya would have had its official opening; but, like any new restaurant, there's some work to be done. Its founding trio will have to hire more chefs, post-haste. (Harada-san: "This counter is so long! I need at least one more sushi chef. If not I will die.") The quality of the sushi rice, so critical in the rarefied atmosphere of serious sushiya, will have to be maintained – it was slightly mushy on my first visit, but perfectly granular on my second. Most of all, it will have to convince fickle diners that it's worth shelling out close to $100 for lunch (on average) and more than $200 for dinner, on a place whose chef isn't namedropped in the Michelin guide, whose sushi will take some getting used to.
I hope that it manages to do all this, because I completely agree with the restaurant's direction and philosophy. Just because something – a technique, a dish – is centuries old, doesn't mean it can't be surprising. There is a kaleidoscope of flavour well beyond the fresh and the sublime, if you dare to explore. And yes, it's okay to only serve one piece of ootoro per meal; or better yet, not at all.
"It's hard, I know. A lot of people here haven't tried the kind of sushi and fish I'm preparing…" Harada-san admitted during my first meal, after presenting me with a glass boat of raw shirouo dressed with ponzu. The fish, which looked like translucent silverbait, was bracingly bitter; but together with the ponzu, some grated sansho pepper, and a garnish of spring onions, it became a mélange of clean, crisp, and curious.
"…but, I won't give up."
Sushi Mitsuya
60 Tras Street, #01-01
Mondays ­– Saturdays: 1130pm – 3pm, 6pm – 11pm
Closed Sunday
www.sushimitsuya.com
Brandon Chew's first memory is of him eating chicken rice at the dining table of his parents' old flat. His second memory is of him politely asking for, and receiving, a second helping of fries at KFC, which taught him two things: manners gets you places, and fries are the most awesome food known to man. Brandon has just returned to Singapore from New York and is happily exploring the food scene here.