Like many of you, I've worked my way through (most of) three seasons of Chef's Table. While some episodes put me to sleep, others were highly memorable. After watching the episodes devoted to Ana Ros and Enrique Olvera in particular, I promised myself that one day (soon), I'll eat at Hisa Franko and Pujol. When I watched the show focused on Chef Tim Raue, however, I had very mixed feelings. His food intrigued me, and I very much wanted to taste it. But the series portrayed him as a complete ass, and I'd rather not hand my money over to such people, no matter how talented they are.
But then my sister-in-law and my brother came back from a trip to Berlin earlier this year and gushed about him, as a person and a chef. She said Chef Tim was awesome… cool and generous and completely the opposite of what was portrayed on television. So, when I was invited to visit Berlin this past September, booking a table at Restaurant Tim Raue was my first priority.
As a Singaporean, I feel a certain connection to and pride for Tim Raue. This is because a visit to our shores in 2004 changed him. Pre-Singapore, Chef Raue excelled at Contemporary European gastronomy, and was one of the continent's rising stars. But a visit to Singapore and a meal at Jade restaurant — at the time helmed by the amazing Sam Leong — ignited in this Kreuzberg wunderkind a passion to not just taste the flavours of Asia but to play with them in his own kitchens. Those embers burned away for 5 years, during which Chef Raue earned his first Michelin star alongside a host of other accolades.
Then in 2008, he struck out on his own, first at Ma Tim Raue and then at Restaurant Tim Raue which now has two Michelin stars and is positioned in that all-too-famous survey as the world's 48th best restaurant. The cuisine can best be described as an homage to Asian food, reimagined, refined, and artfully prepared by a technically brillant Western chef. There is no pretence here to serve authentic anything. The dishes are Chef Raue's love letters to Asia, made with great care, but with greater attention to flavour and produce than to history or culture. Which, as a proponent of modern Asian cuisines, sits perfectly fine with me.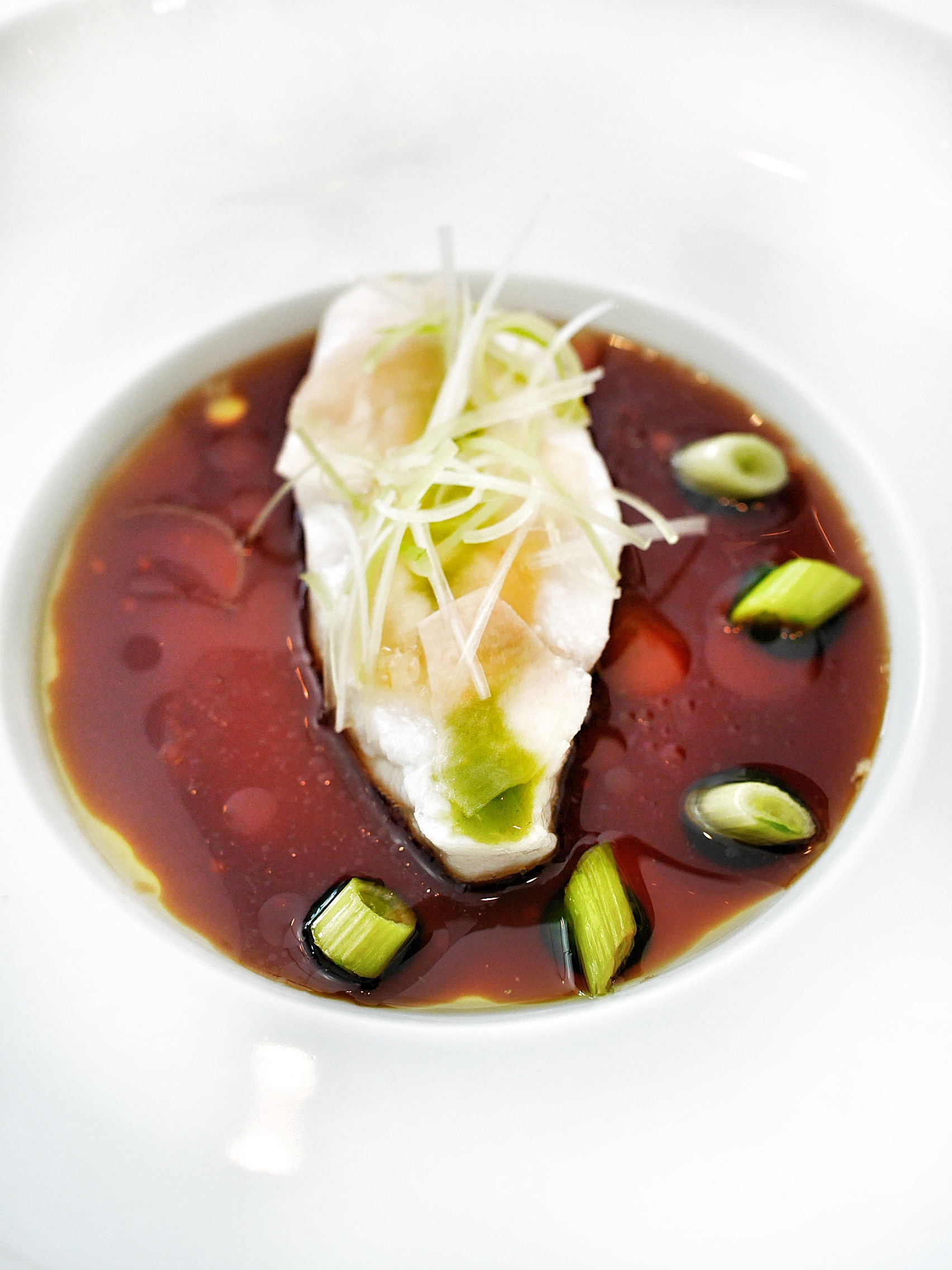 I had the pleasure of visiting Tim Raue in the company of two great chefs and some heavy-weight (but irreverent and fun) foodies. We immediately felt at ease in Tim Raue's light-filled dining room. Berlin manages to balance the casual and the formal better than most cities. And so, kitted out in a T-shirt, blazer and cotton pants, I felt no more over or underdressed than the waitstaff or any other customer. The art that adorns the room is cheeky and striking.
We started our meal with a plethora of snacks and a delicious sparkling Riesling. The snacks immediately reminded us of both Szechuan and Korean restaurants, from the flavours and the serving style respectively. This was followed up with an incredibly beautiful and delicuous first course (pictured at the top of the post): Imperial caviar with beeftea jelly flavoured with sprat, toasted quinoa & onions, habanero chilli, creme fraiche, spring onions and leeks. The beeftea had hints of Cantonese, Thai and Vietnamese influences but never overpowered the other elements on the plate. I loved the contrast of textures and temperatures but what really surprised me and wowed me was the amount of chilli heat that Chef Raue built into the dish.
Next was a lovely steamed pikeperch with butter, spring leeks, young pickled ginger and a super umami stock made with 10 year aged Kamebishi soy sauce. This simple plate smelled like the best Cantonese steamed fish in the world and the taste wasn't that far off.
The next dish made our whole table laugh. Langoustine marinated with wasabi mayonnaise, coated with deep fried green rice, served with a stock made from fish sauce, mango and carrots. The wasabi prawn has pretty much become a Chinese restaurant staple in Singapore — throw a chopstick in any direction and you'll probably hit a Chinese eatery that serves this now too common dish. But back in the early 2000s, this was a revolutionary Modern Chinese dish that was invented by Sam Leong… yup, the chef whose meal at Jade pretty much forced Chef Raue to redefine his cuisine and his career. Chef Raue's wasabi prawn was beautiful; I particularly liked the deep fried rice on the prawn. It was also bold of him to serve the prawn with what was essentially a high-end and exquisitely made, yet super strong, sweet and sour sauce.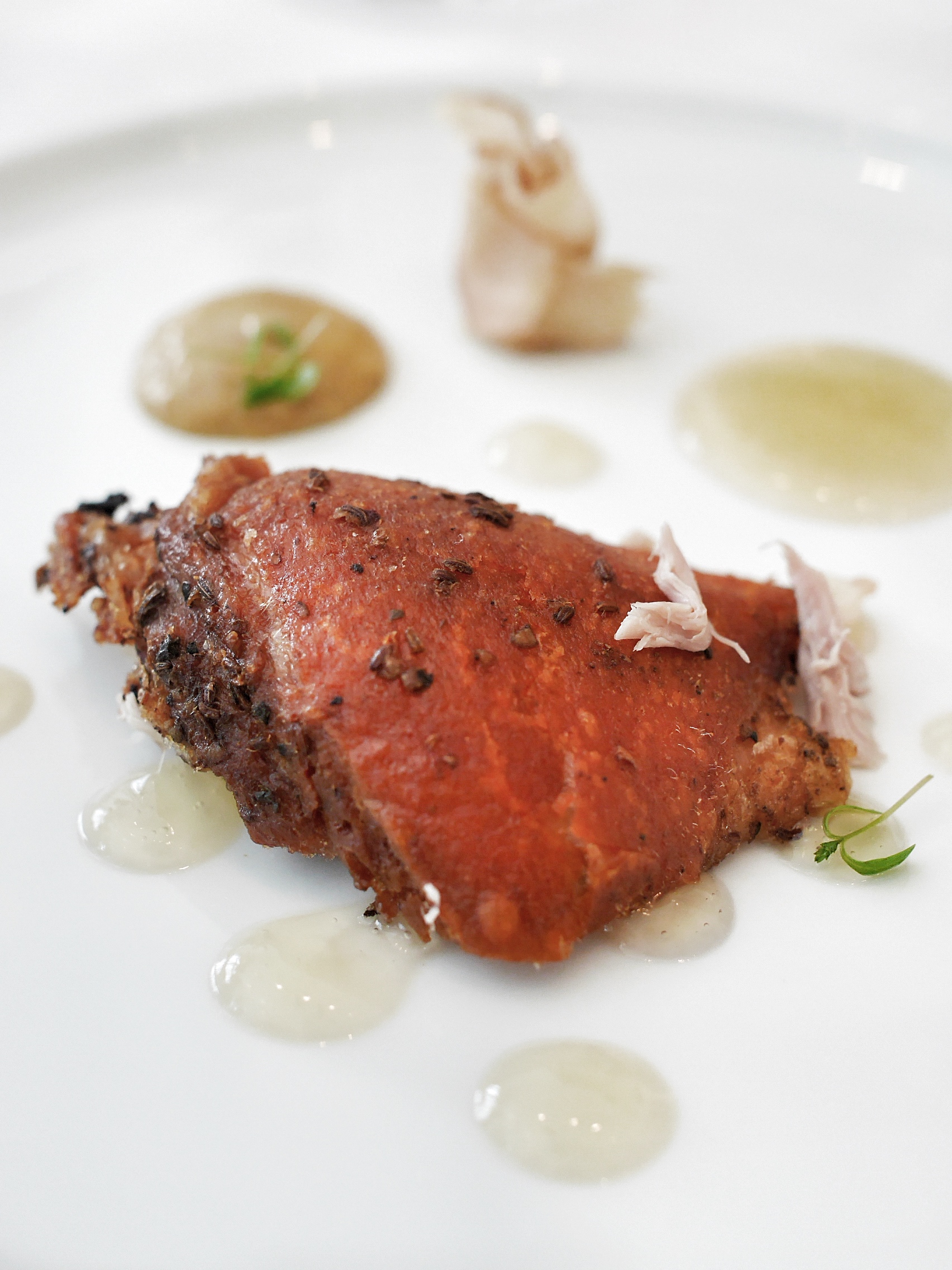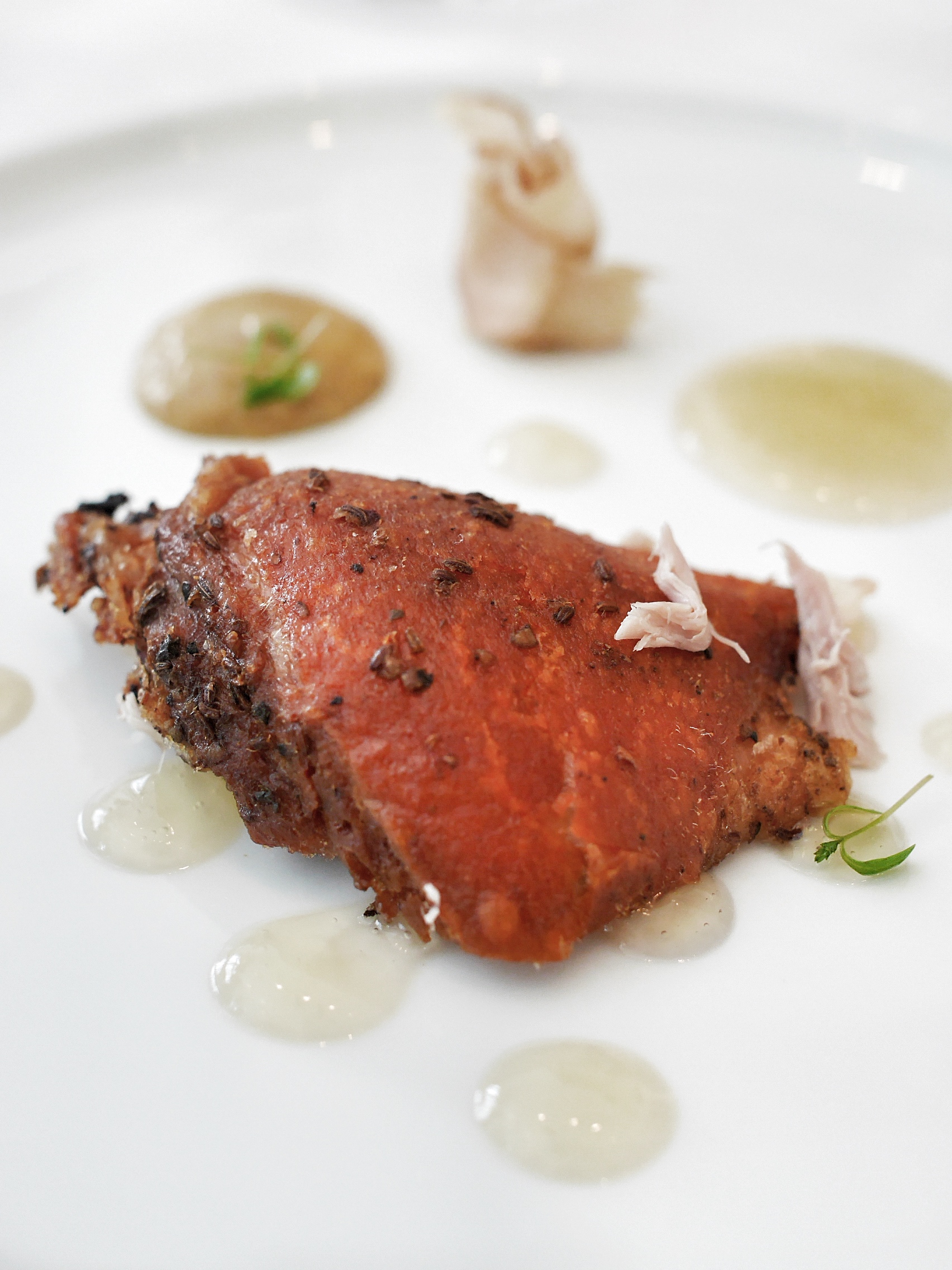 Suckling pig came next. This was a beautiful dish that paid homage to Tim's German heritage and Chinese cooking techniques and flavours. Pork knuckles were brought out, shredded and deboned table side, with the meat elegantly plated for us and served with a cream of Japanese mustard, young pickled ginger and dashi jelly.
Now, when we sat down, Chef had decided that we would have a six course lunch composed of his signature dishes. But one of our companions complained. We had flown all the way to Berlin to eat at his place so, goddamit, she wanted to have the eight course menu. So the restaurant added two more items to our menu (which nearly killed me). The first of these was Chef Raue's version of Black Pepper Beef: stewed rib meat in beeftea jus with wild Madagascar pepper, gegenbauer's PX vinegar, white onion cream, chive blossoms, pearl onions pickled in port wine vinegar, onion crunch and shallots. Damned tasty dish but way too big (I think Chef purposely chose a big-assed dish to prove to my dining companion that the six course menu would have been perfect).
I had really been looking forward to this next course, and it did not disappoint at all. Tim Raue's Peking duck. This was a dish served in three plates. The first had two small pieces of duck breast with crispy skin flavoured with five spice. The second dish was a duck liver terrine, with pickled cucumber, ginger-leek cream, and powder of duck skin. The final piece of this puzzle (not pictured) was a duck soup, made with the tongue, heart and stomach, wintermelon and bamboo mushroom.
Before dessert, we were served a cheese course (this was one of the two added courses). I actually ate it before I could shoot a nice picture, so apologies for that. It was a mousse of brie de meaux cheese, cream and black truffles, pickled grapes, hazelnuts and hazelnut oil, lamb's lettuce with sesame dressing, red chilli and sun choke skin.
Dessert was a molded sorbet made from cucumber and tonka, served with cucumber slices and cucumber jelly, passionfruit foam, and cauliflower petals. I loved how refreshing this was. Just as much as how silly the mold used for the dessert was. It was a fun way to end an exemplary meal cooked by a chef who is passionate, funny as hell, and super talented.
I have to also agree with my sister-in-law. Chef Raue was hardly the prima donna-esque dick that was portrayed in Chef's Table. Quite the opposite in fact. Yes, he has a big personality and he's proud of what he does but, hell, that describes most of my favourite people.
On the day we visited, within minutes of meeting him, my group was laughing and trading quips. In fact, by the end of the meal, one dining companion in particular was giving him a master class in Hokkien swear words. She also introduced Boomerang to him, which I'm told he's now an avid fan of. As evidence, below is the second Boomerang video that Tim had ever been in (the first was even sillier). No way some self-centred jerkface would have ever made fun of himself this way. Tim Raue, without a doubt, is a good guy, a great f&#ing chef!
Aun has always loved food and travel, passions passed down to him from his parents. This foundation, plus a background in media, pushed him to start Chubby Hubby in 2005. He loves that this site allows him to write about the things he adores--food, style, travel, his wife and his three kids!