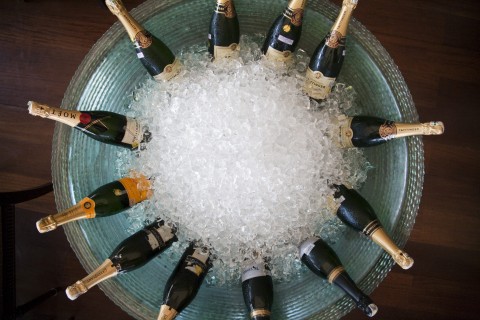 Somehow with all the trends in food and drink like artisanal crafting, molecular gastronomy and mixologists, simply pouring a glass of champagne or sparkling wine seems boring and perhaps even….gasp!…lazy. 
In cases like these, I am a big fan of the champagne cocktail. Now, I personally wouldn't do this with a bottle of Krug, for example, as great champagnes deserve to stand solidly on their own two feet. But with a medium to low priced champagne, this is just the solution to kick it up a notch.
You can use Prosecco or Cava, but there are some basics to be mindful of. Prosecco already has a fruity character imparted by the Glera grape that is used and the production method which preserve a more fruit-forward expression, so sometimes, the addition of other elements can push it toward cloying.
Cava is closer in taste profile to Champagne than Prosecco, given that the production methods are similar, but beware that a distinctive element of Cava is its slightly earthy quality, which can also throw off these delicate cocktail blends. If you'd like to substitute other sparkling wines, be selective and only go with the wines which you know for sure that have the high acid, crisp and low fruitiness that is characteristic of champagne.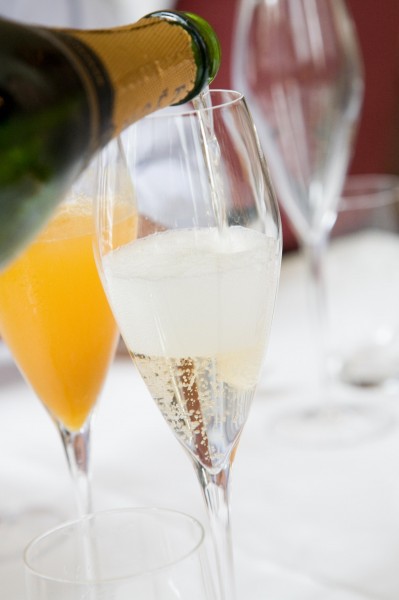 This is why Champagne is such an appropriate base for cocktail experimentation, and with the addition of some simple ingredients, your bubbles come (even more) alive and take on a festive and decadent feel.
Here are three of my favorites – we are not talking your average mimosas here.
Peach Semifreddo Bellini
1 cup peeled, chopped peaches, frozen until hardened
¼ cup peach schnapps
¾ cup plus 2 tablespoons chilled Champagne or sparkling white wine
2 tablespoons superfine sugar
1 cup small ice cubes
Peach slices, for garnish
Blend peaches, schnapps, 2 tablespoons Champagne, the sugar and ice in a blender until smooth. Divide mixture between 2 glasses and then fill the rest of the glass with Champagne. This serves 2, but of course you can double the recipe (or triple) as needed.
Bubbly Mojito
6 fresh mint leaves
¾ ounce freshly squeezed lime juice
1 ounce simple syrup
(Bring 1 cup sugar and 1 cup water to a boil in a saucepan over medium heat, and cook, stirring, until sugar has dissolved. Let cool completely and you have a simple syrup!)
1½ ounces rum, preferably Cruzan
2 dashes Angostura bitters
2 ounces Champagne (Prosecco can be substituted here), chilled
Muddle mint, lime juice and syrup to combine the flavours and release the oils in the mint. Pour into a shake and add rum and bitters, shake over ice. Then strain into a Champagne flute and fill to the top with Champagne
Death in the Afternoon
This is the simplest recipe, but with perhaps the most dramatic name. It starts with Absinthe, but if you cannot find Absinthe, you can use Pastis or any other anise-flavoured liquer.
Simply combine in  a 0.5:5 ratio of Absinthe to Champagne, and voila!
Soon you will be sipping bubbly champagne cocktails with abandon. I warn you though, once you get started on experimenting with taste combinations, it is very hard to stop!
Joanna Hutchins is a culinary travel blogger based in Shanghai, China.. In 2009, Joanna founded Accidental Epicurean, a culinary travel blog focused on Asia. Joanna is also a contributor to CNNGo, Look East magazine, SE Asia Globe and Two magazine.