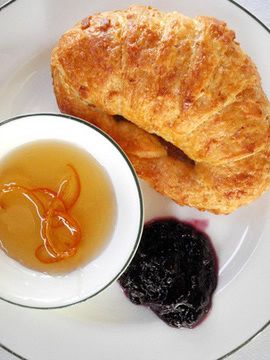 Before coming to Chiva-Som, I don't think I would have ever considered eating a whole grain croissant. And not especially one made with as little butter as possible. The idea alone is off-putting. It sounds like something a peasant-skirted fem-hippy with unshaven legs and armpit hair would make (um… no offence intended to unshaven fem-hippy readers). It would be hard and tasteless, edible only when soaked in a bucket of wheatgrass juice or herbal tea.
Croissants are supposed to be rich, buttery, and airy. A batch of dough calling for, say, 4 cups of flour usually requires around 1.5 cups of butter. The flour is also important. It should be normal all-purpose flour, milled finely so that the dough comes out smooth. Croissants shouldn't be made with flour studded with kernels. Who has ever enjoyed a lumpy, grainy croissant?
Amazingly, I can now say I have. Among the many healthy baked goods featured in Chiva-Som's breakfast spread are these croissants, made with whole grain flour and with very little butter. They are also quite small, less than half the size of the normal croissant. Surprisingly though, they weren't awful. Far from it. In fact, they were really good. So good I had two each morning, spread with a bit of organic honey and a bit of fruit compote. (The one pictured is with citrus honey and blueberry compote.) They were light and crisp and not a bit oily. And to tell the truth, I really got hooked on them.
Unfortunately, the recipe doesn't appear in the current Chiva-Som cookbook and since the book I am contributing to is specifically on Thai food, I doubt it will be in there either. My wife is considering asking one of her baker friends to work with her to come up with a recipe for these. If they do, you can bet I'll post it here. Of course, if any of you have recipes, feel free to email them to me.
Aun has always loved food and travel, passions passed down to him from his parents. This foundation, plus a background in media, pushed him to start Chubby Hubby in 2005. He loves that this site allows him to write about the things he adores--food, style, travel, his wife and his three kids!