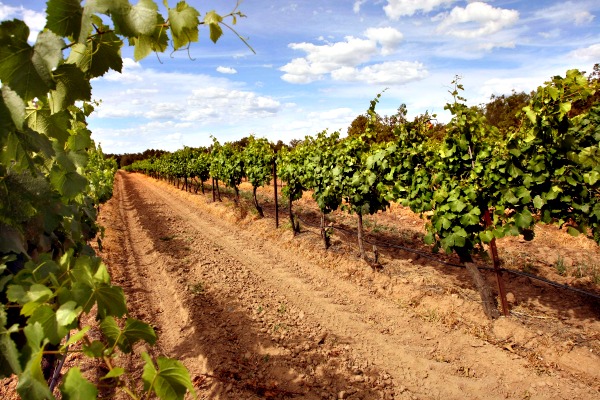 Braemore Vineyard – Courtesy of Thomas Wines
The Hunter Valley Wine country is New South Wales' largest wine region.  Its proximity to Sydney, a drive less than two hours away, makes it a perfect escape from the city.  One day in the Hunter can pack a lot of activity and ignite the senses without wearing you out as a visitor.  It's an ideal detour from the joys of Sydney's harbour and beaches.
It takes less than two hours to get to the Hunter.  The route is green, and the highways run between sandstone hills, streams, and creeks.  The serenity kicks in quickly, once you've left the city behind, the mindset of enjoying the country sets right in, and will prepare you for your first cellar door visit.
Brokenwood Wines is a local favourite; a medium-sized wine producer that makes stunning Semillon and Shiraz.  A visit to Brokenwood's cellar door must be made in advanced, but the owners are very accommodating.  They offer both group tastings and premium one-on-one experiences.  Talking to the wine-makers while sampling varietals Brokenwood produces around NSW (from Cowra, to Orange, to the Hunter Valley of course) in a quaint location – a gorgeous cabin at the entrance of Hunter's main suburb of Pokolbin – is the picture-perfect beginning to a day of savouring wine country.  Pick up a bottle of Brokenwood's Cricket Pitch red (a blend of cabernet sauvignon, shiraz, merlot, and petit verdot) as a memento of a first-rate escapade.
An ideal second stop, and a short five minute drive from Brokenwood, is the Hunter Valley Cheese Co., located inside McGuigan Wines Complex.  Learn about the best locally produced cheese by joining the Cheese Co.'s daily cheese talk at 11am, taste local goods, add lining to your stomach, and have a chat with the experts.  Being inside the complex means tasting McGuigan specialties, and don't forget to purchase a hamper to take home, of both cheese and wine to match.  The Hunter Valley Cheese Co. also offers set lunches inside the estate.  They're a wonderful option for large groups of people.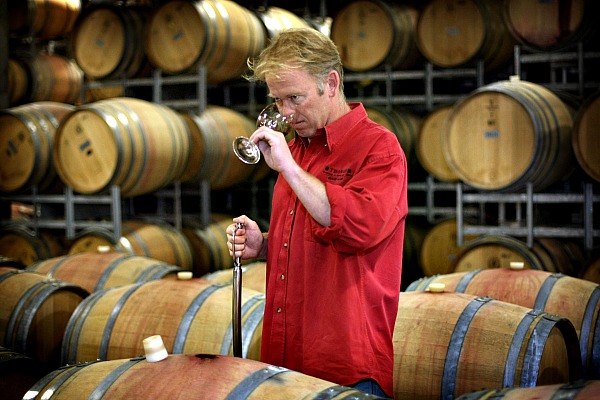 Winemaker Andrew Thomas – Courtesy of Thomas Wines
After some cheese and local expertise, one final cellar door visit is essential before lunch.  Andrew Thomas is a very special winemaker.  One of the finest wine-makers in the region – who has won numerous awards and received multiple accolades – this small wine-maker has revolutionised the Hunter by making single vineyard Semillon and Shiraz that rival the long established estates.  It will be hard not to return home with several bottles of his splendid Thomas 'The Kiss' Shiraz or the famed 'Braemore' Semillon.  That cheese platter purchased earlier starts to look increasingly tempting.
Lunch will be as grand as the morning's activities, and two places truly capture the scenic pleasures of dining in the Hunter Valley: serene, exclusive, sublime.  Restaurant Cuvee at Peterson House hosts a fantastic selection of sparkling wines.  Enjoy dishes such as dukkah crumbed zucchini flowers and oven roasted lamb rump on beetroot infused quinoa, while overlooking the vineyards and sipping on bubbly.  Harvest Restaurant, a secluded lunch option, highlights the joys of being in wine country. Relish on sea scallops with broad bean tapenade, Darling Downs wagyu sirloin, or nigella crusted lamb loin while overlooking the vineyard of Pokolbin's Hope Estate.
For a taste of tradition, visit Lindeman's Vineyard. Before becoming the nation-wide force and internationally recognised brand that it is today, Lindeman's began in the Hunter Valley with "Ben Ean" range.  The estate covers over 130 hectares of vineyards and a museum with a collection of wine-making tools that date to 1880, when the buildings were first constructed.  The restaurant on site, 1843 Harvest Café, is charming: rustic feel paired with invigorating food.  A platter of antipasto, veal and pork lasagne, wood-fired pizza, match the expansive range of Lindeman's wine available for by the glass, bottle, or as take-home goods.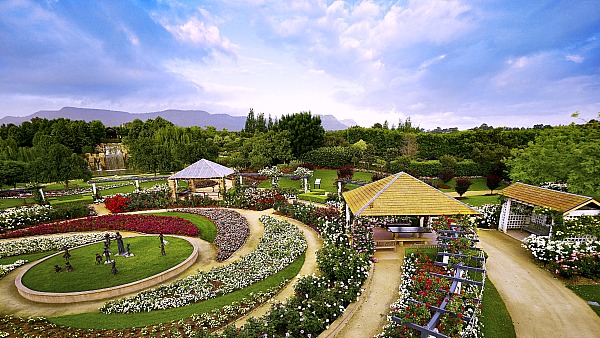 After lunch, ease back into movement by visiting the Hunter Valley Gardens.  Sixty acres of trees, displays, walking paths, a luscious rose garden, and even a Fairytale Characters storybook garden where one feels like Alice back in Wonderland.  Enjoy the surroundings and browse through Hunter Valley Liquers, Braerami Olives, and the tempting Hunter Valley Chocolate Shop inside the Gardens compound.   With final purchases made, and hampers packed, come five o'clock, a day in the Hunter might be coming to an end. If the pleasures of wine country were too enticing, and you choose to stay overnight, round up the day with a visit to the Hunter Beer Company – take a break from the beautiful wine and learn about the micro-brewing process before dinner plans.
After a relaxing stroll through the gardens, a cup of tea and some handmade chocolates, driving back to Sydney that afternoon will seem like a breeze.  You can make it just in time to unwind in the city before heading out to dinner at Nomad restaurant, – one of Sydney's highest praised newcomers.  Nomad, which serves seasonal modern Australian food with Mediterranean inspiration, is the only establishment in Australia with a wine list composed entirely of New South Wales wines.  An ideal end to a day filled with local flavours and newly acquired appreciation for New South Wales's fine gourmet offerings.
Brokenwood Wines
401 – 427 McDonalds Road, Pokolbin, NSW 2320
Tel. +61 2 4998 7559
www.brokenwood.com.au
The Hunter Valley Cheese Co.
McGuigans Complex – McDonalds Road, Pokolbin, NSW 2320
Tel. +61 4998 7744
www.huntervalleycheese.com.au
Thomas Wines at The Small Winemakers Centre
426 McDonalds Road, Pokolbin, NSW 2320
Tel. +61 2 4998 7668
www.thomaswines.com.au
Restaurant Cuvee at Peterson House
Corner Broke Road & Wine Country Drive, Pokolbin, NSW 2320
Tel. +61 2 4998 7881
www.petersonhouse.com.au/restaurant.html
Harvest Restaurant at Hope Estate
2213 Broke Rd, Pokolbin, NSW 2320
Tel. +61 2 4993 3599
www.hopeestate.com.au/dining/
Hunter Valley Gardens
Broke Road Pokolbin, NSW 2320 Australia
Tel. +61 2 4998 4000
www.huntervalleygardens.com.au
Lindeman's Hunter Valley Winery
McDonald's Road, Pokolbin, NSW 2320
Tel. +61 2 4993 3700
www.lindemans.com/en/au
Hunter Beer Co.
Potters Hotel Brewery Resort – Wine Country Drive, Nulkaba, NSW 2325
Tel. +61 2 4991 7922
www.hunterbeerco.com
Restaurant Nomad
16 Foster St, Surry Hills, NSW 2010
Tel. +61 2 9280 3395
www.restaurantnomad.com.au
Celebrating Australian food with Tourism Australia. To find out more, check out the best of Australian road trips.

Janice is a girl from Lima, Peru who loves a good cebiche and a glass of dry Riesling. She travels the world (often for food or to check out new restaurants) and lives in Australia. Janice tries to learn about different countries through cuisine, and takes advantage of Sydney's multiculturalism by exploring gastronomy in all of its forms. Grower's markets, wine tastings, restaurant openings, cooking classes, shopping for specialty spices; she's keen to do it all.