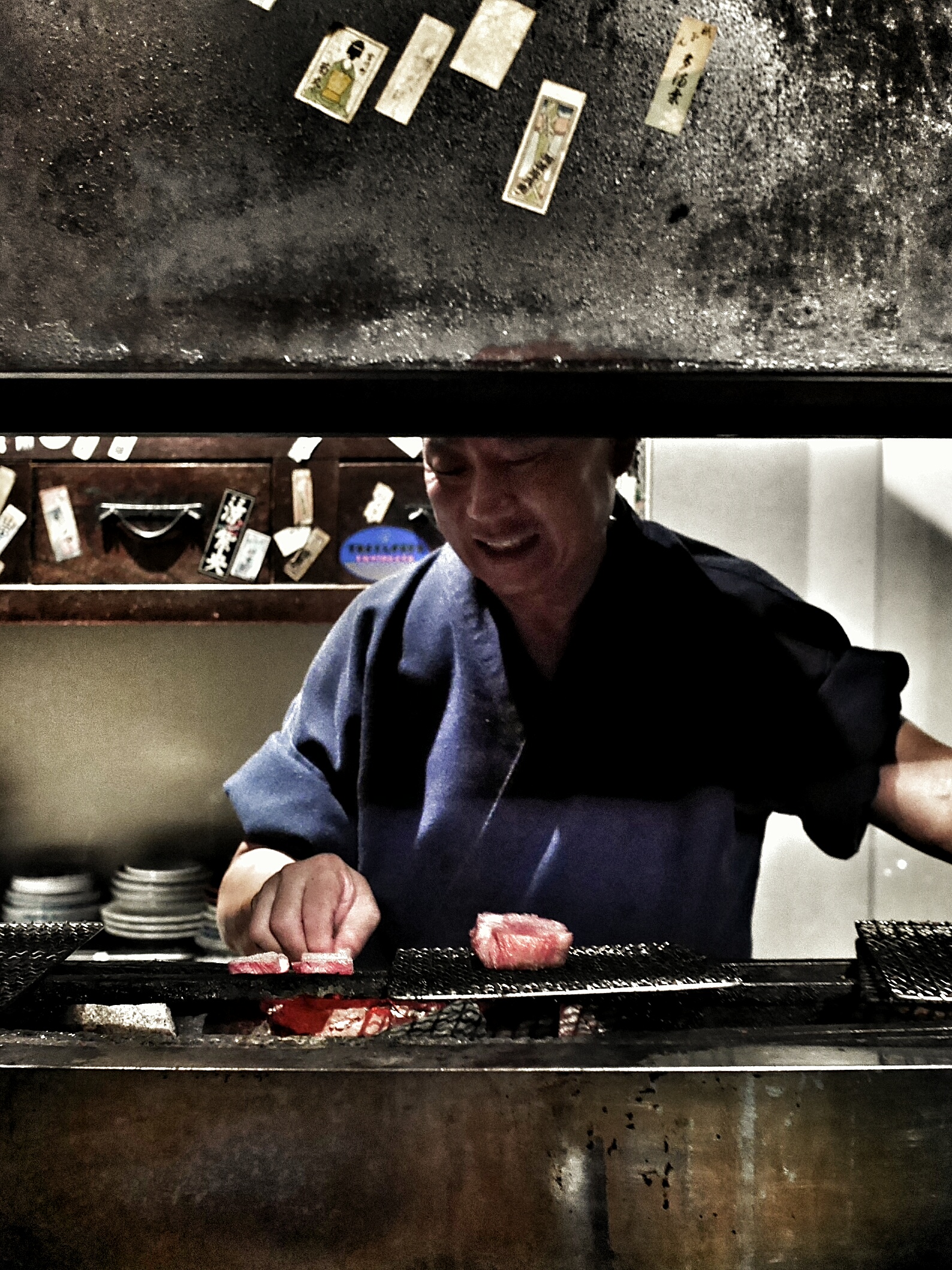 My all-time favourite restaurant in Kyoto is a tiny, offbeat, rustic place in the northern suburbs of the city called Gyu Ho, which roughly translates as, "cow paradise".
My wife and I first visited Gyu Ho back in 2009. It was recommended to us by a friend in the hospitality sector. All of his recommendations were excellent, in fact, but Gyu Ho was the place that we loved the most. That first visit was highly memorable. That evening, the place was bustling. Every seat was taken and my wife and I quickly realised we were the only customers in the restaurant not smoking (and smoking heavily). Between the large charcoal grill in the middle of the room and the diners, the whole space was filled with that kind of thick, hazy air that was commonplace in bohemian cafes back when I was in university.
Seating at Gyu Ho is entirely around an L-shaped counter. The restaurant offers only 11 seats. That night, chef-owner Masanobu Nishiyama welcomed us with bemused curiosity. The first thing he served us was raw calf's liver, and watched us very closely, waiting to see if we attacked the dish with gusto or poked at it with trepidation. We happily wolfed it down, and once we did, we clearly passed this eccentric chef's test. As the night went by and as the sake flowed, he began to chat with us (he speaks passable English) and joke with us. At one point he told us the customer next to us, a beautiful woman in most probably her late 30s, was "the most famous woman in Gion". While we at first didn't know what that meant, the woman was clearly entertaining her companion, a well-dressed man significantly older than her. It was rather apparent to us that there was some sort of client relationship going on there.
We only found out later that Gyu Ho is a favourite restaurant of off-duty geiko (geisha). Some also frequent the restaurant "on-duty" but out of make-up and kimono, a la our dining companion on that first evening. In fact, when you visit the restaurant, one of the first things you notice are the stickers, placed on the door, on the cooker hood above the charcoal grill, and elsewhere throughout the restaurant. These are stickers given out by geiko and meiko and supposedly pasted there by the ones who freqent the restaurant.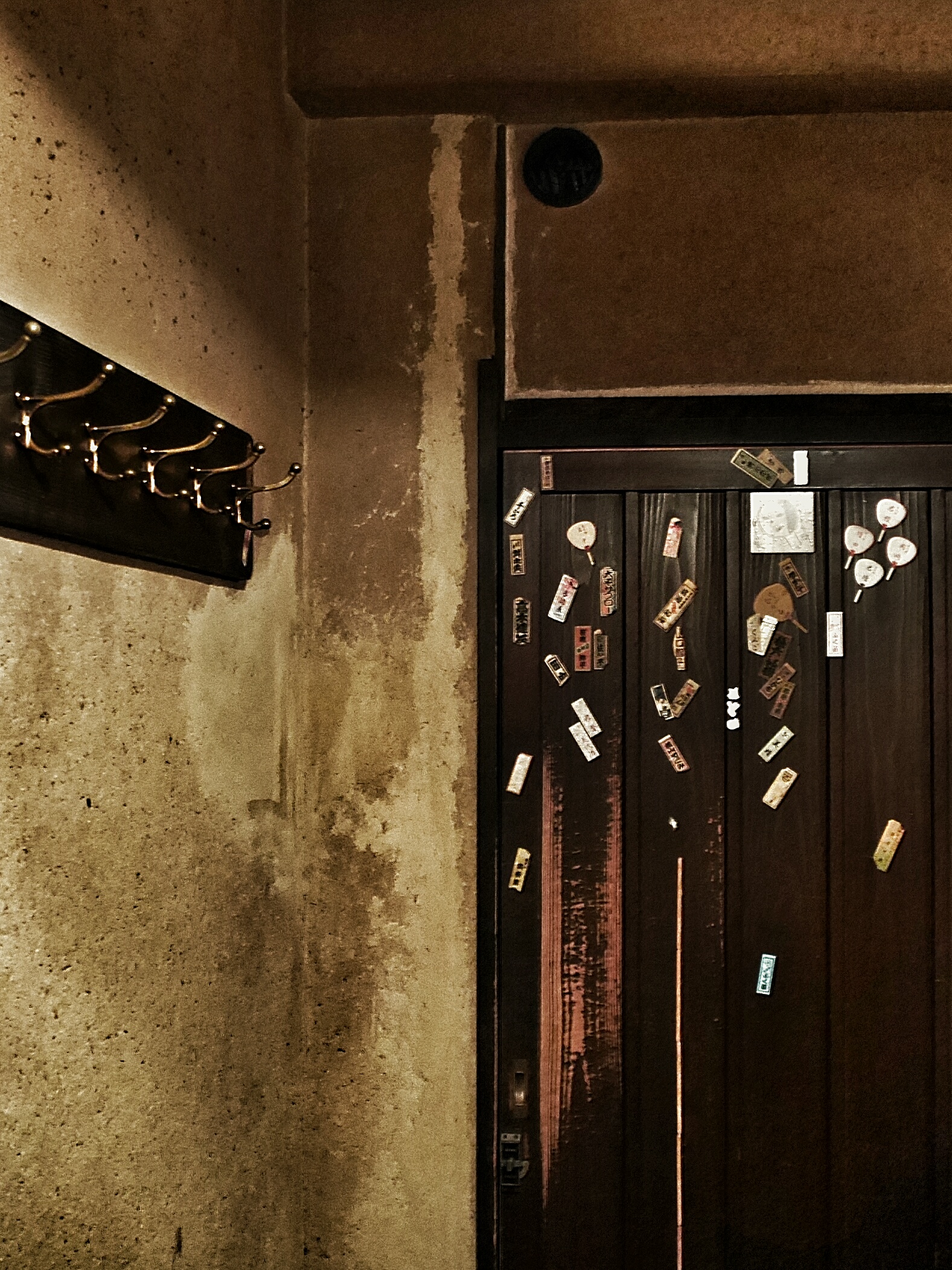 The food that first night was also fabulous. It was hearty, high-quality, unpretentious, and occasionally creative. But you don't go to Gyu Ho just for the food. You go for the conviviality of the place, for Nishiyama-san's showmanship and sense of humour, and because this is one restaurant where you can totally let your hair down, be yourself, and not have to worry about formality. Simply put, that first visit to Gyu Ho was our most memorable meal of that trip simply because it was the most fun. Return visits to Gyu Ho have all been equally fun. Over the years, we've met some very amusing and off the wall characters there. It's, in my book, sort of a gustatory equivalent to Callahan's crosstime saloon.
Gyu Ho, though, is not a place I'd take kids. And as all of our Kyoto trips since we've become parents were with rugrat #1, we hadn't visited Nishiyama-san in five years. Until last week.
For our fifteenth wedding anniversary, I planned a six day trip to Japan… 3 days in Tokyo, 2 in Kyoto and 1 in Osaka. Y'all know what happened during our first night in Kyoto. For our second night, we returned to Gyu Ho. Which hadn't changed at all. Thank God!
Nishiyama-san welcomed us with a smile, jokes, and cold sake. He even serenaded us (Can't Help Falling in Love) in a surprisingly rich baritone. We had brought a bottle of Champagne (a gift from our hotel) and shared it with the chef and other diners. The customers next to us then bought us a round of sake.
Upon arrival, we were served raw veggies with homemade miso. This was followed by an amazing little dish of sweet onion with ume sauce. After that, with a smile and a wink, he served us a dish of raw calf's liver, which was simply divine.
The next course is one of my favourite things at Gyu Ho, ox tongue gyoza. These are simply sensational. Nishiyama serves them with a chilli-oil accented ponzu. Yum.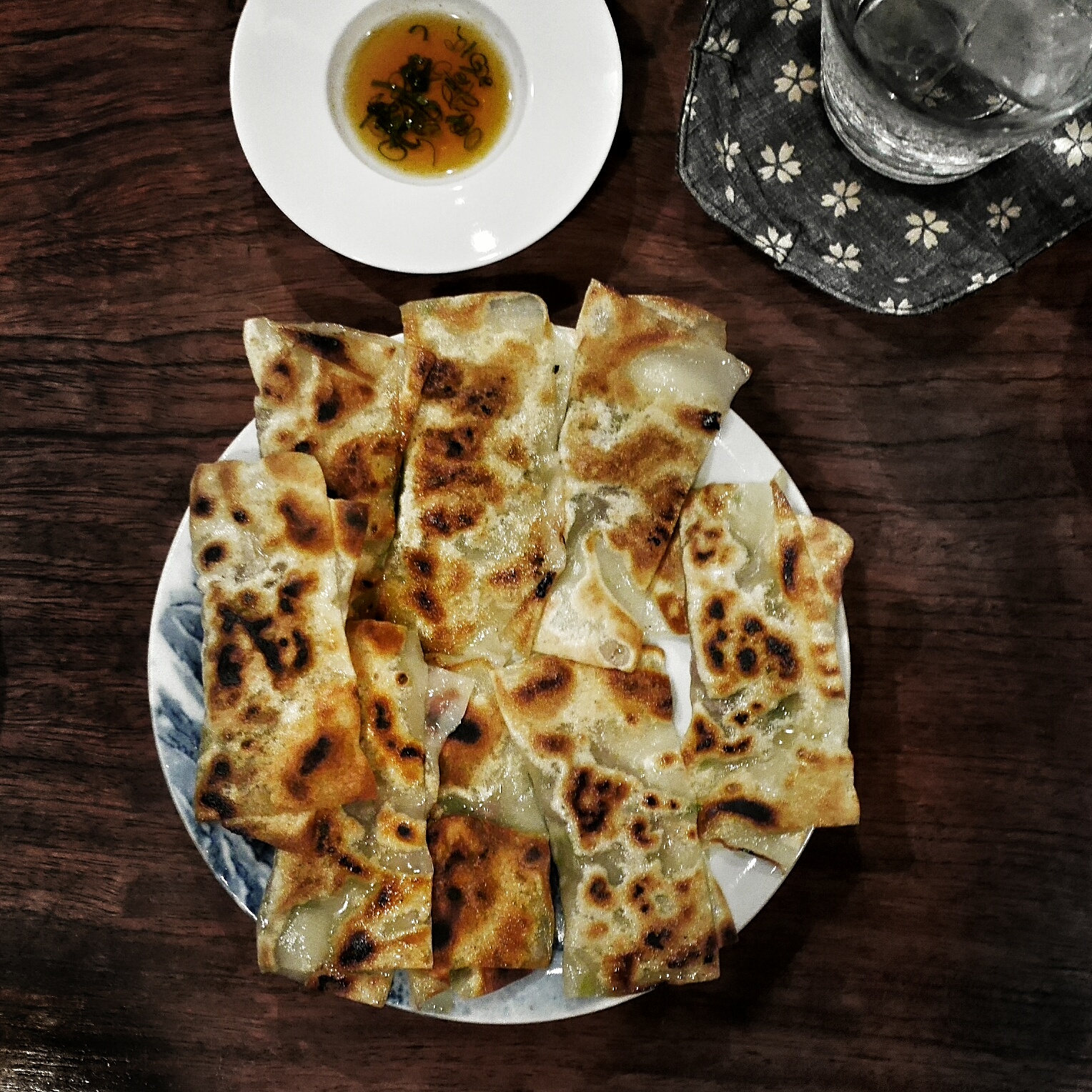 Nishiyama's version of yukke (raw beef salad) was next. The beef was served with grated nagaimo and a raw quail's egg. As you mixed the beef, sticky yam and egg together, the dish become marvellously slimy.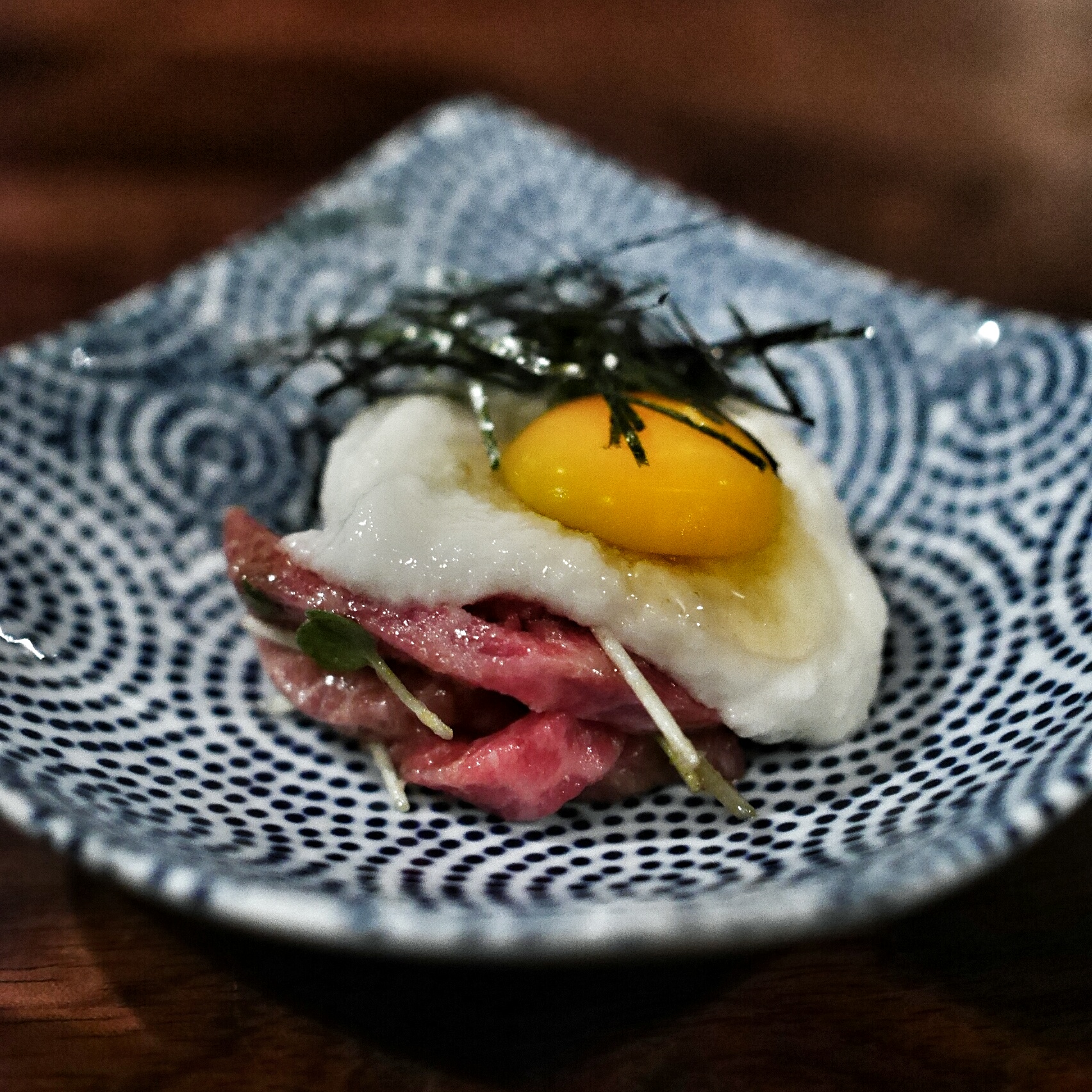 This was followed by a wonderful plate of slow-roasted ox tongue. He'd had the tongue slow-roasting over charcoal from the moment we arrived. When he served it to us, it was a perfect medium-rare. Stunning dish.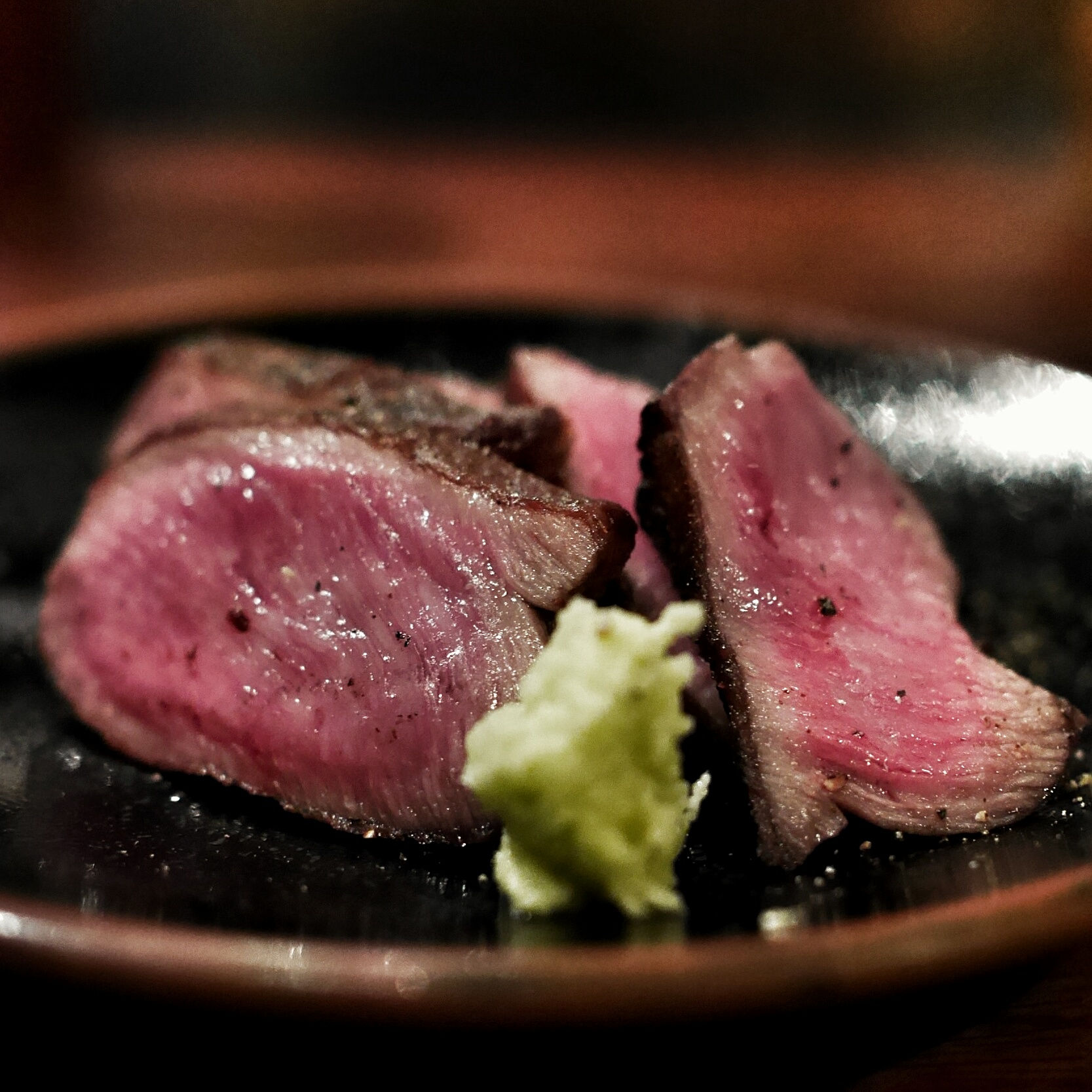 We had decided to open the Champagne mid-meal because it had lost some of its chill on the way to the restaurant. To pair with the bubbly, Nishiyama served a really interesting plate of cow's stomach, sea urchin, and sea grapes — a combination I would never have thought of putting together, but was amazing.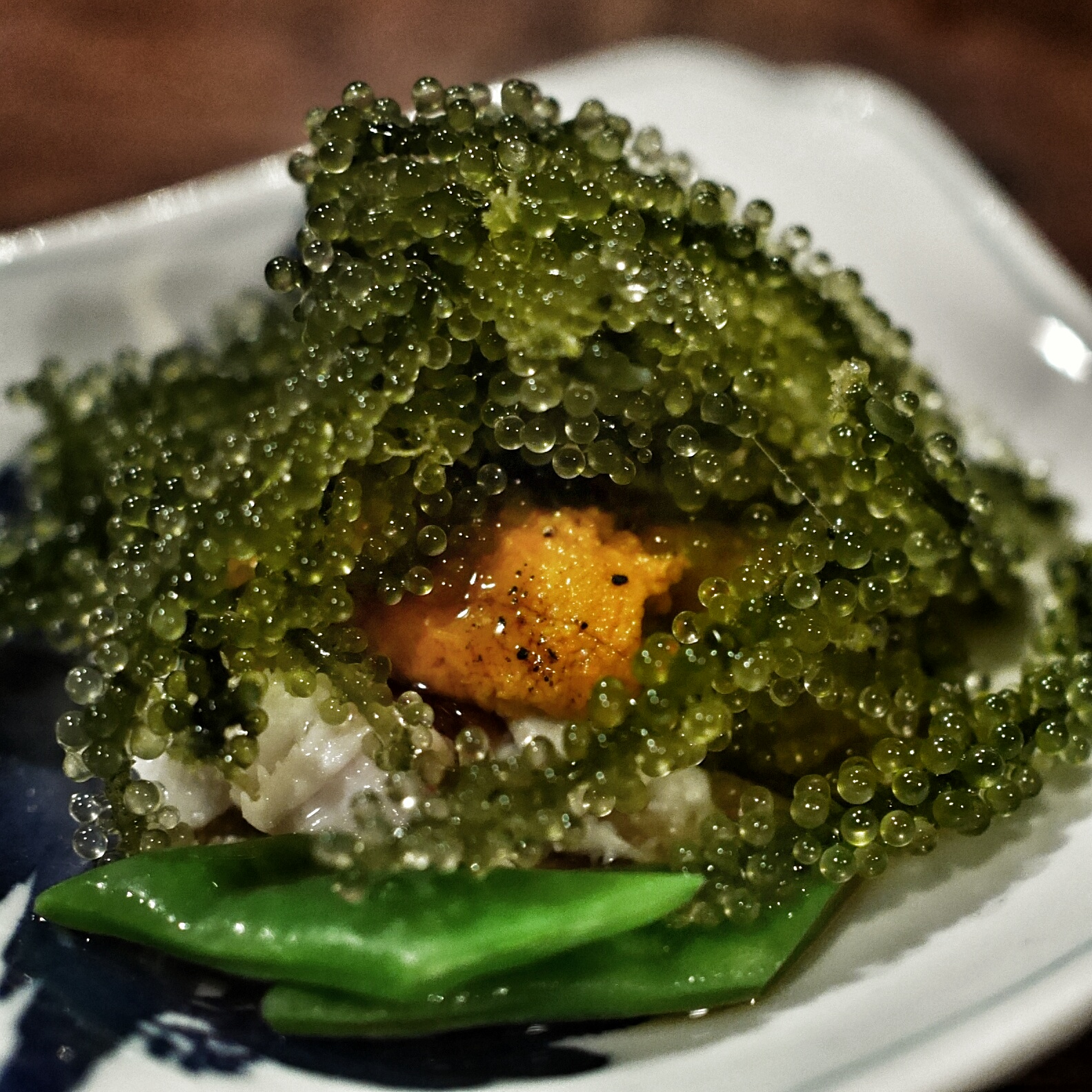 A bowl of beautifully fresh, sautéed bean sprouts paired beautifully with the champagne. It was also a very refreshing dish and worked to reawaken our palates.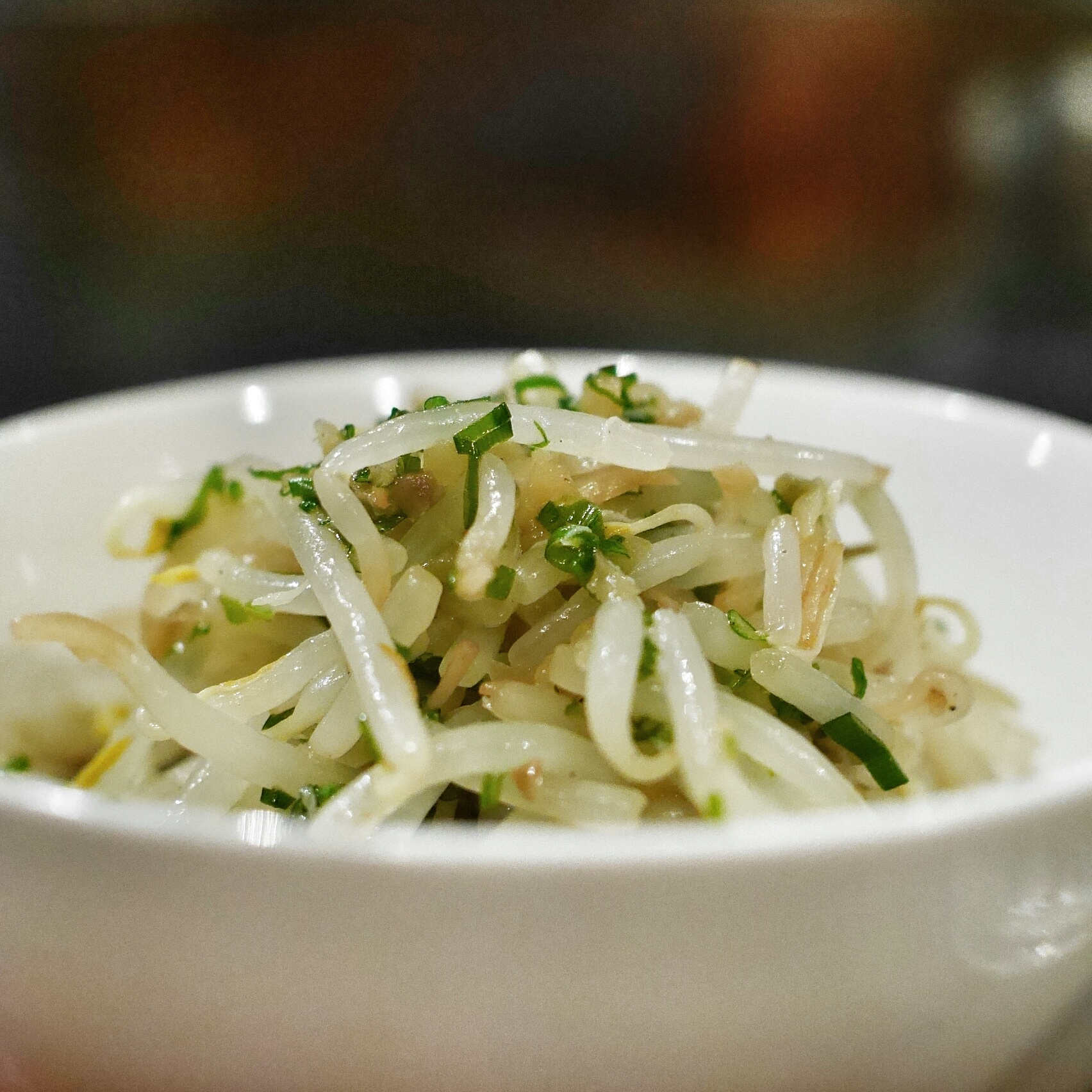 Next we went back to beef with a plate of slow-roasted deboned oxtail. Super-delicious!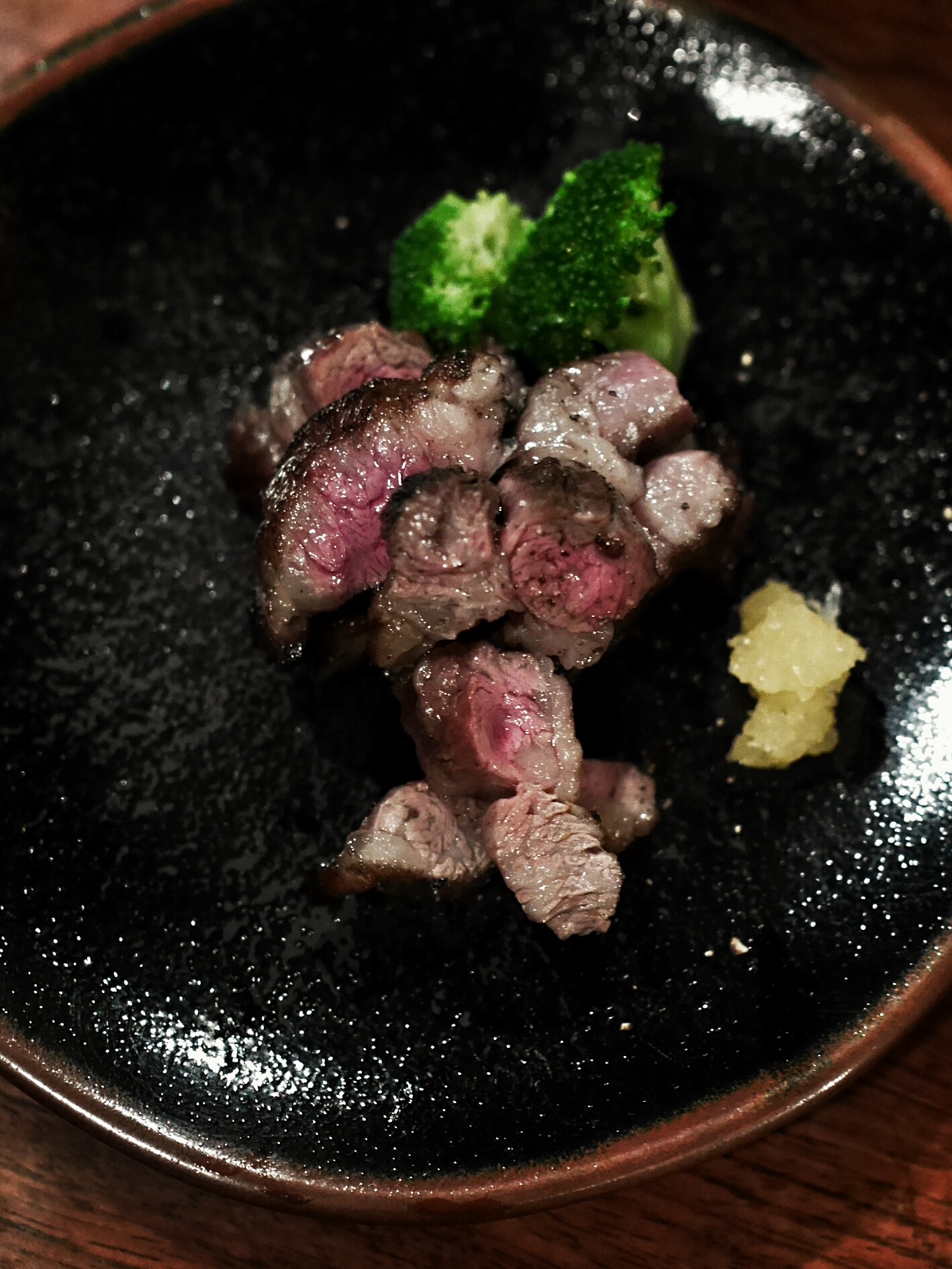 Early September is Saba (mackerel) season in Japan. Which necessitated chef serving us a gorgeously grilled whole fish for Su-Lyn and I to share. This had been cooked perfectly.
Next up was one of my perennial Gyu Ho favourites, a grilled mushroom and cheese sandwich made with fluffy crusty baguette and seasonal mushrooms. Super satisfying.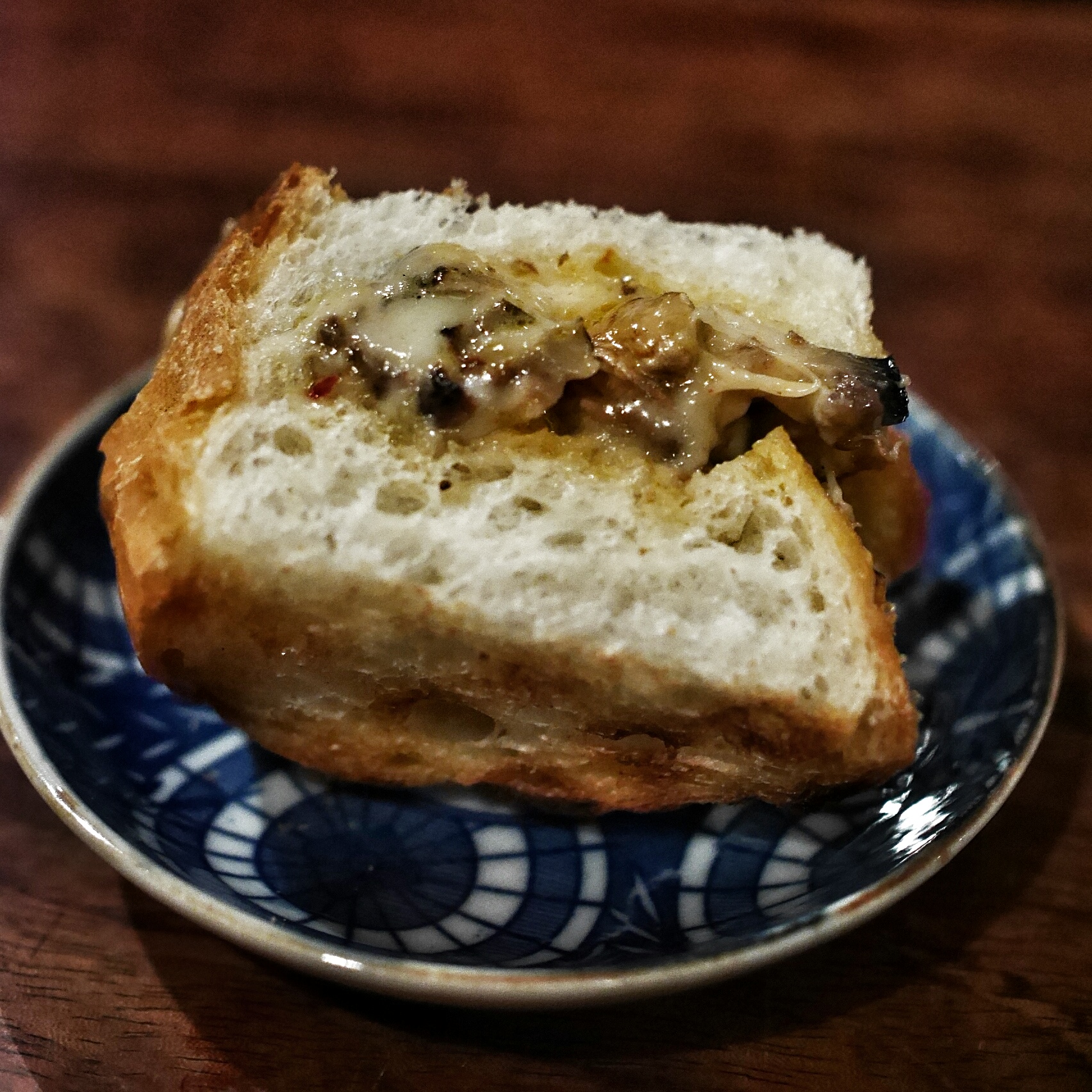 Since we looked like we needed more carbs, we were then served some garlic fried rice and a small bowl of cold noodles (which Su-Lyn requested).
As you can see from the pictures, Gyu Ho is a rustic little place serving simple fare. Don't go here expecting fine dining, fancy food, or perfect service. Especially don't go if your idea of an eating holiday is chasing Michelin stars or ticking boxes on the World's 50 Best list. But do go here if you want a super-fun, laid back experience that is so very Japanese (just not the buttoned up formal side of Japan). And go here if you love great-tasting, unpretentious food made from the very best ingredients, but presented super-accessibly.
Gyu Ho
Address: 22-4 Ichijoji Akanomiyacho, Sakyo Ward, Kyoto, Kyoto Prefecture 606-8182, Japan
Phone: +81 75-723-2424
Aun has always loved food and travel, passions passed down to him from his parents. This foundation, plus a background in media, pushed him to start Chubby Hubby in 2005. He loves that this site allows him to write about the things he adores--food, style, travel, his wife and his three kids!