When you stay in a traditional ryokan in Japan, it's almost always assumed that you'll be having dinner on property. In many cases, the price of your dinner is automatically included as part of your room rate. And you simply don't have the option of bowing out of the meal. At HOSHINOYA Kyoto, however, because the resort is both more modern and flexible in its packages and because it caters to guests that often stay for multiple days, guests can choose whether or not they wish to dine on premises. In my opinion though, if one stays at this gorgeous property, it would be a travesty not to have dinner in HOSHINOYA's restaurant and to taste the truly exceptional cuisine of Chef Ichiro Kubota.  
HOSHINOYA Kyoto has just one restaurant, serving dinner only. The restaurant has one very modern sexy room which offers up to eight guests the chance to experience kappo style dining, i.e. counter dining, as well as several more traditional private dining rooms. If you want to see the chefs in action and wish to interact with them, book a seat at the counter. If you want something a little more private, book one of the other rooms.
London-based foodies may already be familiar with Chef Kubota. Before returning to Kyoto (where he's originally from) and joining HOSHINOYA last year, he was the Executive Chef of UMU, a pioneering Kyoto Kaiseki restaurant in London. While there, he helped UMU earn a Michelin star (just 5 months after it opened), and retained that star for the seven years he ran the kitchens. But what's London's loss is now Kyoto's gain.
In many ways, Chef Kubota's cuisine perfectly reflects the philosophy behind the whole resort–that of honouring traditional Japanese culture and heritage but evolving it and modernising it with skill, creativity and elegance.
When my wife S and I dined at HOSHINOYA Kyoto, we opted for the chef's Seasonal Menu (priced at 15,750 Yen). What we got was a nine-course study in contemporary Kaiseki that left us both satisfied and excited. We started our meal with a beautiful fresh fig served in a light dashi, with coconut cream, white miso, and a pomegranate and cinnamon tuile. This amuse was delicious and surprising. From this point on, we knew that we were in great, and creative, hands.
After the fig, we were served a platter of small bites: matsutake pine mushroom mixed with chrysanthemum and grated radish; sweet potato carved to look like chestnuts; grilled fresh water eel rolled around burdock and ginger flower; seared mackerel sushi; duck liver pâté crusted with autumn fruits and nuts; deep fried shrimp; edamame beans from Yamagata prefecture; and fried gingko nuts (this is pictured at the top of the post). This was followed by a salad of sliced fresh amberjack and spinach, served with fried rice noodles and a Chinese-inspired mustard dressing. The best way for me to describe this dish to fellow Singaporeans is to ask them to imagine a super elegant YuSheng that's been stripped of the usual cloying sweetness. I have a suspicion that this dish was actually inspired by our YuSheng, but it's so much better. Next was a clear soup with conger eel (hamo), oyster mushrooms, simmered eggplant, and shredded ginger buds and green yuzu. Then we had a simply delicious charcoal grilled yamame trout, served with a kinome Japanese mint vinaigrette, walnut nougat and pickled young ginger buds. We then cleansed our palates with a light dish of simmered winter squash and steamed fresh prawn. The meat course was next, a gorgeous portion of grilled beef tenderloin plated alongside zucchini tempura. We finished our meal with a bowl of steamed rice over which the chef portioned some super fresh soft yuba (soy milk skin) and broth. And finally some seasonal fruit. In all, it was an exquisite meal that I would rank among the very best I have had in Japan.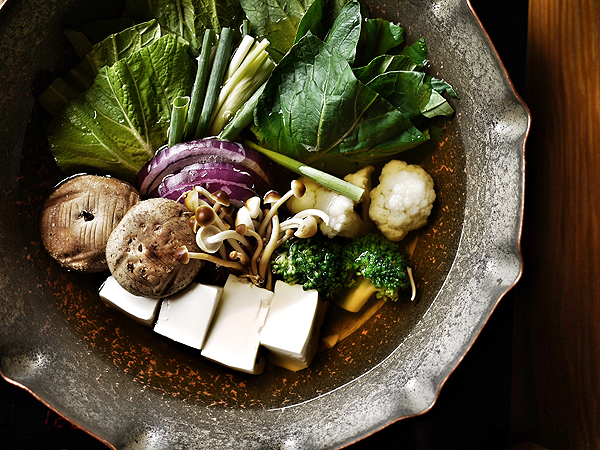 While S and both loved our dinner at HOSHINOYA Kyoto, it was the breakfasts at this idyllic riverside retreat that had S swooning–and that she has admitted were her favourite, most memorable meals of this past trip. On both days that we stayed at the resort, we opted for the Japanese breakfast (neither of us saw the point of ordering the American or Continental options). I really cannot express in words just how amazing HOSHINOYA's Japanese breakfast set is. It's generous, fresh, tasty and served in multiple courses! As an example, for our first breakfast, we were presented with a hotpot filled with a delicious broth and the most amazingly fresh vegetables. We were told to eat the vegetables first and have a bit of the broth. We were then presented with more (and different kinds of) vegetables and a carafe of more broth, which became a second course. In addition to this, we had several small plates of yummy treats as well as healthy portions of perfectly grilled fish. Now, once the second round of veggies was all gone, we were instructed to add rice to the remaining broth, and crack into that a raw egg. This became a very tasty and very filling porridge. Suffice it to say that the HOSHINOYA Kyoto breakfast has quickly become the brekkie against which S will judge all others, her benchmark so to speak.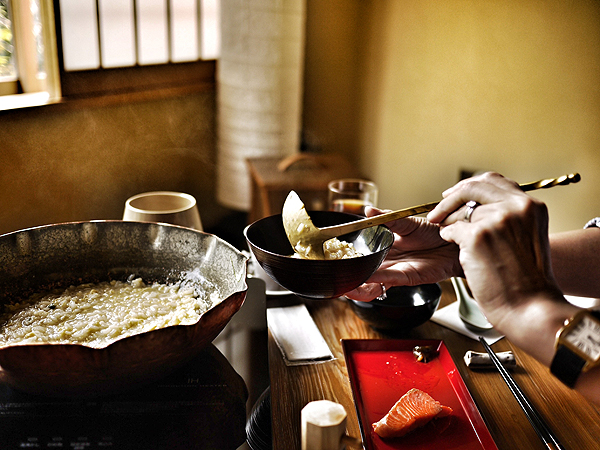 What I also appreciated, at both our dinner and breakfasts, were the crockery and flatware used by the hotel. Beautiful ceramic plates, stunning hand-hammered copper serving dishes and utensils (from our favourite copper homeware supplier in Kyoto). This attention to design and detail made each meal really special. Which is only to be expected at a resort as truly unique and magical as HOSHINOYA.
HOSHINOYA Kyoto
11-2, Arashiyama Genrokuzancho, Nishikyo-ku
Kyoto-shi, Kyoto 616-0007
Tel: 81-(0)50-3786-0066(8:00~21:00)

Aun and Su-Lyn flew to Japan on tickets partially sponsored by Japan Airlines. 
Aun has always loved food and travel, passions passed down to him from his parents. This foundation, plus a background in media, pushed him to start Chubby Hubby in 2005. He loves that this site allows him to write about the things he adores--food, style, travel, his wife and his three kids!