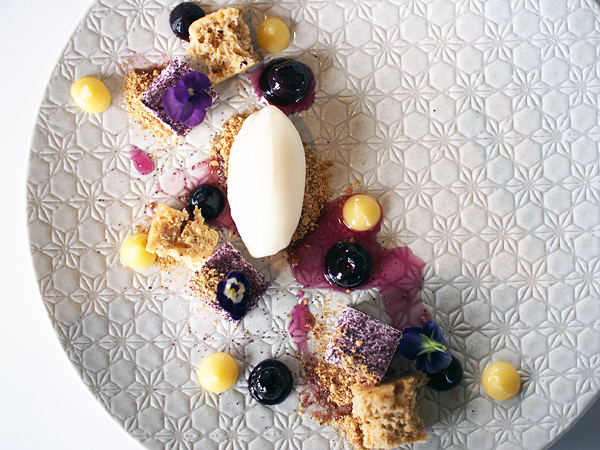 A year ago, a foodie friend has posted some pictures from a meal he was having in Magaret River, the picturesque wine region that is 3 hours south (by car) of Perth, in Western Australia. He was raving about a chef and a vineyard restaurant that neither I nor my wife had heard of. And since we both trust said foodie friend, we made it a point, on our recent trip Down Under, to check out Knee Deep Winery and have lunch at the vineyard's restaurant.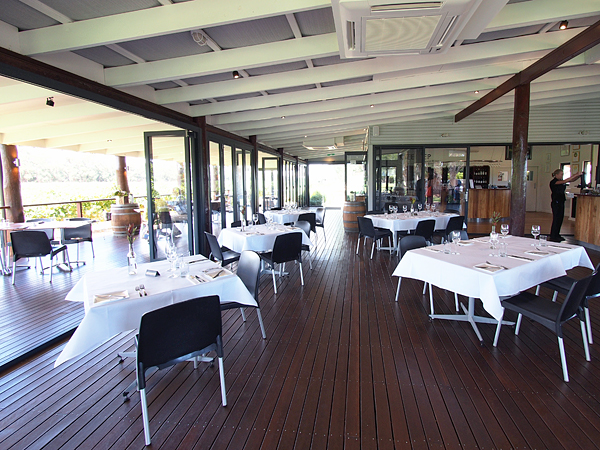 Boy, are we glad we did. The meal was so good—so relevatory—that Su-Lyn turned to me after just a few bites of her main course and declared that that meal may in fact be the very best meal she'd ever had in Western Australia.
Knee Deep is a pretty vineyard and the restaurant is light, airy and very open. The restaurant is only open for lunch. If you intend to visit, definitely book ahead.
Chef Ben Day's food is modern and light. Many dishes are based on familiar dishes but reinterpreted through Day's very au courant lens. For example, duck a l'orange, in his hands, becomes a dish composed of duck breast and leg, with salted burnt orange, smoked eggplant, garlic nougatine, shaved almonds, and witlof. Day's food also draws influences from Asia, but once you learn that he once worked for Chef Aaron Carr over at Vasse Felix—who is reknowned for his fusion dishes—the compositions and marriage of flavours and ingredients make sense.
The day we visited was stunning. We were among the first to arrive at the restaurant. This gave my in-laws the chance to do some wine tasting before the meal while my wife and I ran around a little with our son. My father-in-law reported that the wines were definitely worth trying, singling out in particular the 2010 Limited Release Hayley's Shiraz, which had been aged for 18 months in French and American oak before bottling. This wine had intense fruit with aromas of plums and peppers and yet, he said, still came across as elegant.
Two of us (including me) started with the blue ridge marron, served with smoked eel, marron dashi, kimchi, quail's egg, and homemade udon. This dish was lovely. Light, warm, with the perfect amount of acidity and spice. The presentation was gorgeous and the flavours were sensational. My wife had Day's seared scallops with aerated cauliflower, carbonated green raisins, raw grapes and whey emulsion. It was so good (I was told after the fact) that she never offered to share any—which usually means the dish is amazing. My mother in law had the smoked pork hock with camomile compressed nashi, pear gribiche, served with homemade verjuice and an apple dressing.
My father-in-law and I actually both had that pork hock dish as our mains (he simply wanted to have pork while I wanted something small so I'd have room for dessert). My wife and her mother (and our son) had Barramundi with XO sauce, shaved squid, szechuan cucumbers, pickled mushrooms, coconut and puffed squid ink. All of our dishes were exquisitely conceived, prepared, and seasoned. None of us could find any fault with any of the food we ate. In fact, the more we ate the more we wanted to come back again to try more and different dishes by Chef Day.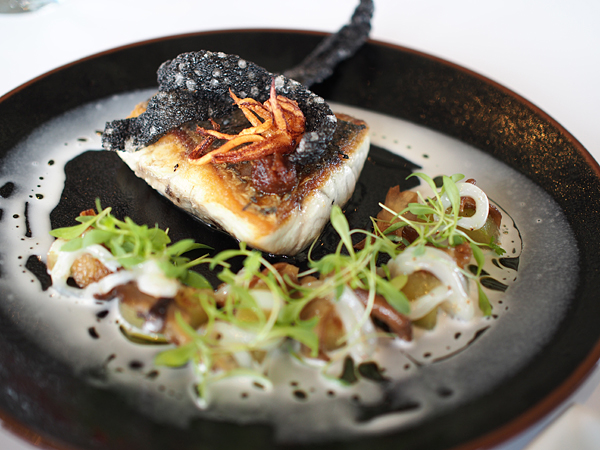 All of this wonderful food was washed down with Knee Deep's gold medal winning 2013 Rose. This crisp, just slightly sweet and slightly acidic, and yet very fresh and elegant wine was perfect for the food and for the weather.
I was the only glutton who opted for dessert. I ordered the cereal sponge with violet marshmallow, goats yoghurt sorbet and blueberries. The dish was not just beautiful to look at. It was also truly delicious.
Like my wife, I cannot think of another chef in Western Australia (whos food I've eaten) whose dishes demonstrated the same level of elegace, maturity, skill and understanding of flavour. This is definitely one chef to watch and one restaurant worth the flight to Perth and the three hour drive down south.
Celebrating Australian food with Tourism Australia. To find out more, check out the best of Australian road trips.
KNEE DEEP
160 JOHNSON RD,
WILYABRUP, WA
TEL: (08) 9755 6776,
LUNCH: TUE-SUN NOON-3PM
Aun has always loved food and travel, passions passed down to him from his parents. This foundation, plus a background in media, pushed him to start Chubby Hubby in 2005. He loves that this site allows him to write about the things he adores--food, style, travel, his wife and his three kids!