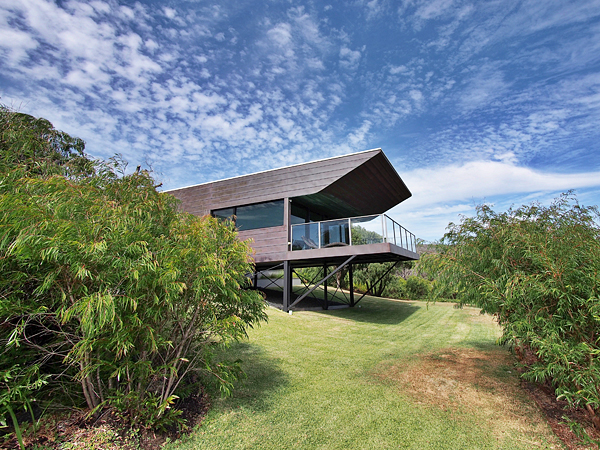 Su-Lyn and I love Margaret River. We used to visit this West Australian wine (and surf) region on an annual basis back my wifey was working on her (never-completed) doctorate with a university in Perth. A number of years ago, we discovered an incredible, gorgeously-designed house, just a short five minute drive from Margaret River Town, perched on a cliff, and overlooking the Indian Ocean. Back then, we had rented the house with two other couples and (because we were in the area for a wedding) had a blast entertaining several friends during our stay. Most recently, we decided to head back to the house with our son and Su-Lyn's parents.
The Roozen Residence, as it is called, was designed for local artist and surfer Ron Roozen and his wife Karen by the award-winning Dale Jones-Evans. The house is located in Prevelly, a small beach town situated at the mouth of the Margaret River and located just 10km west of Margaret River Town. It is perched up on a hill, next to a cute Greek Orthodox Chapel. The views of the ocean from the house's generously-sized terrace are simply stunning.
Upon entering the house, you can go left, right or straight ahead. Going left takes you to a large bedroom with a king size bed and an en suite bedroom. Going right brings you down a corridor that leads to two bedrooms, both with king size beds and a shared bathroom. A small laundry room is also accessible via this corridor. Going straight brings you into the very large space that houses a very airy kitchen, the dining area, and the living room. Beyond the glass walls at the end of the living room lies a wood-decked terrace — the perfect spot to take in a sunset with glass of wine in hand and a loved one seated beside you.
Ron and his wife Karen clearly have exceptional taste. Both the interiors and the exterior of the house are stunning. Let's start with the exterior. The section of the house that contains the living/dining/terrace areas is clad in copper, giving it a modern, industrial but rich look that looks especially amazing when set against its very natural surroundings. Inside, Ron and Karen have gone for a chic, modern, bright and clean look. Looking at the house now, I would guess that the interior decor was heavily influenced by the style that was heavily promoted by Wallpaper* magazine in its first few years. Which is not at all a bad thing. Give me chic minimalism over heavy-handed interior styling any day.
Cooking is (rather obviously) important to Su-Lyn and me. And one of the reasons we were happy to rent Ron and Karen's stunning home again is because it has an impressive kitchen. Five hob gas cooktop. Oven that worked well. Additional counter facing the dining area with two sinks. Lots of cutting boards and other kitchen tools (I brought my own knives). Nespresso coffee machine (whenever I walk into a hotel room or rental house and see one of these, it just makes me smile). Big fridge. Plus some welcome gifts (in our case, wine). Margaret River Town has two good supermarkets, an excellent health food store where you can buy things like organic Basmati rice or Puy lentils by the weight, and an awesome butcher that has both meat and seafood (a dozen oysters for AUD$16 anyone?). So getting supplies is a snap and cooking at the Roozen Residence is loads of fun. We cooked three of the nights we were there, pairing our dishes, of course, with local wine that we'd picked up during the day.
The Roozen Residence ticks all of the boxes for Su-Lyn and me. The location is fantastic. It's close to the main town and a not-too-far drive from most of our favorite vineyards. The views are amazing. The interiors and overall design are tres chic. There's a lot of space so if you need some "me time" away from your traveling companions, you can easily get it. Prevelly has some of the best beach cafes in the area. And they even had a closet of toys that our 3 year old went through, adopting a wooden elephant jigsaw puzzle and some beach toys that he used when we had coffee at one of the nearby, beachfront cafes in the morning. Quite simply, when visiting Margaret River, whether you're holidaying with family or friends, you really can't do better than a stay at the Roozen Residence.
Oh, and I did I mention Ron and Karen can arrange visiting services, like private chefs and masseurs?
For more info on or to book the The Roozen Residence, click HERE.
Aun has always loved food and travel, passions passed down to him from his parents. This foundation, plus a background in media, pushed him to start Chubby Hubby in 2005. He loves that this site allows him to write about the things he adores--food, style, travel, his wife and his three kids!