My wife and I got married in the wine country just outside of Perth, Western Australia, some 14 years ago. Back then, trying to find a decent, stylish hotel in Perth was near impossible. We ended up housing our parents and their friends in the Duxton, at the time the only nice high-end hotel in the city. We, along with all of our friends, camped out in motel on Mount Street, chosen because the decor was simple and clean — and despite being a motel, nicer than any of the more expensive hotels we had visited — and the cafe was amazing (sadly, this place has long since closed).
Over the years, Su-Lyn and I have visited Perth countless times. During the early years of our marriage, the missus was working on a PHD through a Perth-based university. This required a couple visits a year. In the period after, we went back in order to head over to Margaret River, still one of my favourite wine regions in the world. So, we've had ample time to explore Perth's hospitality landscape. Which was never particularly exciting. For the longest time, WA's capital city seemed to be stuck in time. And cool places to stay were popping up all over Australia, it felt like no one wanted to open a cool hotel in Perth.
Of course, I do admit that I am quite the hotel snob. Not that I demand ultra-expensive luxury accommodations. But I do look for good design, good service, and comfort when choosing a hotel. I've also been fortunate to have been paid in the past to visit great properties, first as a journalist, then as a consultant for Mr & Mrs Smith (I had the enviable task of building their initial collection in Asia), then finally as a public relations professional. These experiences have left me rather spoilt. But hey, don't you want the best bang for your buck when you travel?
Enter The Terrace Hotel, which by the way is shockingly also a Best Western. I say "shockingly" because until I visited The Terrace, I never knew Best Western had a Premier collection, of which this hotel is part of. In some ways, the best thing about The Terrace is you never actually feel like you're getting anything less than the kind of ultra-personalised service you would expect from a top-quality boutique hotel. And on the flip side, the best thing about staying at a hotel run by a big international management company is that you can rest assured that all the right procedures have been put in place in order for you to have the most comfortable stay possible, without any of the hiccups in service or efficiency that too often are part and parcel of staying somewhere boutique.
The Terrace Hotel is a gorgeous little hotel, perfectly located at the corners of St George's Terrace and Mount Street. This means it is conveniently located at the Western edge of the CBD. The property, originally named Bishops Grove and now called St George's House, was built in 1892 by the Anglican Church. Today, St George's House offers travellers a choice from just 15 rooms and suites, all smartly and modestly furnished. While the rooms are not about to make you pick up a camera and call Architectural Digest, they are modern, chic, very comfortable and efficiently laid out.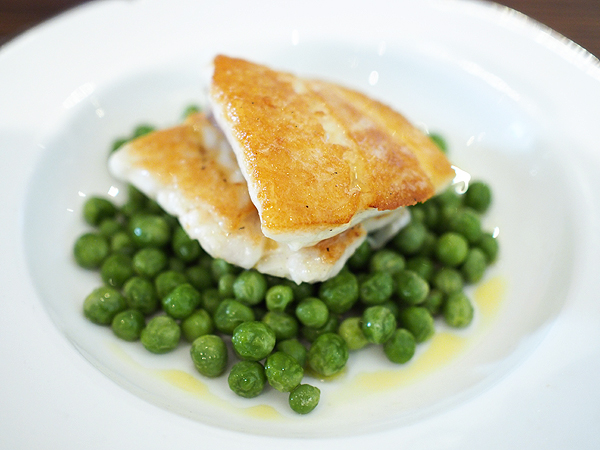 Whether or not you stay at The Terrace, I highly recommend dropping by their restaurant, which judging by the constant crowd is a favourite among the local Perthians (or is that Perthites or Perthers or Perth People?). The menu is mostly European, but in typical Aussie fashion, Asian flavours creep into a few of the dishes. At lunch, there is a very good $25 set, which makes visiting during the day a good option.
When Su-Lyn and I last visited, we not only had exceptional food but gracious and incredibly accommodating service. Because our son was (and still is) a finicky eater, the chef happily adapted his dishes for us, providing our little foodie in training with beautifully cooked meals with only the ingredients he loved (like the one pictured above). Not many restaurants or hotels would do this kind of thing so amicably. And by doing this, it made our lives so much easier and won our loyalty for many more years to come.
A great hotel is characterised by good design, personalised and efficient service, a convenient location, delicious food, and comfortable and well-thought out rooms. On all of these counts, The Terrace delivered fabulously. So, for now, when I'm in Perth, you can expect to find me at The Terrace.
The Terrace
237 Saint Georges Terrace
Perth, WA, 6000
Aun has always loved food and travel, passions passed down to him from his parents. This foundation, plus a background in media, pushed him to start Chubby Hubby in 2005. He loves that this site allows him to write about the things he adores--food, style, travel, his wife and his three kids!