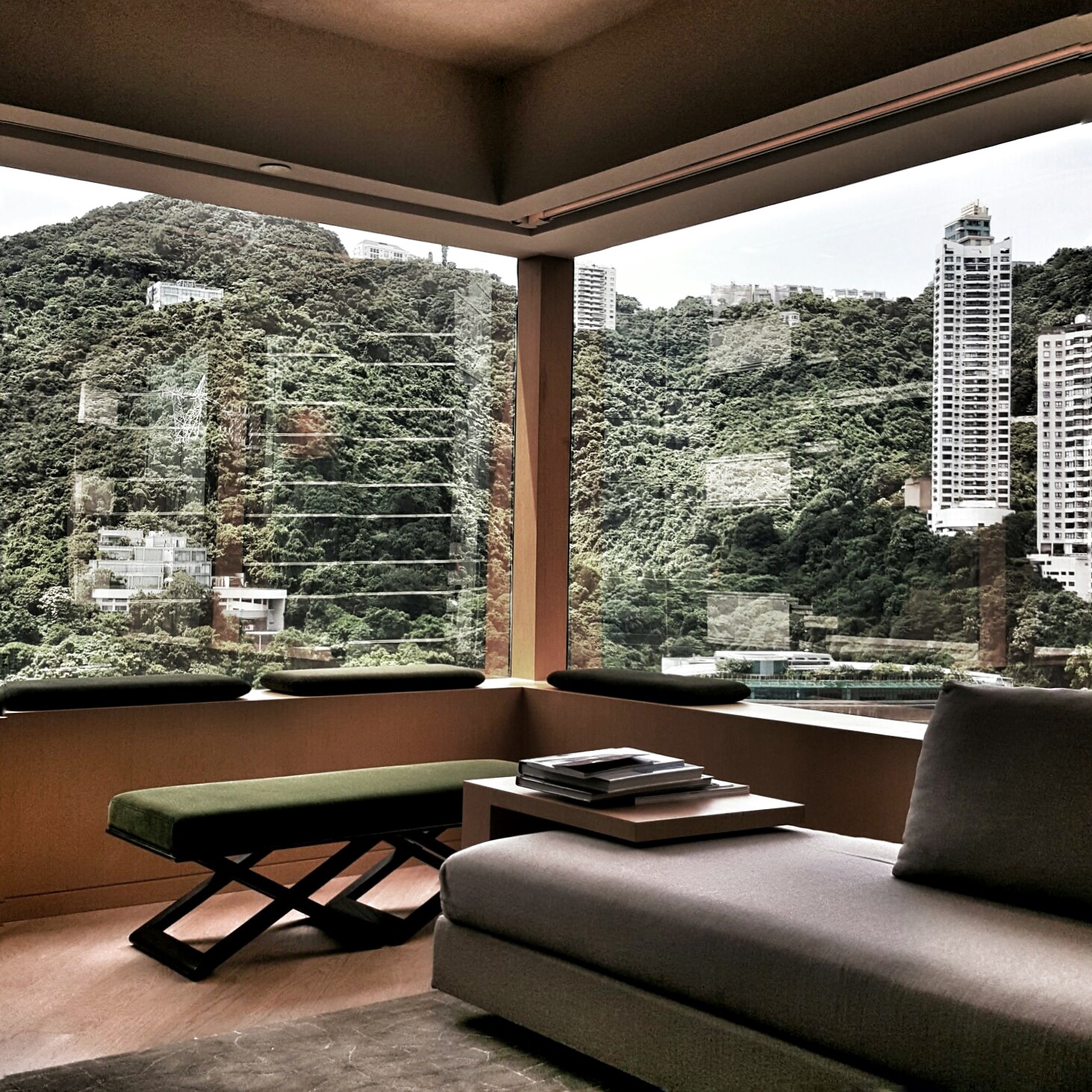 The Upper House, Hong Kong launched some six years ago to a great deal of buzz. I remember feeling quite intoxicated just sitting in one of the sexy, semi-private Andre Fu designed private alcoves overlooking the city at the newly minted Café Gray Bar, mentally placing the intimate, discreet, ultra urban hotel high on my wish list of places to check into. It was everything I wanted a city hotel to be. So, when I recently had the opportunity to run off to Hong Kong for a couple of nights with a girlfriend, I was thrilled that the good people at Mr & Mrs Smith kindly helped us to secure a room.
Location, location, location
Before I even go into the details of our stay, I have to say that there was a highly practical reason for choosing The Upper House. My buddy C and I were in Hong Kong to catch up with friends, reconnect with the ever-changing metropolis' incredible dining, fashion and entertainment scenes, and grab a wee bit of R&R in just two nights. We wanted a well-placed spot to nip in and out of. The hotel sits above Pacific Place and is only a moment's drive from Central. I'll confess that we cabbed it most of the way given the muggy summer heat, but the Admiralty MTR station is mere minutes on foot from Upper House. One stop in one direction and you're in Central. One stop in another direction and you're in Tsim Sha Tsui. So, The Upper House really ticked the location box for us in a big way.
It helped that the hotel is, in itself, a bit of a focal point in the city. I loved the sound of international wheeling and dealing of the not-so-run-of-the-mill sort enveloped us at Cafe Gray as we tucked into our highly Instagrammable blueberry Dutch pancake slathered with clotted cream then drizzled with maple syrup (indulgent morning for me), and quinoa almond milk porridge topped with berries, chia seeds and coconut (a delish guilt-free brekkie served in a martini glass for C, who was religiously keeping to her bikini body training programme) at breakfast. In fact, two of our HK-based friends raved about the breakfast scene here as much as they did the menu. And when we popped down for lunch at The Continental—Rowley Leigh's modern take on the grand old European cafés of yore—the room was corporate sharp and be-suited. It's nice to not feel like a tourist in a dining room, especially in a city like Hong Kong.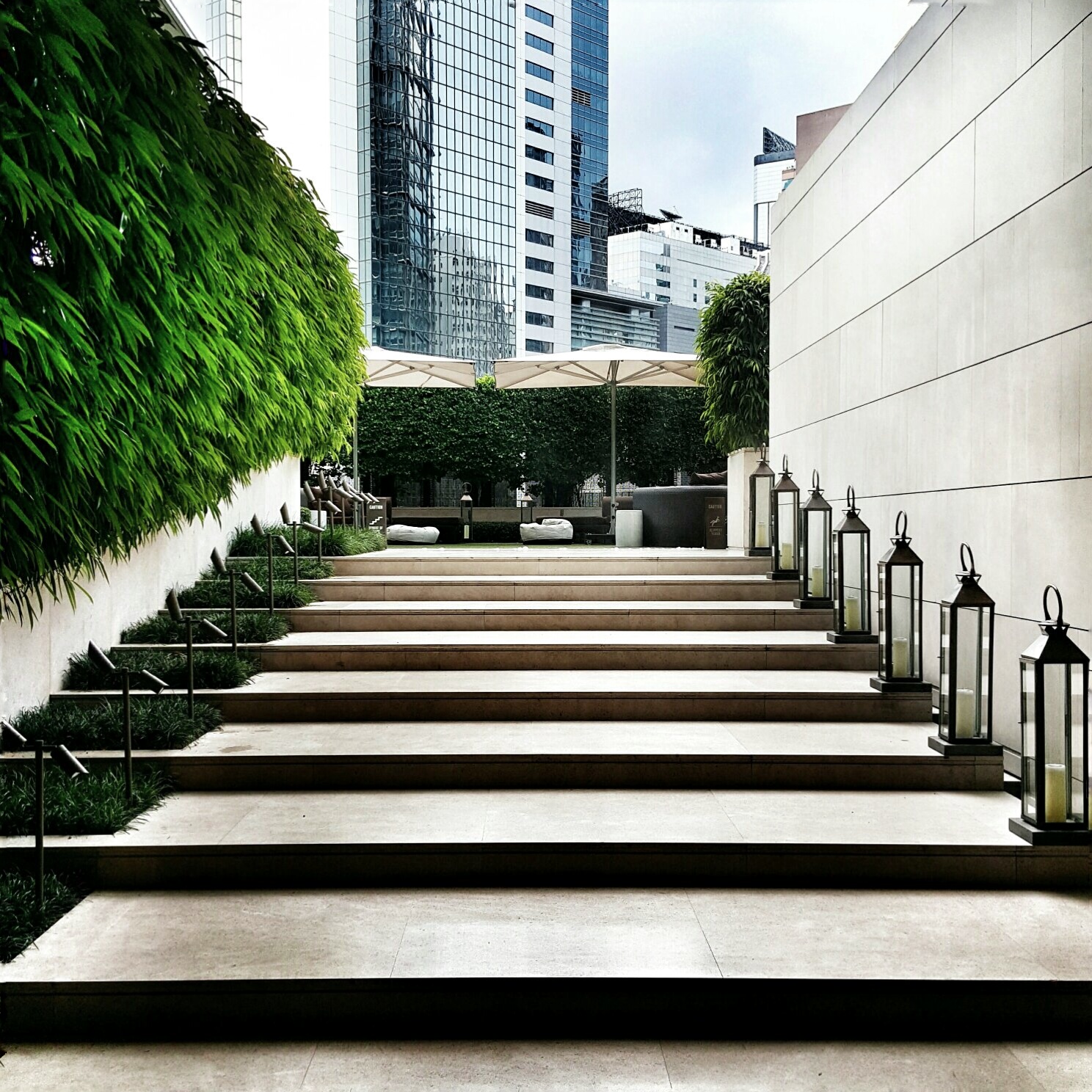 Home away from home
Let's be honest. It's always nice to know that you're checking into a hotel that your friends love, too. In the lead up to our trip, whenever I mentioned that I was heading off to Hong Kong, The Upper House invariably came up in conversation. Absolutely unprompted, everyone from the 80-something year old gent who was offering me tips on the best Chiu Chow (Teochew restaurant) to dine at in the city, to celeb chefs and jaded jetsetters raved about this 117 room property.
The rooms are big by Hong Kong standards; the style, a soothing minimalist modern Asian. I like that they were designed to a human scale. By this, I mean that they extend genuinely welcoming, aesthetically pleasing comfort and functionality. Their primary focus isn't to impress with ostentation or intimidation. They don't force you to behave on their terms. In the end, the seasoned traveller yearns for the pleasures of home. The Upper House provides the creature comforts we'd expect of a hotel of its calibre; details such as top notch bed linens, bathrooms with a view, fancy gadgetry, great food and drink, and complimentary mini bar amenities (the stuff we wish our homes had on tap). But most important of all, interior architect, Andre Fu has created wonderfully adaptable spaces that guests can make their own. They don't make you or your things feel out of place. Instead, they give you the impression that they were programmed with your needs in mind. Therein lies true luxury.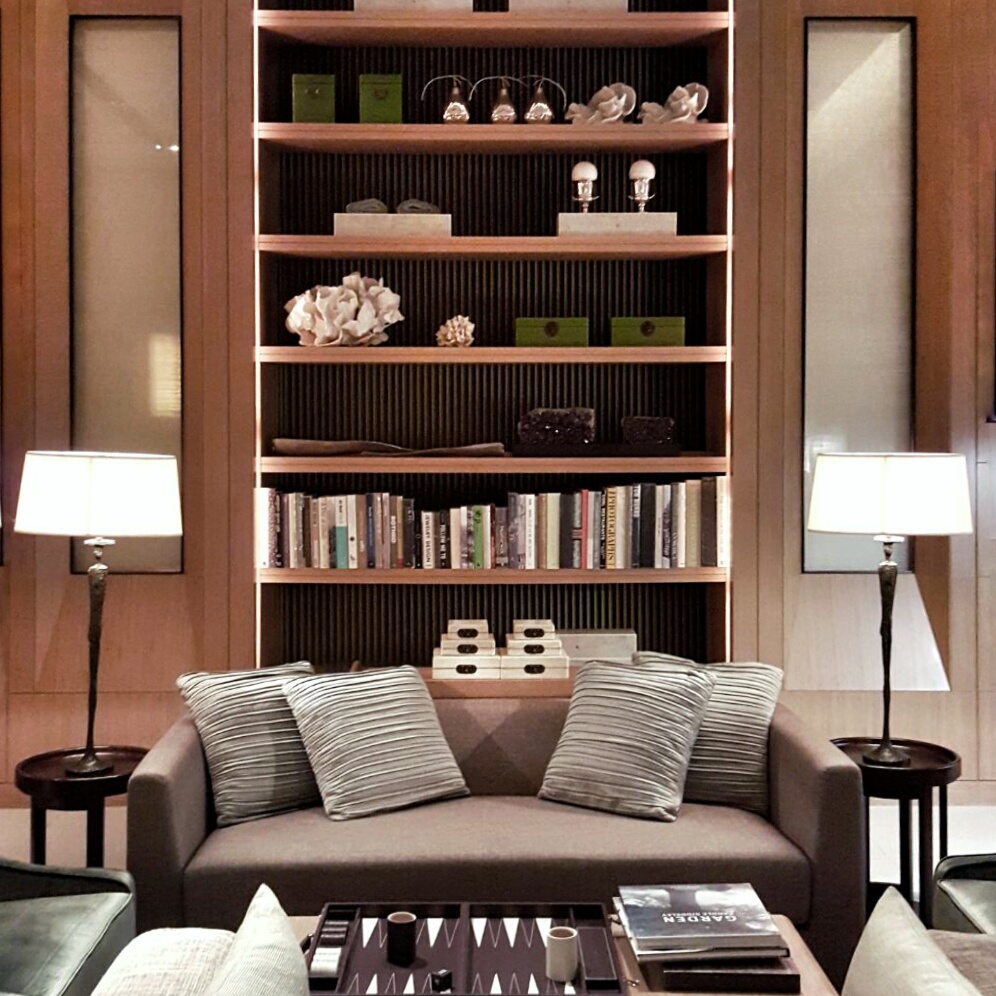 I'd liken service at The Upper House to the level of hospitality I'd experience as a houseguest of a hotelier. What I appreciated at The Upper House was the level of personalised service we received. We didn't have a personal butler, but the service team was small (which meant that we were talking to the same people throughout our stay) and communicated effectively enough among themselves that they made us feel like we did.
They impressed me with their attentiveness–something which even larger luxury hotels often fail to truly deliver these days. For example, they stocked our room with a great range of healthy snacks (prior to arrival they'd asked via email if we had special requests). These weren't fancy housemade offerings but thoughtfully selected, premium off the supermarket shelf items; the sort of things a considerate host might stock up for a houseguest. In fact, we were told that someone on staff probably did pop down to the supermarket to purchase them. We enjoyed them so much that C actually bought some to take home with us.
Similarly, they were engaging on social media (something many hotels are only slowly cottoning on to in a terribly corporate manner). They took note of what we were sharing on Instagram, for example, and responded in a friendly manner both online and in person that drew us closer to the Upper House family. Social media platforms afford hoteliers with a special opportunity to enrich in-house guests' experiences and this establishment has found a way to remain conversational without coming off as freakish stalkers.
Eating in
For me, a great hotel is also one that I am reluctant to leave at the beginning of my day and eager to return to at day's end. Gone are the days when my hotel room was just a place to rest my weary head. I now appreciate one that also offers me the very best of the city I'm in without having to roll too far from my bed.
Don't get me wrong. I love getting out there and making discoveries for myself at street level. But some mornings, I prefer to have a fabulous, unhurried breakfast before I head out. Cafe Gray offers a well-balanced selection of hotel breakfast classics, local favourites, as well as a handful of morning indulgences such as short rib eggs Benedict and Nutella filled brioche French toast that play to the global collective's big brunch fantasies. Better yet, there are enticing clean eating options for those moments when we want to make up for regrettable gastronomic infractions. My girlfriend C was very pleased to be able to squeeze in a workout at the gym and start her day right with a chocolate-banana whey protein shake.
It goes without saying that friends were delighted to join us for pre-dinner cocktails at the still terribly swish bar; which was constantly packed to the gills, by the way. I recommend making a reservation. Even at 9pm, when we sat down to dinner, the pace at Café Gray wasn't letting up. Singapore-born, Swiss-raised celeb chef Gray Kunz (who worked for Freddy Giradet before moving to New York where he was lauded by everyone from the New York Times and James Beard Foundation to the Culinary Institute of America) sets the tone at Cafe Gray, which is his iteration of a twenty-first century grand cafe. The glamorous all-day dining eatery transitions effortlessly from breakfast (and weekend brunch) to lunch, afternoon tea and dinner, and boasts Kunz's unique style of modern European classics as well as iconoclastic dishes that reflect his experience leading some of the very best kitchens in America, Europe and Asia.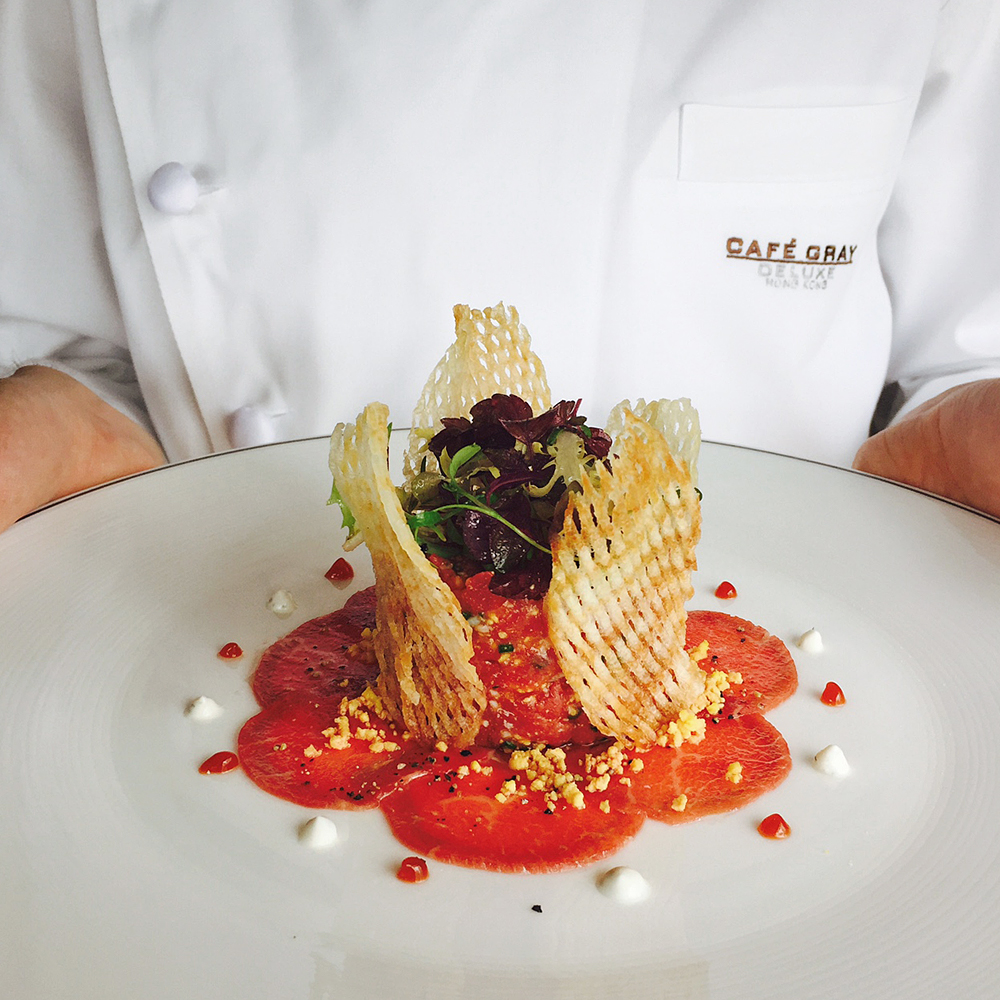 In addition to breakfast, C and I decided to stay in one evening to enjoy dinner at Cafe Gray. The menu is a pleasing mix of dishes that world weary road warriors will appreciate — simple yet sophisticated comfort food prepared to uncompromising standards utilizing the very best and freshest ingredients possible. I absolutely loved the steak tartare. Hand-cut sirloin is dressed with ketchup, Tabasco, brandy and Worcestershire sauce, then mixed with finely chopped hardboiled egg, capers and chives. This is placed over a bed of pickled celery and a ring of beef carpaccio, then topped with raw quail egg yolk and a tiny bouquet of mixed greens. The crisp, impossibly thin potato gaufrettes were the perfect receptacle for the habit-forming tartare, especially when it was smeared with the cucumber yoghurt and delightfully spiced Kunz ketjap blended with tamarind (which is made using Kunz's closely guarded recipe. Yes, I've asked.) that dot the dish. It is refreshing to be able to enjoy old school restaurant classics in a contemporary restaurant that has so artfully elevated them in fine dining fashion, yet doesn't force you to sit through the rigmarole of a long drawn multi-course extravaganza. Because, sometimes, when you're on the road, all you want is a full portion of superbly prepared steak tartare to go with your champagne. It's as simple as that.
Similarly, the steamed garoupa in lemongrass-Thai basil bouillon with sautéed water spinach, jicama and scallions boasted the oft-missed flavours of home cooked goodness expertly re-imagined by Kunz and his team.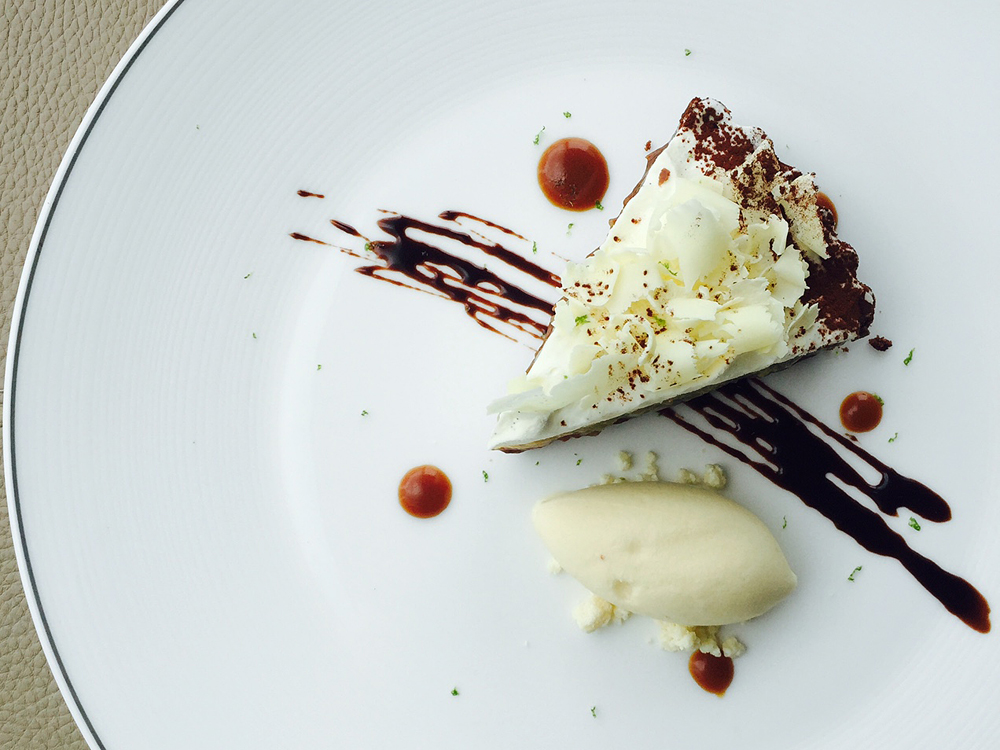 While we did try our very best to restrain ourselves from over indulging in desserts, I must confess that the chocolate banoffee pie was such an elegant slice of toffee, banana and cream heaven served with house-made rum-raisin ice cream. Cafe Gray's menu is the perfect counterpoint to both flashy, splashy fine dining and local hole-in-the-walls. It affords travelers the option of enjoying hearty, familiar flavours while indulging in exquisitely sophisticated dishes. Top to it all off, I was feeling pretty smug with the knowledge that all I had to do after dinner was totter down to my wonderfully welcoming room.
This, is my sort of city hotel.
We booked our stay at The Upper House through Mr & Mrs Smith who hosted us for one night during our stay. Check out their handpicked collection of boutique hotels around the world (which we are proud to have helped to select when they first entered Asia) over here .
Su-Lyn is Aun's better half and for many years, the secret Editor behind this blog known to readers simply as S. Su-Lyn is an obsessive cook and critical eater whose two favourite pastimes are spending time with her three kids and spending time in the kitchen. She looks forward to combining the two in the years to come.