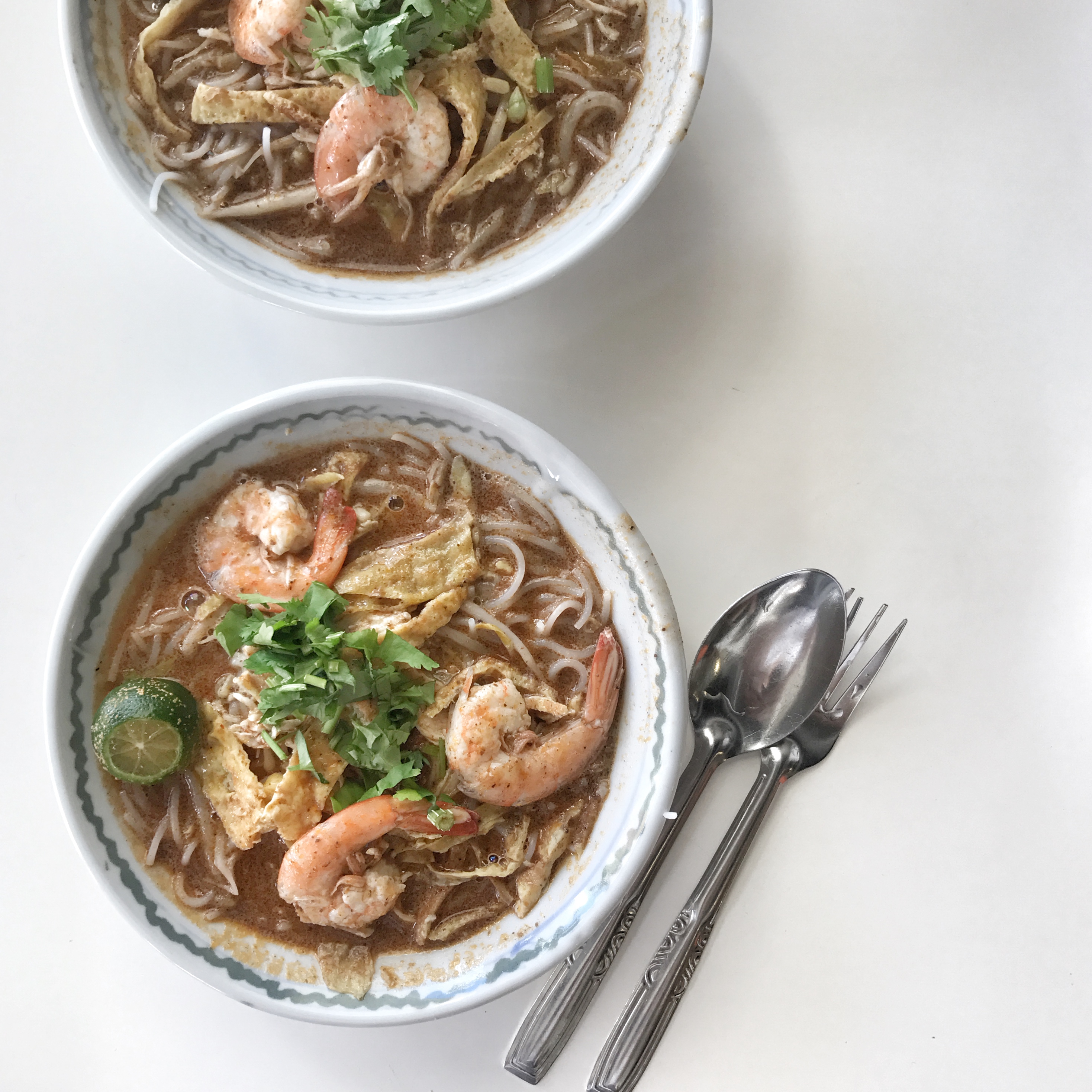 We recently spent an awesome weekend in Kuching with over 30 friends. Most of them were people we knew, or knew of, and all of them were people we were grateful to have had the chance to get to know better. To be frank, the last time I travelled in a group was probably when I was 18. CH and I nearly always travel on our own (or at most, with our kids). So, travelling en masse has been a foreign—and admittedly uncomfortable—concept to us.
But we'd been invited to attend the Rainforest Fringe Festival along with a circle of Singapore-based folk in the arts, culinary arts, fashion, music, communications and creative industries space. Both the prospect of spending time with an incredibly interesting and inspiring group of people, and discovering Borneo, a part of Malaysia we'd hitherto left unexplored, made this an opportunity we couldn't refuse.
In a rare and enlightened move, our hosts, Sarawak Tourism, left us to discover Kuching on our own, sans itineraries and reams of information. While we attended scheduled talks, screenings, exhibitions, dinners, an eye-opening fashion showcase and a rocking concert, we managed to weave in a frenzied rush of micro-meals throughout the day, all within walking distance from fringe festival central, The Old Courthouse, Sarawak Tourism Complex.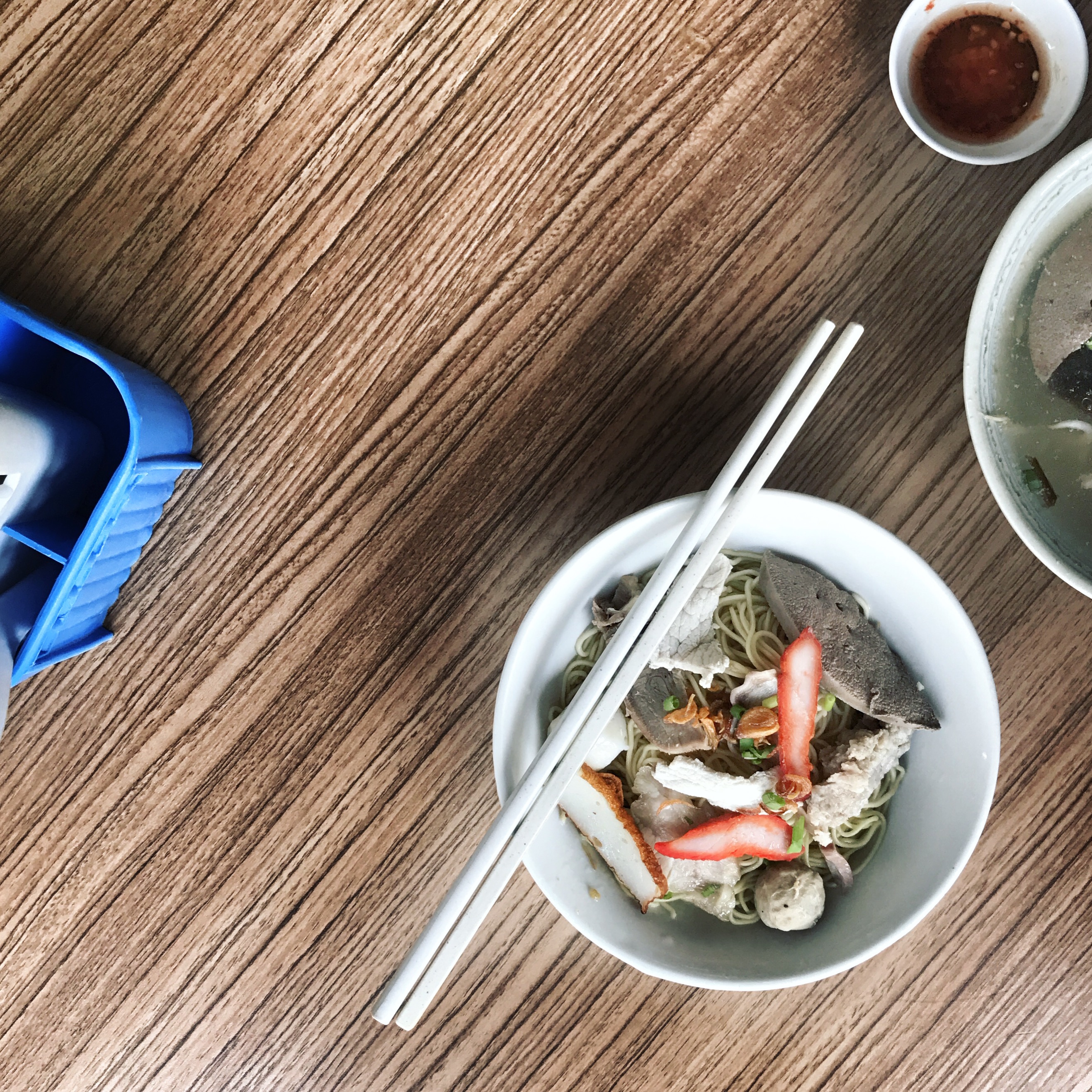 A new style of group travel
There was no way we could possibly arrive at any dining establishment as a 30-strong group and get served. Or if we did, and it could, it would have offered us a painfully limited experience of this charming food destination. Whether it was intentional or happenstance, what made our weekend memorable was the Google-as-we-go, WhatsApp-what-we-like, FaceBook-our-friends approach to crowd-sourced, on-the-go travel information.
We do this all the time, as individuals. But what really made this a pivotal experience for me was the fact that we had over 30 fairly like-minded people doing this simultaneously, sharing it with one another on a collective Kuching Express WhatsApp group in real time.
No one had done any pre-departure research. Everyone was rushing from one thing or another to the airport. And frankly, most people were on their phones sending emails, text messages and talking business right up to the airport departure gates. So, when we boarded the plane and our data umbilical cords were temporarily cut, it was truly a moment of: "Okay, so what's the game plan here? What's this weekend about?"
Unforgettable kway chap at Lau Ya Keng Food Court (after 2pm only), Kuching, Sarawak.
Truthfully, it was a liberating and refreshing way to travel and experience a city in an extremely concise manner. We were getting tips for, and pictures of food and drink (including location pins; and updates on whether the stall was still open, or if it was sold out); pointers for where to shop for local craft, coffee beans and Sarawak peppercorn; business cards for foot reflexology spots; suggestions for boat rides and great vantage points for watching the sunset; and plenty of snaps of what everyone else got up to at official and unofficial late night parties (for those of us who lacked the energy to keep up with the night owls).
The Kuching Express WhatsApp group and the people who filled it with a sassy wealth of sourced-on-the-fly information were instrumental in helping us fall in love with Kuching. We organised small eating expeditions on the same chat group. It also made it a lot less stressful if someone was running late or needed to get some more work done before joining in. They could just catch up with the rest of us based on our running updates (directions, images of landmarks, and pictures of what we were eating that very moment all included).
After one of us declared the roadside chendol stall a "one star" (with a picture and pin), seven of us turned up hot on his heels from various parts of the neighbourhood. As always, with more people in your party, you get to taste more of the menu. We giggled and sampled each others orders, chatted with other customers (there's no better way to learn), then offered our reviews on the chat group. The rest of checked it out in the days that followed.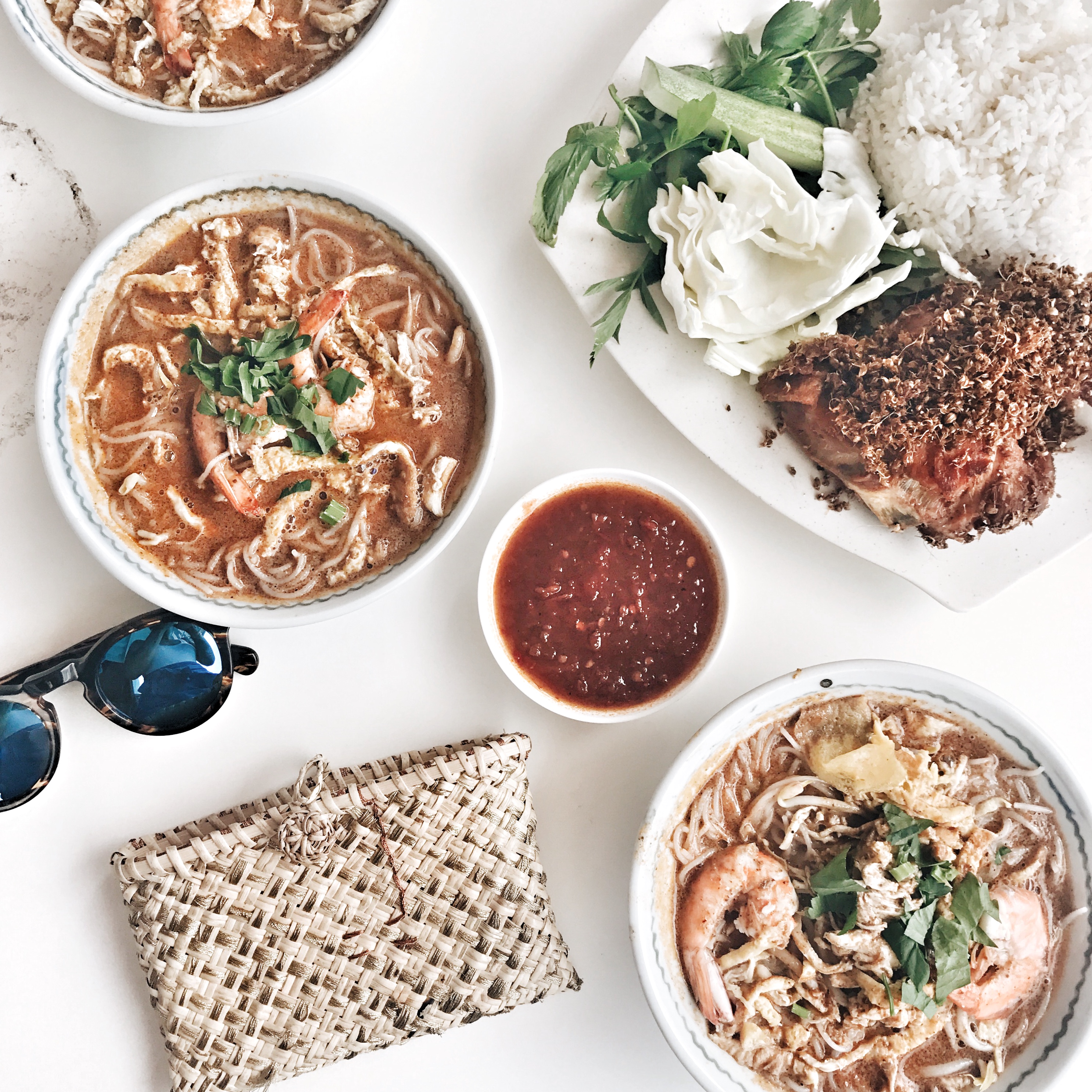 A brief eater's introduction to Kuching
This is by no means an exhaustive guide to Kuching. It's a great quick intro to it (I'm dying to return). And it's a list culled from the opinions of a circle of people with fairly aligned interests. I love it for being limited to a tight enclave around The Waterfront Hotel, which was where we stayed.
The Kuching waterfront, which lines the south bank of Sarawak River, is a neighbourhood rich with authentic, local eateries and gives you a genuine taste of this underrated destination. An almost surreal melding of the past and the present, it is the perfect sort of neighbourhood to cover on foot (which is important if you're planning to eat many meals each day). I adore destinations like Venice, Vienna, and neighbourhoods in Paris, Kyoto and Tokyo for the same reason. Walking off the calories as you ingest them is key if you want to live to eat another day.
What we gathered as total noobs is that we had to eat our fill of kolo mee and Sarawak laksa. There's also the amazing plethora of jungle greens (we've heard that when in season, stir-fried durian flowers are a sought-after delicacy) and fabulous seafood (particularly the river shrimp). We didn't get a full education this time, but what we did taste has convinced us that this is a foodie destination we ought to return to again soon.
Where to eat according to the Kuching Express
We've put together a map of the neighbourhood (above) with suggestions for where to eat, shop, sleep and get a foot rub. Double tap to zoom in. Our recommendations are indicated as fork and spoon icons in black. Below are our food notes.
CHUBBY HUBBY'S THREE-DAY KUCHING EATER'S GUIDE

Food Court
Lau Ya Keng (unofficial website)
19, Lebuh Carpenter
10am–11pm, closed Fridays
Try: kway chap, pork satay, goreng pisang (across the street, varying opening hours)
This was like our canteen for the trip. Good for breakfast, lunch or dinner, but head here in the early afternoon if you want to get your hands on the pork satay. And definitely be there after 2pm for kway chap (see video above), when the young gentleman takes over from his aunt. Suave, punchy, old-school flavours featuring all parts of the pig (including superbly gelatinous pig face). The stir-fried fish roe is also not to be missed.
In the morning, sample goreng pisang made using local bananas across the street. You won't regret it. We also recommend the street-side pulot hitam stall close by (he only displays his tau suan, but we noticed that locals stop by for the pulot hitam, which was classic and delish).
Top Spot Food Court (unofficial website)
Taman Kereta (Jalan Green Hill)
5pm–11pm
Try: butter prawns, oyster pancake, midin with belacan and oyster sauce
Although Top Spot is best known for its seafood, a veggie gem worth ordering to balance out the meal is midin, a local fern found wild only in Sarawak's swampy forests. Make a beeline for stall number 33: Ling Loong Seafood.
Cafe
Lima Tujoh
No.57 Upper China Street
10am–10pm, closed Mondays
Try: ayam pansuh, nasi lemak
Charming café with some local dishes on the menu (we took up nearly all the seats at lunchtime and ordered pretty much everything on the menu), great local and Vietnamese coffee, and a comfortable place for a simple cocktail on a hot day.
Kolo Mee
Kim Joo (unofficial website)
73, Jalan Ewe Hai, Kuching
6.30am–2pm, closed Mondays
Try: zheng, noodle special
Highly recommended. The zheng comprises a mixed pork soup—a clear, rich broth with meatballs, pork and offal (here, the use of ground white pepper was a delicious, intentioned detail)—and a separate portion of noodles served dry.
While the noodle special is a deluxe version of the kolo mee topped off with extra ingredients (see pic above). This was my personal favourite. Clean profile, yet incredibly flavourful without pushing you into a food coma. After tasting the others, I was hell-bent on returning here for another bowl. I will definitely be back for more on my next trip.
Oriental Park (unofficial website)
Gertak Lane, Kuching
6am–2pm
Try: kolo mee, teh c peng special
Heavy, but very different. The char siew here is barbecued on-site and has a smoky flavour, unlike oven-roasted versions. You can also opt to "pang ang" by having them toss your noodles in sweet red char siew oil. Check out the video below to see it being made.
Red Kolo Mee
Tower Market Hawker Centre Stall No.29, Jalan Power
5pm–11.30pm
Try: kolo mee
Tried tasting this at least three times, but always missed the right timing. That said, this kolo mee is rumoured to be so good that people have ordered it packed and frozen so they can take it on a plane back home, which suggests that it travels well?
Sarawak Laksa
Mom's Laksa Kafe (unofficial website)
Ground Floor, Sublot No 2 Of Lot 2145 Section 65, Kuching Town Land District, Jalan Haji Taha
7am–4pm
Try: Sarawak laksa, fried chicken (not available for breakfast)
Mom's Laksa Kafe has three branches in Kuching, this one is closer to town. This was the only Sarawak laksa I had the chance to taste on this trip (pics above), but because of it, I'm hooked.
Such an elegant, light coconut milk broth with an incredibly well-balanced profile. It has inspired me to try my hand at making Sarawak laksa at home. Disappointed that we missed the ayam goreng (fried chicken), which our friends raved about.
Poh Lam Laksa @ Chong Choon Cafe (unofficial website)
275, Jalan Chan Chin Ann, 93100 Kuching, Sarawak, Malaysia
6.30am–12.30pm, closed Tuesdays
Try: Sarawak laksa, mee jawa
To avoid disappointment, come before 10am. Even then, be prepared to wait as the tiny coffee shop is known to be filled to the brim by 8am. This one's for early birds only.
Choon Hui (unofficial website)
34, Jalan Ban Hock
Hours: 7am–2pm, closed Mondays
Try: Sarawak laksa, popiah
Most famous for being Anthony Bourdain's Sarawak laksa stall of choice. He's been here on two separate trips to Kuching, which were 10 years apart, and devoured two bowls in one sitting during his second visit.

Coffee
Black Bean Coffee & Tea (unofficial website)
No. 87, Ewe Hai Street
9am–6pm, closed Sundays
Try: local coffee beans – Sarawak Liberica
One of only two cafes in Kuching that roast their own beans, which are sourced from a local plantation. The real deal if you are looking for local Sarawak coffee.
Borneo Coffee (unofficial website)
52, Jalan Tabuan
7am–10pm
Another find from our coffee hounds. Comes recommended as "super chill" with coffee that's better than Black Bean's.
Air Batu Campur (ABC)/Ais Kachang
Ah Yong ABC Ice Kantong (unofficial website)
Lebuh Wayang, 93000 Kuching, Sarawak, Malaysia
1.30pm–5pm
Try: Ice Kantong
Declared "one star" by the chef among us (pic below). Look out for a food cart by the side of the street at the junction of Main Bazaar. Isn't as heavy as most other versions of ice kachang, and the ice is hand-shaved! This warranted multiple visits.
We noticed that visiting KLites were also bowled over by the ice kantong (packed shaved ice on a stick, drizzled with a flavoured syrup of your choice). Watch the locals place their orders to learn how you could create off-menu options.
Market
Medan Niaga Satok (unofficial website)
Jalan Matang
10am–10pm
Try: Ikan Terubuk, Doughnuts
A local chef directed us here. Formerly known as the Satok Weekend Market before it moved to its current premises in 2013. Used to operate only on weekends, but is now open daily. Incredible spread of vegetables, seafood and local produce. We found Bario belacan (the best for Sarawak laksa, we've been told) at one stall here. On another trip, a foodie friend got us a haul of Bario salt from here as well. Eye-opening selection of local chillies and jungle greens.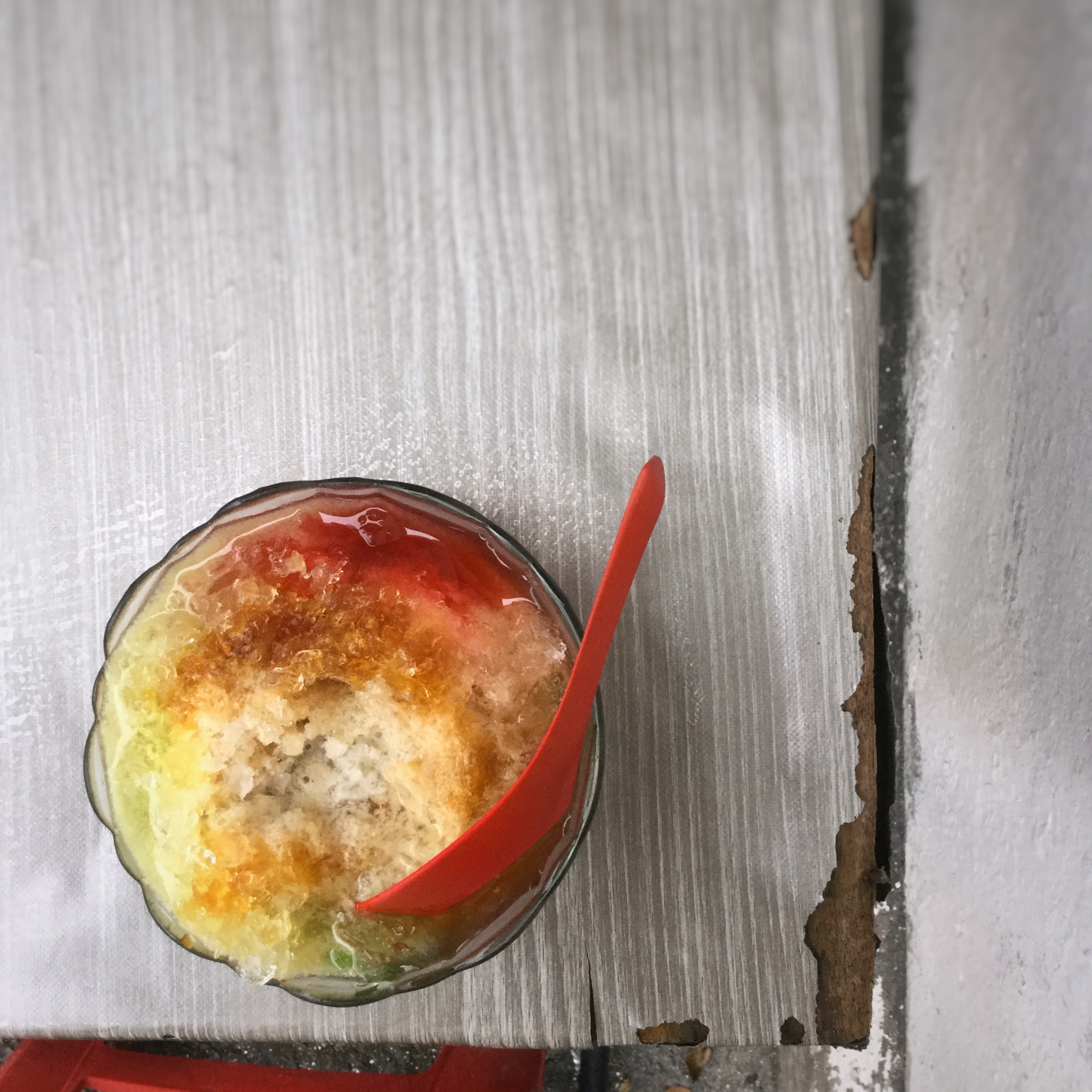 Confessions of a data roam convert
Can I say that this trip seriously converted me into a just-get-your-mobile-data-from-your-service-provider person? I used to be one of those people who was convinced that it was smarter and more economical to get a local SIM card, or just go with Wi-Fi. But times have changed and I've become data-dependent. Everything from my music, to my work documents and social life depend on my staying connected.
Couple that with having a 30-person crowdsourced travel guide with live updates (impossible without data), I've come to realise that hitting the ground running with seamless data is a small luxury I'll invest in to make my holiday a happier one. I didn't think twice when I tapped on Google Maps to show me where the next kolo mee stall is. Ditto when I decided to get onto WhatsApp to rave about kway chap and proceeded to share a video of it on Instagram (which led to recommendations from other foodies online).
I'm an average data guzzler. I get through my work emails (and trust me, I get plenty of those), communicate with clients and colleagues on text, Facetime my kids, and am on FB and IG all the time. I used ReadyRoam from Singtel. $12 for 1GB over 30 days. Not a huge expense. And it lasted me through two trips to Malaysia in the same month.
I don't travel extensively these days. So, this service is low commitment. It's made me happier when I travel. And it's one thing less for me to worry about. Just subscribe to it on the app when you want it. And there's no sneaky auto-subscribe for the next month.
All this is life-changing for someone who used to have to call a person on the phone to activate and deactivate roaming. I used an SMS service in the past too. Maybe I'm the only one who has been living in the dark ages, but I'm now a convert (and no, I didn't get free data from Singtel to tell you this).
How the "pang ang" kolo mee gets made at Oriental Park, Kuching, Sarawak.
Su-Lyn is Aun's better half and for many years, the secret Editor behind this blog known to readers simply as S. Su-Lyn is an obsessive cook and critical eater whose two favourite pastimes are spending time with her three kids and spending time in the kitchen. She looks forward to combining the two in the years to come.