In January last year, I visited the first Epicurean Market, organised and hosted by the Marina Bay Sands integrated resort in Singapore. I had a blast, partly because many of the guest chefs were friends and they made sure that my wife and I were well-fed and extremely well-hosted.
Epicurean Market is back, this time in September — in fact, in just a few days, from the 12th to the 14th. This time around, MBS has definitely upped the ante, featuring even more celebrity chefs, over 35 master classes, over 65 top food brands, special dinners, a large central bar, deejays, and even a fresh food market. Oh, and lots and lots of wine from over 20 top distributors.
As you would expect, all of MBS' celebrity chef-driven restaurants will be showcasing great stuff. The guys from CUT by Wolfgang Puck, for example, will be serving Pulled Pork Sandwiches, Shrimp and Crab Louis, Chocolate and Caramel Push Pop Ice Cream. Chef Tetsuya Wakuda — whose booth had the longest lines last year, wwill debut a series of Japanese pastries in addition to signature dishes like his Marinated Botan Shrimp with Sea Urchin and Caviar, Grilled Ohmi Beef with fresh wasabi and Carpaccio of Petuna Ocean Trout with Bitter Salad. Tets had fed me fiendishly well last year. In anticipation of this year's festival, I had shot him a quick email asking about his thoughts of last year's event and what he anticipates this year.
This is his response: "Epicurean Market is a great event to allow more people to discover the finesse of the cuisine at Marina Bay Sands and share our common love for all things culinary. I will be having a couple of master classes this year, with cookbook autograph sessions at my booth. We will be serving signature items such as the Marinated Botan Shrimp with Sea urchin and Caviar, as well as the Sauteed Queensland Spinner Crab with Black Pepper Sauce. For the first time, I will be unveiling a line-up of Japanese pastries available exclusively at the event only. It will be a mix of sweet and savory flavours at the Waku Ghin booth, amid a multi-sensory environment with so many activities going on. Our bartender Chii will also be doing demonstrations at the central bar alongside his peers from Marina Bay Sands."
The festival is also a good chance to get sneak previews of what's to come at MBS in the near future. Chef David Thompson, who is set to open a Thai street food restaurant in MBS later this year (or early next) will be showcasing his award-winning dishes. Another chef who plans to open up in MBS soon, and will be on site, is Chef David Myers, pictured below.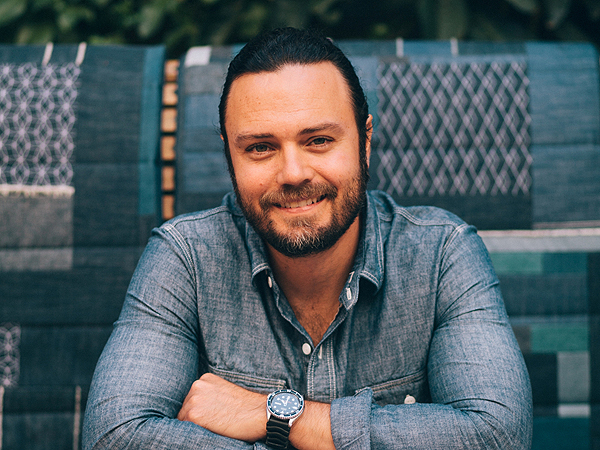 Myers is well-known in the USA and Japan for his many very popular restaurants, Comme Ca, Pizzeria Ortica and Hinoki & the Bird. Having recently exited from the restaurant group that bears his name, Myers is focusing on opening his new Singapore restaurant in early 2015. The PR folks at MBS forwarded my request for a statement from Myers. This is his reply: "Events like the Epicurean Market are wonderful opportunities for guests to get a glimpse of a chef's vision and sensibility. In addition, coming together with other chefs in a tasting environment allows for casual interactions and interesting conversations. Outside of our own kitchens, we can share, appreciate and enjoy the work of colleagues.
One booth not to miss — and I'm singling them out because the guys behind it are buds of mine — is Proof & Co. Proof & Co are the folks behind 28 Hong Kong Street and are top distributors of artisanal spirits and bar consultants whose projects included the much lauded Manhattan Bar at the Regent Singapore. They'll have a pop up retail store from which you can stock up on artisanal spirits and cocktail ingredients, Japanese and European bar tools and books on cocktail making – everything you need to build a beautiful home bar. Guest will get to sample premium artisanal spirits, take part in mini cocktail making classes by three world-ranked bartenders, Joe Alessandroni, Zdenek Kastanek and Peter Chua.
Spencer Forhart, Portfolio Director at Proof & Company told me, in regards to his company's participation in the festival, "There has never been a better time for food and beverage in Singapore, the industry is flourishing as consumers become ever more focused on quality. We're extremely proud to be featured alongside Singapore's globally renowned food and beverage teams at this year's Marina Bay Sands' Epicurean Market. The Proof & Company team will be showcasing an exciting new pop-up retail concept for the first time, bringing the art of craft cocktails to Singapore's chefs."
All in all, Epicurean Market 2014 should be loads of fun! I plan on being there again and I hope to see you there.
Oh, and if any of you haven't gotten tickets yet, I've been given 10 pairs to give away. The first 10 people that email me with their names, NRIC or Passport numbers and phone numbers will be given a pair each. Email address to send this to is chubbyhubby.promo@gmail.com. Good luck. Sorry all… the tickets have been snapped up already.
Aun has always loved food and travel, passions passed down to him from his parents. This foundation, plus a background in media, pushed him to start Chubby Hubby in 2005. He loves that this site allows him to write about the things he adores--food, style, travel, his wife and his three kids!