Back in November last year, I wrote about a dinner I hosted to celebrate the wedding anniversary and birthdays of my brother and his wife (yup, all 3 on the same day). The menu was one I was particularly proud of: uni encased in tomato jelly; slow cooked prawns with scrambled egg and crab roe; foie gras with roasted figs and bocconcini; roasted bone marrow over porcini risotto; charsiu pork medallions with roasted brussel sprouts, spaetzle and pomegranate seeds; Japanese short rib curry; and matcha tiramisu. When I first wrote about the meal, and shared the recipe for the uni jelly, I promised to share some of the other recipes too. Unfortunately, things got in the way and I'm only now fulfilling part of that promise.
Aside from the uni dish, the dish that several of our guests declared as one of the best and most decadent things they have ever eaten was the roasted bone marrow served over porcini risotto. And yes, if you care about your health, you will stay far, far away from this dish.
As implied, this dish is disgustingly rich but also amazingly tasty. Because risotto is already loose and wet, the addition of roasted marrow simply makes the whole thing a little greasier in a deliciously sensual kind of way. It's also a pretty simple dish to execute, so even beginner cooks should have no excuse not to try this for friends or family.
Cooking bone marrow is actually really easy. Seriously. It's as simple as preheating an oven; throwing the bones inside; and setting a timer for 20 minutes. That's it. So, no excuses, yah? Sure, there are more complex ways to cook bone marrow, like this one that I admit I've been making recently, but the basic recipe is really a breeze, and pretty damned fool-proof.
Making risotto is actually a little more tedious. Not more difficult, just time-consuming. But it's something that I personally love to make, love to serve, and love to eat.
Anyway, here's the recipe. Give it a shot if you, like me, don't wanna live forever.
Roasted Bone Marrow over Porcini Risotto
Serves 4 as a main course, 8 as an appetizer
Bone Marrow
Get 6-8 pre-cut bones filled with marrow at your local butcher or supermarket. Here in Singapore, Meidi-ya always stocks frozen ones.
Preheat oven to 225°C. Line a roasting pan with foil. Place bones on foil, larger cut side down. Pop in the oven for 15-20 minutes. When they come out, let them cool for a minute or two before handling.
Porcini Risotto
3 tablespoons good quality dried porcini mushrooms
1 small white onion, diced
300g risotto rice
100ml white wine or vermouth
1l vegetable or chicken stock
300ml hot water
1.5 tablespoons butter
2 tablespoons parmesan, grated
salt and pepper
Place the porcini mushrooms in a bowl and pour the hot water over. Let steep for 5-10 minutes. Drain, keeping the mushroom liquid. Dab the mushrooms with paper towel and dice.
Put the stock into a pot or saucepan and keep warm. In another saucepan or pot–essentially your favourite thing for cooking risotto–heat up the olive oil over medium-high heat. Saute the onions, stirring them frequently. When golden, add the rice. Cook, stirring continuously for 1 minute. Then pour in the white wine / vermouth.
Add 2 ladles of the stock into the rice. Lower the heat to medium-low. Stir and cook until the liquid has been mostly absorbed by the rice. Then add another 2 ladles. Then add in the mushrooms. Add in the mushroom liquid. Stir and cook until mostly absorbed.Then switch back to stock. Repeat process.
After about 20 minutes, when you have just a few ladles left, you should taste the rice. The perfect consistency is a little firm on the surface but creamy inside. If it is already close to this, then you know you can add less stock. If too hard, you will need to add more. You can also then add a bit more salt to taste. But not too much because you'll be adding cheese at the end.
When you feel the rice is the right texture and you have just a bit of liquid in the pot, turn off the heat, stir in the butter and the parmesan. Taste again and add salt and pepper to taste.
To compose the final dish, all you need to do is plate the risotto. Then using a teaspoon, scoop marrow over the risotto. It should slide easily out of the bone. Sprinkle a touch of sea salt over the marrow. If you have parsley in the house, a sprig would be nice.
As a final note to this post, here's a sneak peek at the green tea tiramisu we served that night.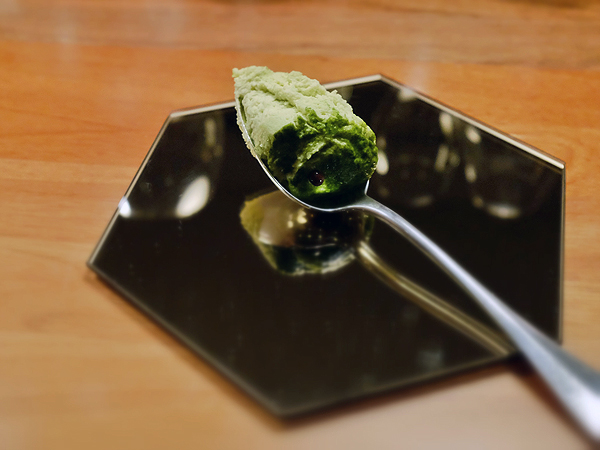 Aun has always loved food and travel, passions passed down to him from his parents. This foundation, plus a background in media, pushed him to start Chubby Hubby in 2005. He loves that this site allows him to write about the things he adores--food, style, travel, his wife and his three kids!