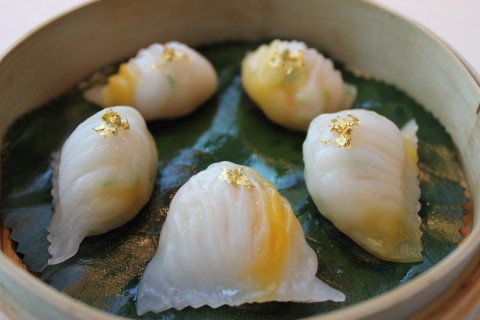 When I go to Hong Kong I cannot get enough of dim sum. With the tradition of dim sum originating in Southern China, there may be no better place in the world than Hong Kong to experience this classic Cantonese weekend "brunch" ritual. And while I do have a few "go to" favourite spots for dim sum, I am always up for trying new places. Having heard about Tin Lung Heen from a great many foodie friends, I was sure this would be on my list for this Hong Kong trip.
As Michelin begins to review more and more restaurants in Asia, I wondered what one of it's more recently starred Cantonese restaurants would deliver. It's hard to imagine Michelin- starred dim sum in Hong Kong. There are so many cheap and wonderful places that you kind of wonder what new levels can dim sum climb to such that a restaurant would earn a Michelin star. It was my goal to find out during my last trip to Hong Kong.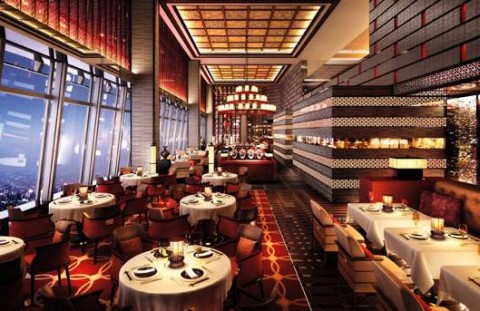 Tin Lung Heen occupies a lofty space on the 102nd floor of the Ritz Carlton in Kowloon. If the views aren't enough to take your breath away, the food most certainly will. There are two menus to choose from, one of them dim sum and the other not. The choice was clear.We ordered some jasmine tea and settled in to our comfortable arm chairs to await the dim sum of our dreams.
It was a parade of dumplings and buns served in the luxurious environs and impeccable service expected of a Michelin-starred experience. First out was the BBQ pork – a signature dish of Chef Paul Lau of Tin Lung Heen – which was perhaps the juiciest, most melt-in-your-mouth pork I have had the joy to experience.
Chef Paul Lau has been cooking all his life…well, since age 14 when he started learning Cantonese cooking. Chef Lau started working in a Chinese restaurant in 1977, primarily because they offered the opportunity to study along with free accommodation. Like most chefs of his generation, he started on the lowest rung – cleaning the toilets. "It was a long time before you could actually touch the food!" he says. "So what I did was wait until the chefs were asleep and the kitchen was empty. Then I would use the leftover ingredients to teach myself to cook…based on what I had observed during the day." In this way ,Chef Lau taught himself until he was formally invited to cook after cleaning for two years.
We continued with Crisp Pork BBQ buns, also known as Char Siu Bao. While I have had a great many Char Siu Bao in my day, this one was extraordinary – the Cantonese equivalent of molten chocolate cake in a pork bun form. Within the crisp sugared exterior was molten pork BBQ. It was so good, we asked for another tray. Restraint be damned.
Next up were the dumplings. The classic shrimp dumpling was simple perfection with a delicate skin and the freshest shrimp inside. A vegetable dumpling with porcini mushrooms was bursting with earthy flavours and textures.  And an Iberico ham with asparagus dumpling was a lovely and surprising twist of East meets West.
Chef Lau loves cooking Cantonese food because the focus is on the freshness of the ingredients. "Unlike other regional styles, Cantonese is about letting the natural flavor of the ingredients come through." So classic Cantonese dishes like roast goose, steamed crab or double boiled soup rely as much on the chef's skill as the freshness of the ingredients. When I ask Chef Lau what his favorite Cantonese dish is, he laughs and says, "I like to go to hot pot with my kitchen team."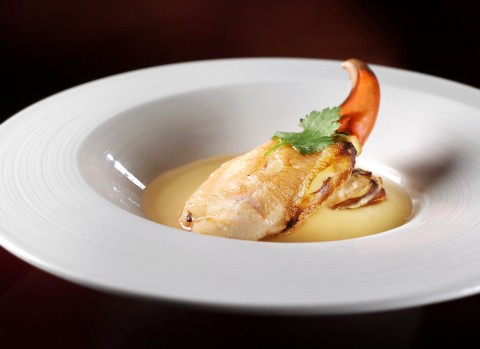 This principle of letting the natural flavours come through is especially evident in my favorite dish, the steamed crab claw with egg white. For some reason lately, I cannot get enough of crab and this one blew my crab-craving mind away.
For me, dim sum is the best kind of comfort food and best enjoyed in groups. It's this classic dining experience that brings together family and friends for a (usually) casual weekend meal. So as you can imagine, dim sum is not necessarily the kind of dining experience that would form the basis of a world-class restaurant. Michelin stars on the basis of not only the food, but also the overall dining experience including ambiance and service. Tin Lung Heen delivers all this and more in spades. Chef Paul Lau shakes off the expectations of traditional dim sum and makes it a truly luxurious experience. Not only does he impress us with his flawless execution of classic dim sum dishes but he also delights us with his more modern interpretations with a culinary twist.
It's a dim sum not to be missed.
Joanna Hutchins is a culinary travel blogger based in Shanghai, China.. In 2009, Joanna founded Accidental Epicurean, a culinary travel blog focused on Asia. Joanna is also a contributor to CNNGo, Look East magazine, SE Asia Globe and Two magazine.