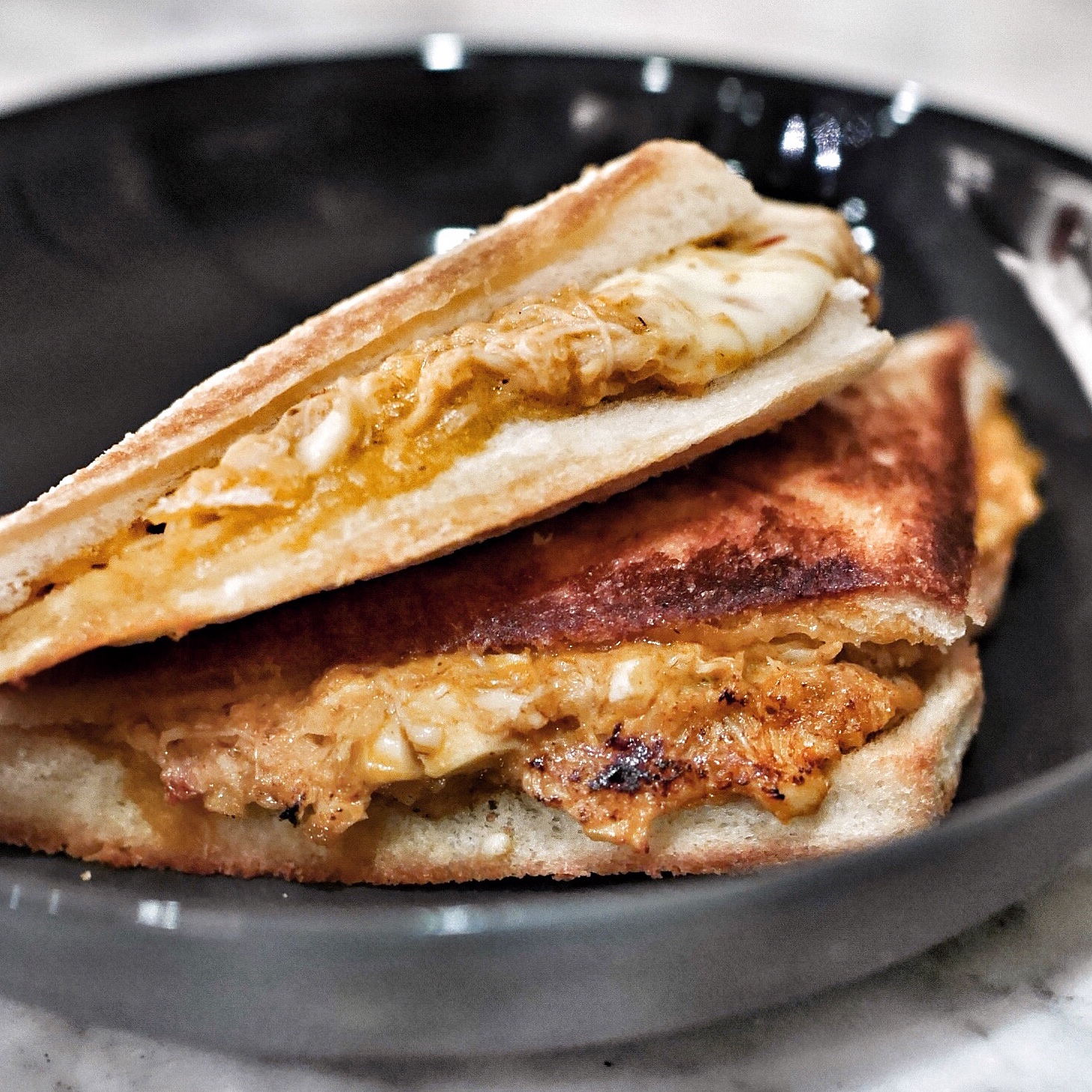 A couple of weeks ago I received an email that excited and intrigued me. The marketing folks promoting Philadelphia Cream Cheese reached out and asked if I would be willing to create a fun, easy to make recipe using their Spreadable Cream Cheese. I could make whatever I wanted and they'd give the dish and recipe a little shout out. Now, while I don't usually ever take part in brand-driven, marketing-driven promotions, this to me sounded fun. Plus I grew up eating Philly Cream Cheese and still love it to this day.
For those who don't know, I grew up in Manhattan, where even a short Chinese kid learns to love bagels with cream cheese. Sadly, my own favourite bagelry in NYC has long since closed down. For many a year, a blueberry bagel with Philly and lox was my jam. I simply loved the contrast of salty and sweet afforded by the seemingly odd combination.
So when Philly reached out, I was more than happy to step up to the plate. For my own dish, I wanted to (1) create something easy to make, easy enough that some of you might give the recipe a go; and (2) had local flavours. I mean, I could have easily fallen back on my NYC upbringing and made something typical, but I wanted to make something that, well, like me, was a little New York and a little Singaporean. When thinking about recipes, I recalled a particularly horrible American dish (invented at Trader Vic's) called Crab Rangoon. If you've ever had it, you'll know there is absolutely no crab in Crab Rangoon. A Crab Rangoon is a deep-fried wanton stuffed with cream cheese served with either soy sauce or plum sauce.
But the idea stuck in my head. What if you did combine real crab with cream cheese in something fried? As as I began to formulate ideas, I arrived at the notion of a crab and cream cheese filling, flavoured with chilli crab sauce, sandwiched in something yummy. While my wife suggested using puff pastry and making "curry puffs", I decided to go for something easier. A Toastie. After all, making a toastie is easy. Butter some bread, add your filling, throw it in the machine for a few minutes, and you're ready to rock and roll.

Once I had formulated the idea, getting the recipe right was actually pretty easy. While I do make chilli crab sauce from scratch when entertaining, I decided to use a pre-made paste so that anyone could make this. I also decided to source really high quality picked crab meat — I mean, who has the time to pick crab meat these days! I also threw a few hard-boiled eggs into the filling because real chilli crab has egg in the sauce and also to give the filling some body.
I have to admit I am super pleased with how this turned out. I've made it using white bread and also with a croissant. The croissant version was actually much better. The bread turned crisp while also staying flaky and very buttery. After having the croissant version, I did admit to myself that my wife was right. This filling would be awesome in a curry puff. I am just hoping she decides to make the pastry and assemble the darned things for me.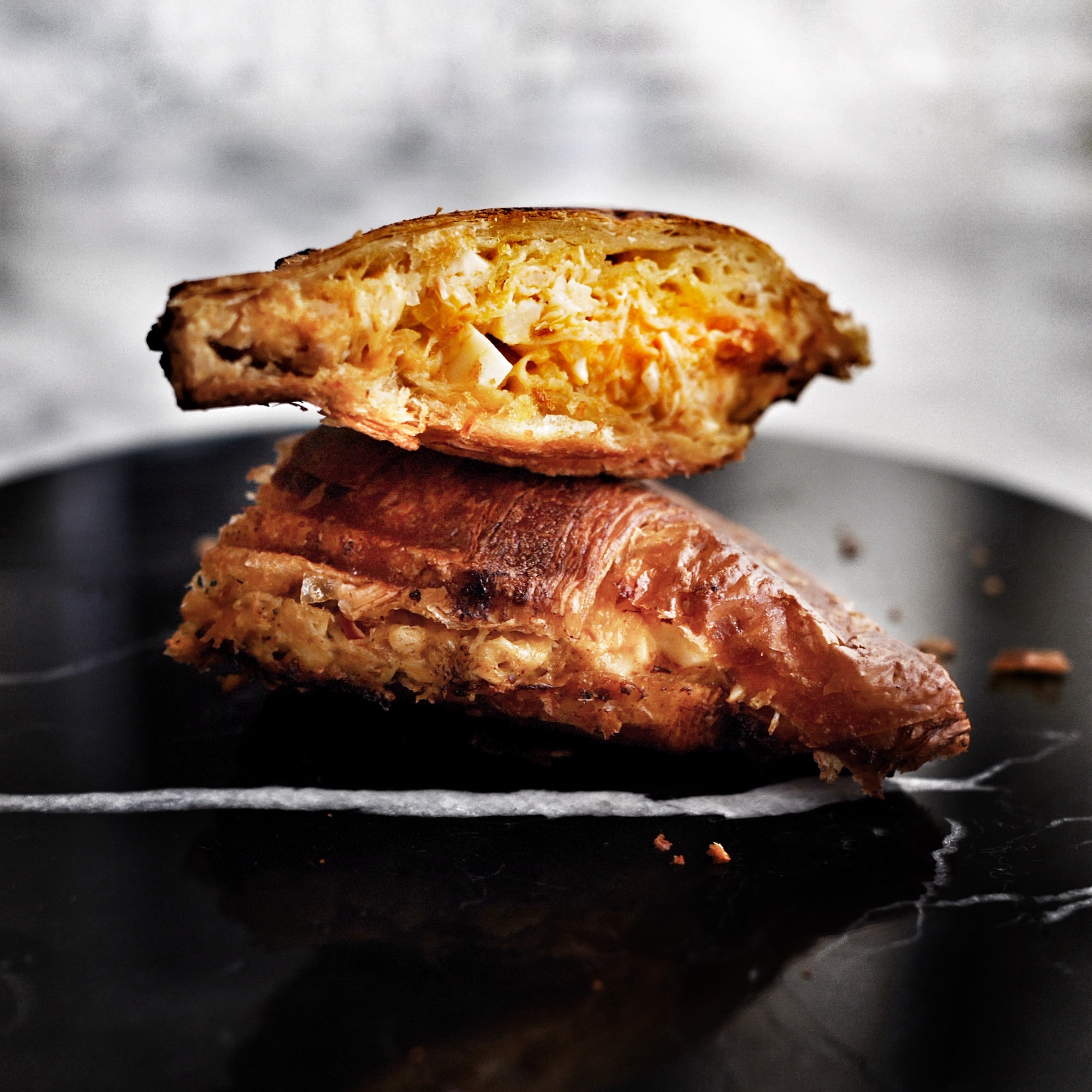 In addition to my little recipe here, there are a slew of other chefs and homecooks (like me) creating new Philly Cream Cheese dishes this week. And, if you want to try a few, several will be served at a cool pop-up café on Keong Saik Road, right around the corner from the entrance of The Working Capitol. Everything is free. There will be a selection of 10 sweet and savoury snacks to try. Plus, the guys from Two Men Bagels will host a bagel station where guests can add a personal touch to their cream cheese bagels with selected toppings such as char siew, pickles and cherry tomatoes. Coffee (again, free!) is being prepared by the awesome folks from Punch, one of my favourite cafes.
Here are the deets:
The Philadelphia Cheese Heavenly Inspiration pop-up café
10 Nov 2016, 8.00am – 8.00pm
11 Nov 2016, 8.00am – 1.30pm
1 Keong Saik Road, Unit #01-05, Singapore 089109
Nearest MRT station: Outram Park
Philadelphia Cream Cheese Chilli Crab Toastie Recipe
You will need to use:
• Prima Chilli Crab Paste. One box has three packets – you will only need the paste. Each paste packet contains approximately 295g of paste.
• Philadelphia Spreadable Cream Cheese. Each tub has 250g of cream cheese.
• Picked, cooked crab meat. I suggest freshly picked but if you don't have the time or energy for this, suggest Ocean Source backfin crab meat available through Zairyo.com.
• And, most importantly, you will need a toastie sandwich machine.
One batch of filling (one batch of filling fills approximately 7-8 sandwiches).
Ingredients:
2 tablespoons canola/sunflower oil
30g diced shallots
20g diced garlic
150g Prima Chilli Crab paste
250g picked, steamed crab meat
125g Spreadable Cream Cheese
2 hard-boiled eggs, chopped finely
2 teaspoons sea salt
Butter, softened at room temperature
White sandwich bread, crusts off, or Croissants, cut open
In a high-sided frying pan, heat up the oil over medium high heat. Fry the shallots until soft, lowering the heat if they start to burn. Add in the garlic and saute for another minute. Then add in the Chilli Crab paste. Stir and saute for another minute. Then add in the crab meat and stir quickly, ensuring the sauce coats all of the crab meat as evenly as possible.
Spoon all of the crab mixture into a mixing bowl or other container. Add in the Cream Cheese, egg, and salt. Stir so that all ingredients are evenly incorporated. Cover and place in the refrigerator for at least 30 minutes. This filling can be kept overnight in the fridge.
Making the Toasties.
Preheat your toastie machine.
Spread butter generously on one side of each slice of bread.
To make one toastie, place a slice of buttered bread butter side down on a tray or cutting board. Spoon approximately 70-85 grams (depending on the size of your bread) of the crab filling onto the bread. Make sure to leave a channel of at least 1 cm of uncovered bread around the filling, like a border that runs around all sides of the bread. How large this border needs to be will depend on your toastie machine.
Cover with another slice of buttered bread, butter side up. Place sandwich into the toastie machine; close the lid; and wait for approximately 4-6 minutes or whatever is recommended by your specific toastie machine's manufacturer.
When ready, carefully take out of machine (don't burn yourself). Cut into two triangles based on where your machine creates the indentation. Serve.
Aun has always loved food and travel, passions passed down to him from his parents. This foundation, plus a background in media, pushed him to start Chubby Hubby in 2005. He loves that this site allows him to write about the things he adores--food, style, travel, his wife and his three kids!