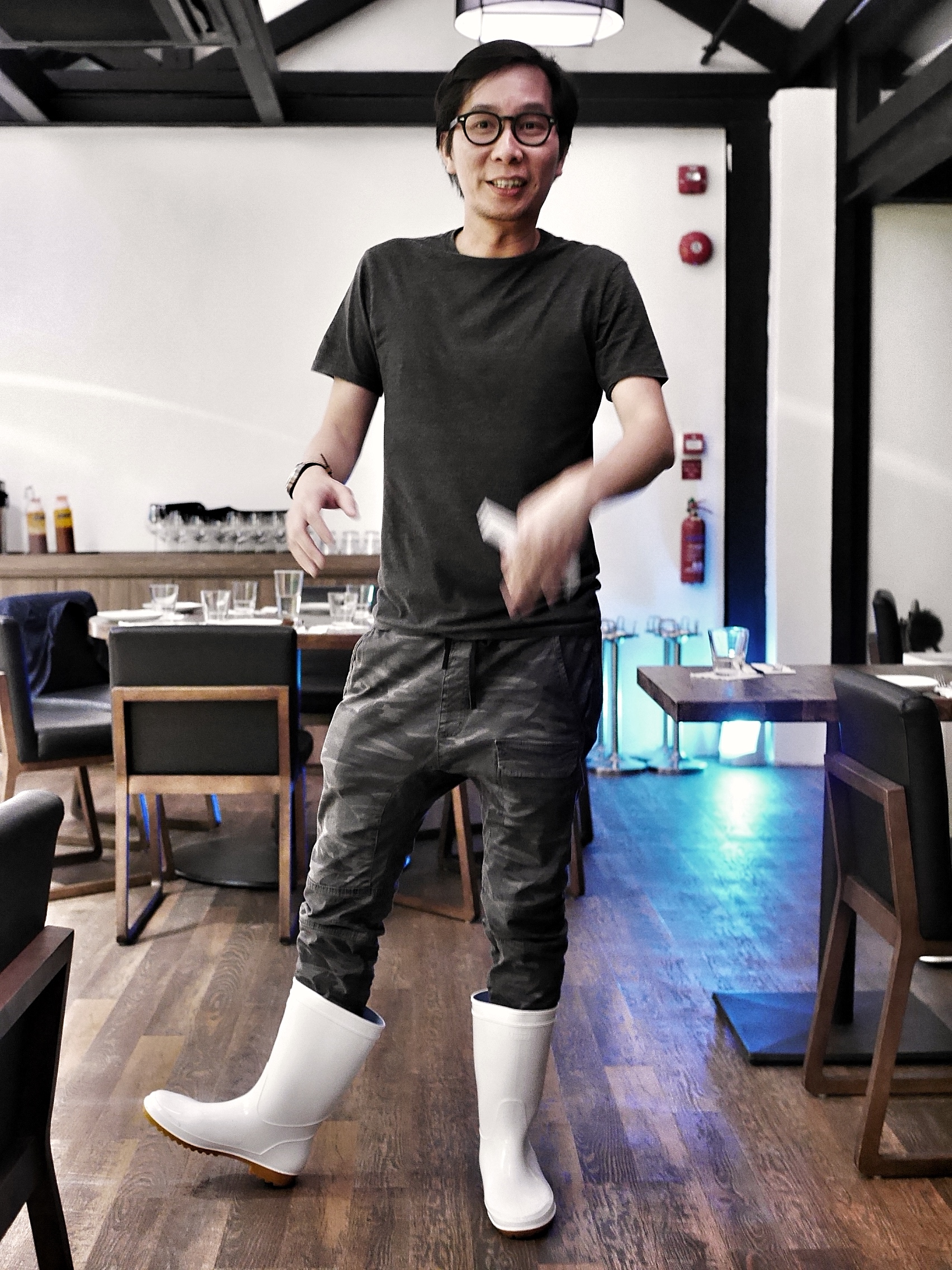 The other night, at The Naked Finn, I had one of the best dinners I've ever had here in Singapore. And I want to tell all of you all about it. The problem with doing so is that you won't be able to visit The Naked Finn and ask for this menu. You see, it was a once-off, a very special menu put together by the restaurant's super passionate owner for a group of close friends.
For those of you who don't know Ken Loon, owner of Nekkid Bar and The Naked Finn, and former owner of Klee, I don't think I am exaggerating when I label him a gastro-otaku, i.e. a huge food nerd! He's the guy other chefs and restaurateurs go to in order to learn about (and buy) seafood and a range of other culinary esoterica. But balanced out with his ridiculous vast (and often highly scientific) knowledge of food is a very stripped down approach to cooking. His restaurants are best known for serving incredible produce treated as simply as possible, with as little seasoning as possible. Ken wants you to taste the prawn he serves you, not hide it under sauces or other ingredients.
Once in a while though, he likes to challenge his kitchen team to get creative. And so, for friends (easiest way to become his friend is to visit the restaurant regularly), he's happy to create very special tasting menus, built around a theme — like a geographical area, or specific produce. For these dinners, he'll offer you and your guests private use of The Naked Finn on a Monday evening, when it's usually closed. Which kind of makes it one of the coolest pop-up fine dining experiences in town.
Our dinner, as I said earlier, was an incredible exploration of Hokkaido's seafood (with one beef at the end).

We started the meal with a flash-fried Coonstripe shrimp, served under a generous portion of homemade keropok and dehydrated tomato powder. What a wonderful starter! This little dish was packed with crunchy umami flavours, balanced with the sweet soft flesh of the prawn. Ken's keropok was amazing. I actually insisted on taking a bag home with me.

The next dish was ingenious — a bowl of kuri kabocha (pumpkin) that was pureed with Super Kita-momiji onion, served under more pumpkin, with a small bowl of Hokkaido milk on the side. When you pour the milk into the dish and stir, it becomes a lovely, saffron bowl of warm, thick soup. So satisfying and warming.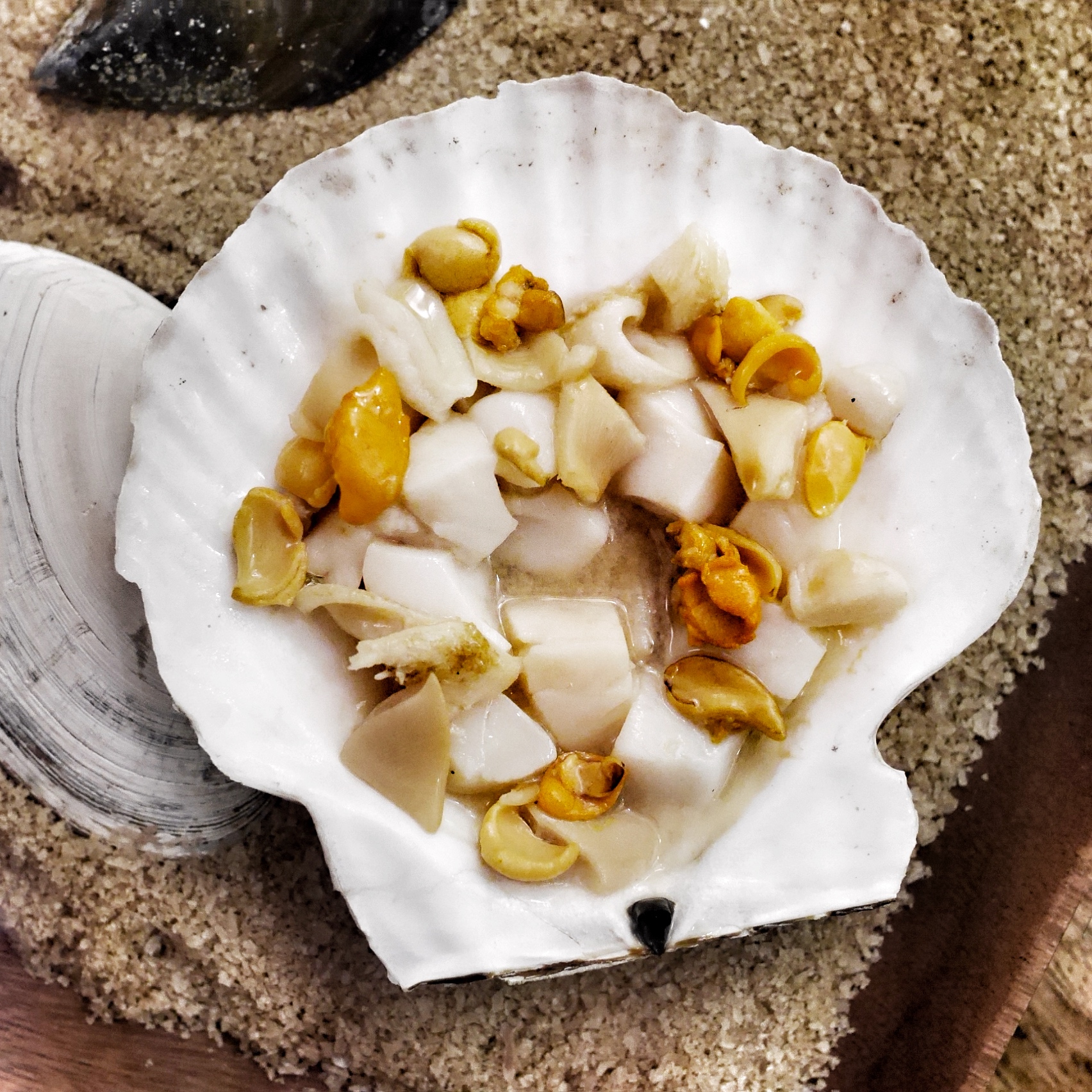 The soup was followed up with a trio of shellfish: Yesso scallop, Ezo mussel and Alaska great-tellin clam. The mollusks were chopped and steamed with a kinki sauce, and finished with a stunning Junmai Daijingo sake (bottle pictured below). The natural sweetness of these ingredients was sensational. The "sand" they were served over was actually earl grey flavoured salt, which allowed us to season the dish to our tastes.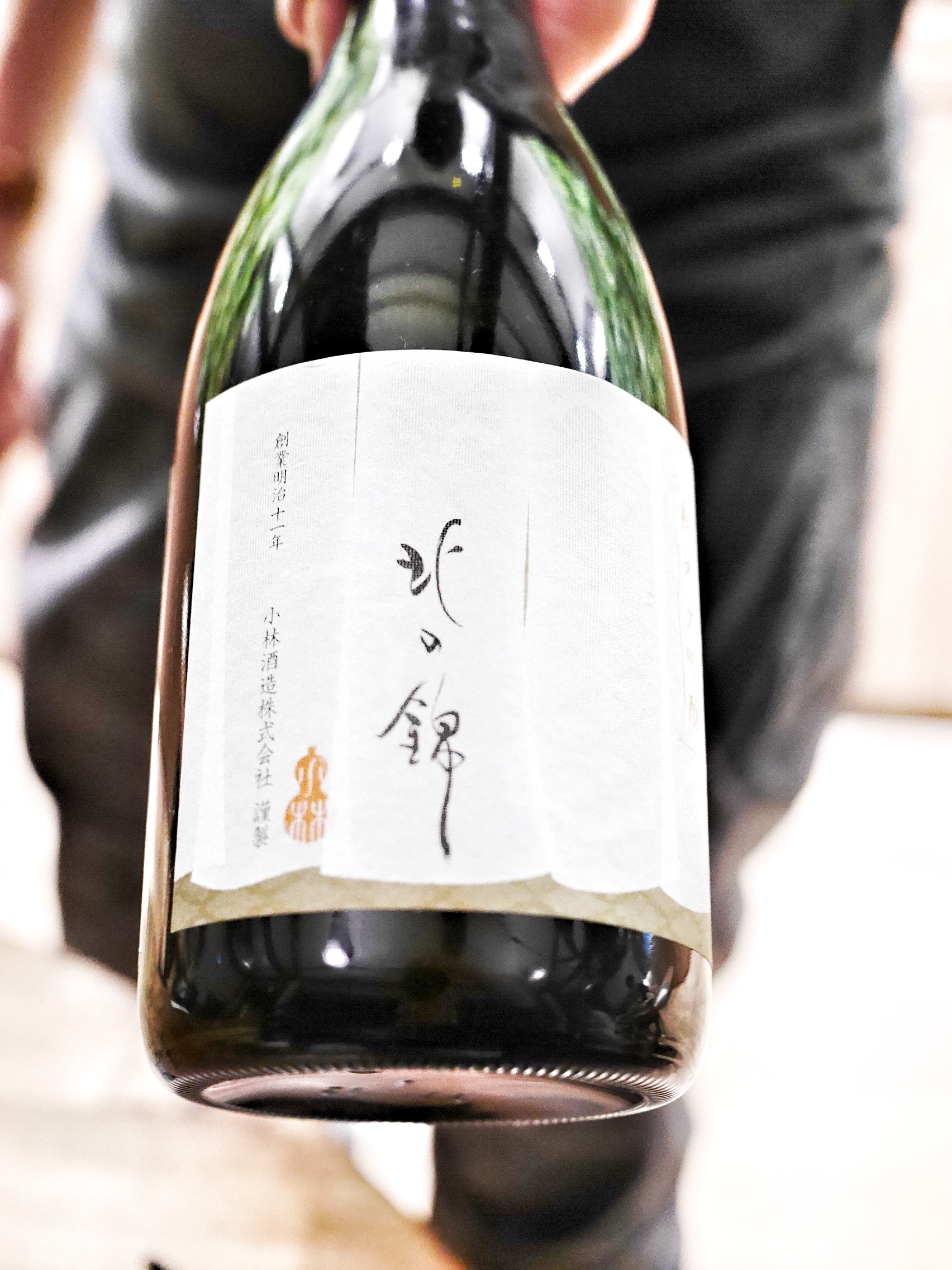 Next was a "risotto" made from chopped flying squid, grilled with squid ink and liver, topped with Ezo bafun uni. This was sensational. Super rich and luxe. Thankfully, it was a small portion. If it was bigger, it would have been over-indulgent.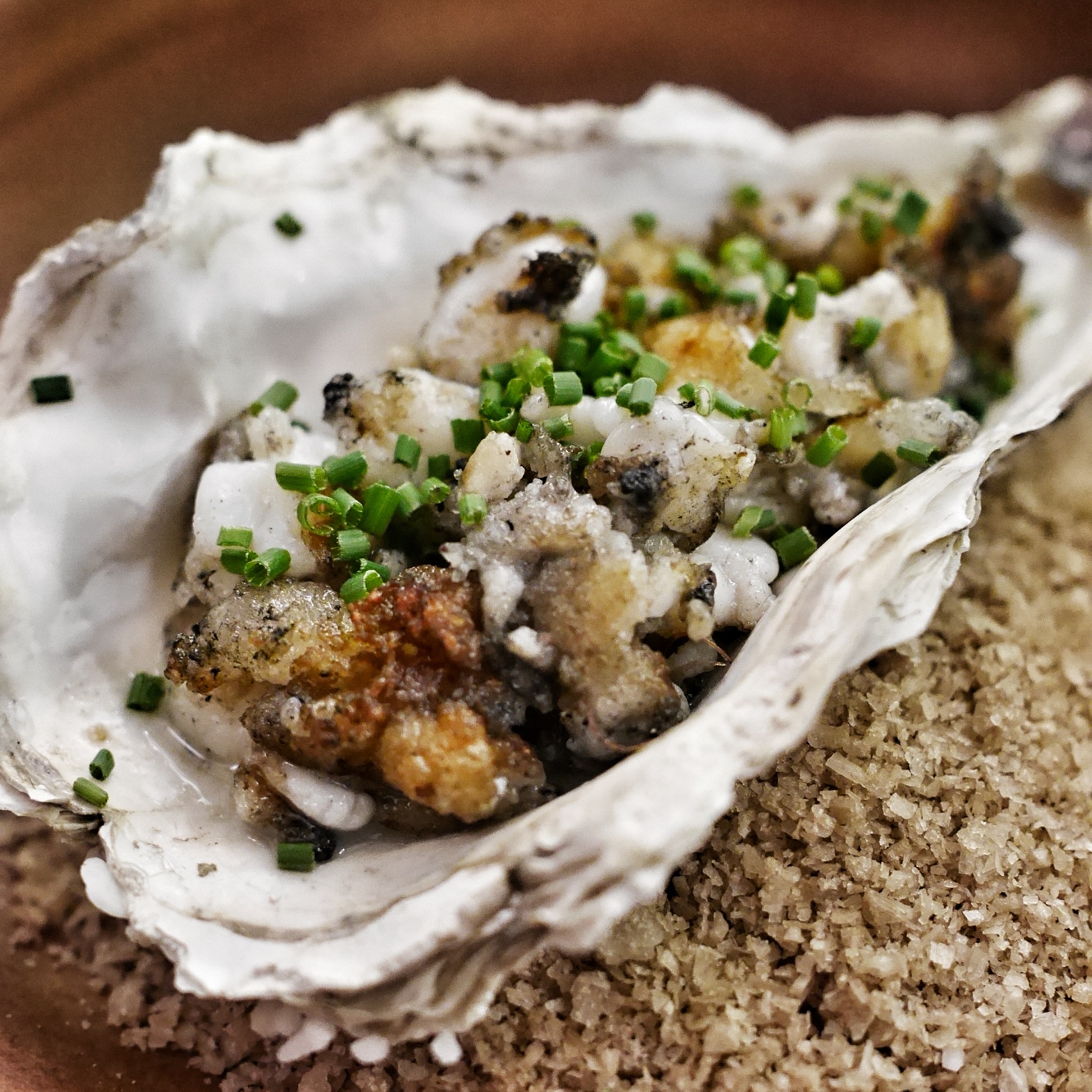 Ken's "Orh Jian" (oyster omelet) was my second favourite course of the night. This is an insanely delicious dish that actually tastes like the much-loved street food dish — but far better. And it's made without egg or starch. This was a warmed Pacific cupped oyster, served under grilled baby squid's innards with chives. Sounds strange no doubt. But it's frakking delicious!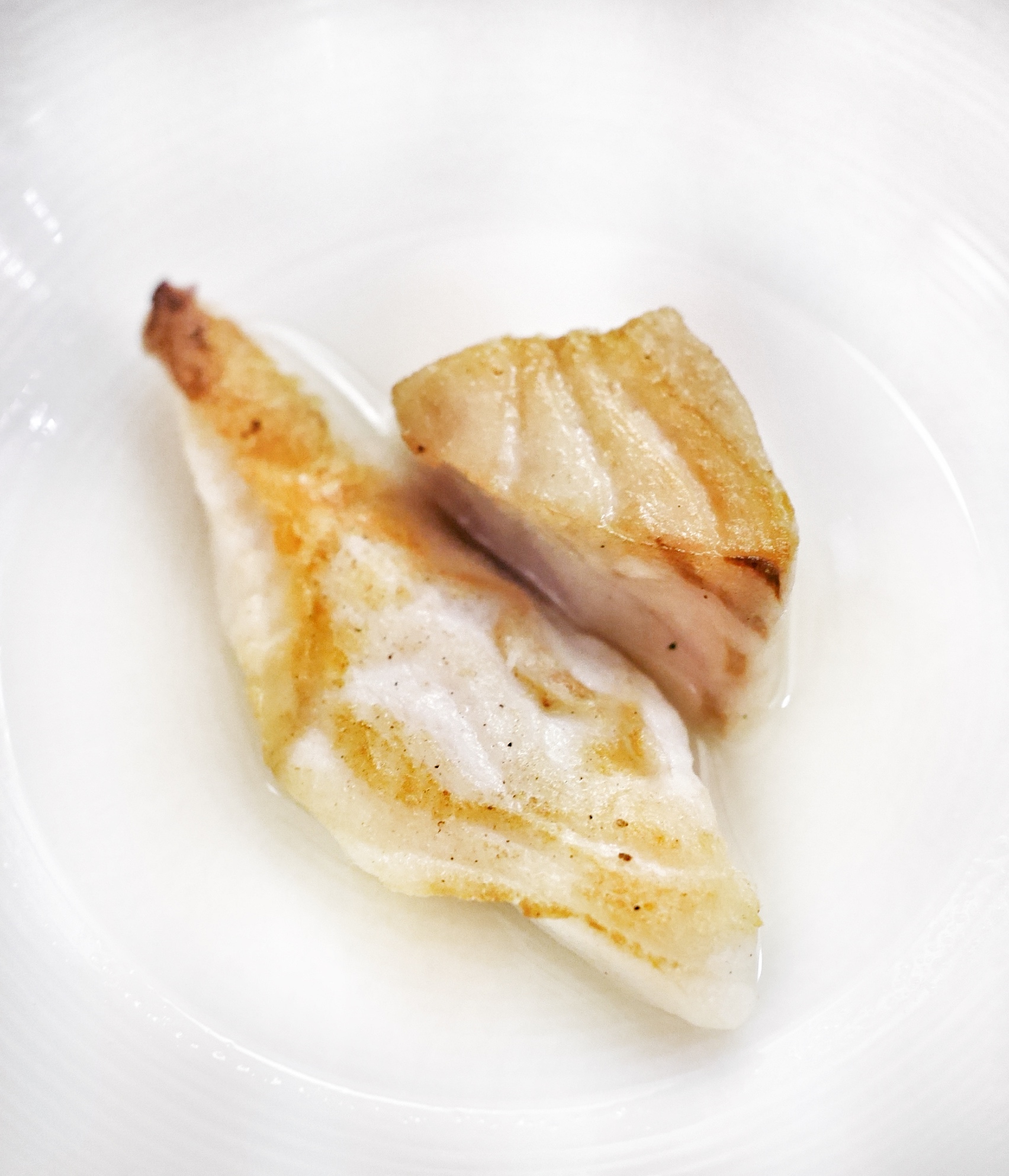 A duo of fish was served next: skilfish and prowfish, both lightly grilled and finished with a Rausu kombu and shirogai stock. Beautiful clean flavours here. I loved the aromatic broth and really enjoyed discovering two fish that I'd never eaten before. As you can expect from the seafood gods in The Naked Finn, they were cooked perfectly.

The piece de resistance of the evening (in my opinion) was a deceptively simple dish. It was also a dish borne out a challenge a buddy and I had issued to Ken — which was to hack crab bee hoon and create something better. After several trials, Ken's response was to abandon trying to fry the crabs and instead served us a bowl of steamed Queen crab legs with deep-fried vermicelli, over which he poured the most amazingly delicious crab consomme. I could have eaten a half a dozen portions of this. And I am sure I'll be thinking about this for months to come.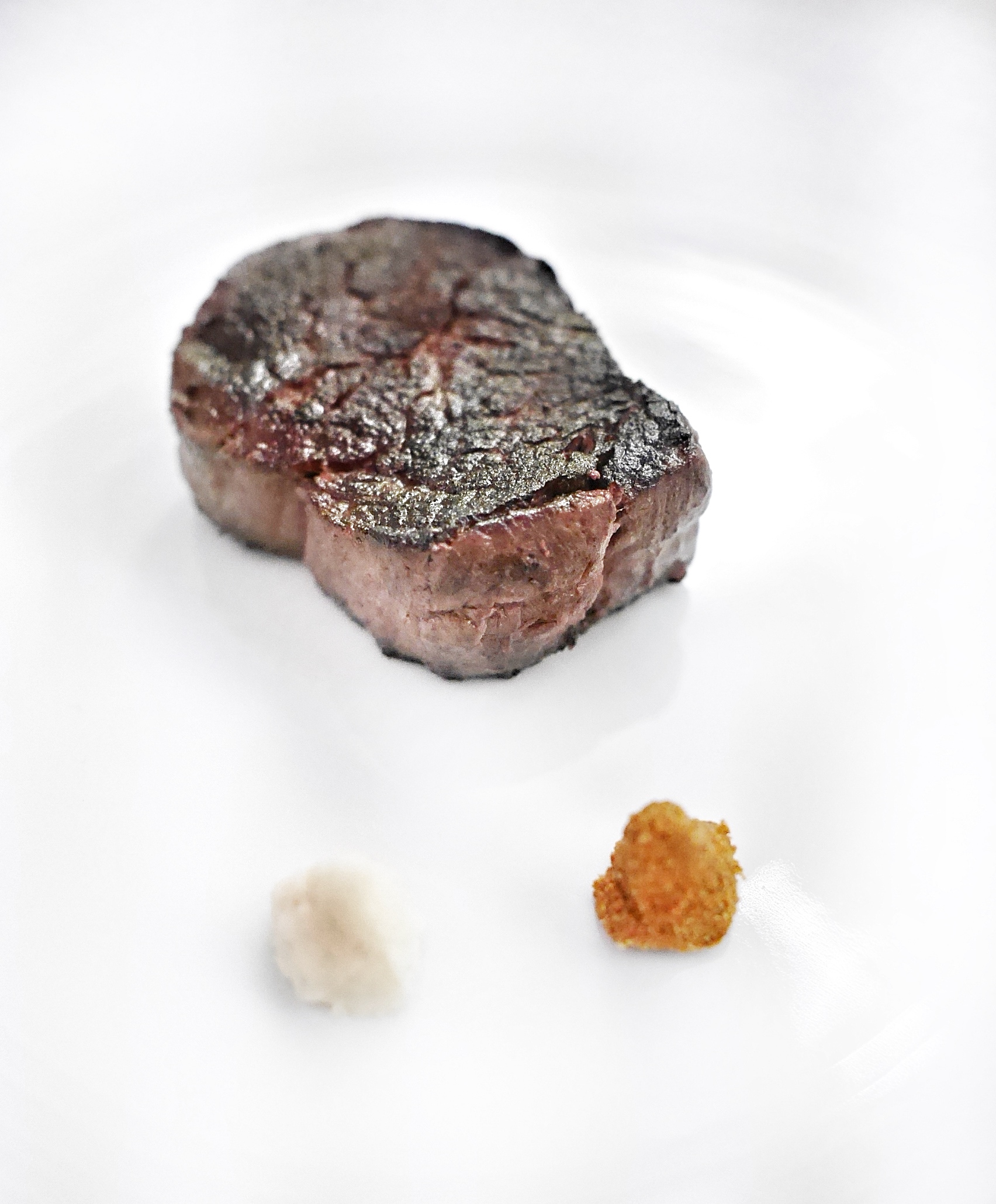 Our final savory course was a deviation from the sea. It was a portion of beautifully grilled Shiraoi wagyu tenderloin, plated with a small dash of yama-wasabi and an equally tiny mound of dehydrated tomato powder. This was a real treat.

The final course of the night was a lovely, light dessert — amazake ice cream served with acacia honey, roasted koji-powdered mochi and some genmaicha on the side to mellow out the sweet flavours in the dessert.
All in all, this was a meal that ranks among my best ever in Singapore. I think what I loved about it so much was the unpretentiousness of it: the best produce, treated in creative ways, with great technique, but served in ways that highlighted the main proteins in delicious and simple ways. My only criticism — which I did tell Ken — was the considerable lack of vegetables throughout the meal. I think I am going to have to challenge him to make a salad comparable to the ones Zaiyu Hasegawa makes.
As said, this menu is not available. But Ken — once you get to know him — would most likely be happy to create something equally special just for you.
The Naked Finn
39 Malan Road, Gillman Barracks
Singapore 109442
Tel: +65 66940807
Aun has always loved food and travel, passions passed down to him from his parents. This foundation, plus a background in media, pushed him to start Chubby Hubby in 2005. He loves that this site allows him to write about the things he adores--food, style, travel, his wife and his three kids!