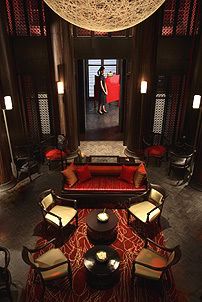 Ever since my friend B described the specially designed contraption that the recently renovated China House restaurant at The Oriental, Bangkok, had commissioned just to roast and dry their lacquered (Peking) ducks and geese, I've been a little obsessed about visiting it. The perfect excuse presented itself last week when I spent a day in Bangkok meeting with Dr S and his wife V. As I was literally spending just one day in the city, circumstances demanded that we meet for lunch rather than dinner. I proposed that we have a light lunch at The China House. The double story restaurant is quite a sight to behold. Its exterior is clad with slabs of stacked slate and a long, protruding section lined with large windows invites you to peek into the kitchen (unfortunately, I was ill-placed to catch sight of the fantastical, fowl-twirling invention I had been told about). The street-level entrance takes you into a small space which has a ceiling lined with over a hundred red lanterns, making it a stunning introduction to a breathtakingly dramatic restaurant.
As I stepped further into The China House's cool, dark interior, the first thing that caught my eye was its sexy Tea Apothecary which sits in a double volume space at the heart of the restaurant. Large canisters of Mariage Freres tea line the wall facing the entrance; it was a bit of a spiritual encounter for me. This is the first (and currently the only) place in Bangkok which serves 35 Mariage Freres teas (including two blends specially created for the hotel, the Oriental blend and the China House blend). I could be wrong, but it is also possibly the only place within a two-hour flight from Singapore which serves such a considerable selection of MF teas. I was determined to have tea in this alluring, intimate salon.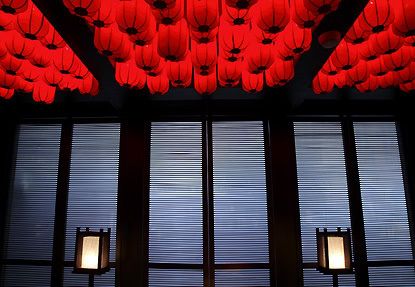 We were led further into the restaurant which has an Art Deco-inspired interior harking back to 1930s Shanghai. I love the private booths for two or four cocooned in red silk curtains. The cuisine here is modern Chinese in presentation but classical Chinese in flavour. Shanghai-based Singaporean chef Jereme Leung serves as its consultant. Since there were only three of us, we ordered a selection of dimsum and a Peking duck (a house specialty). What I enjoyed most about the dimsum were its clean, natural flavours and translucent, delicate skins. I could taste the subtly sweet meat juices in the shrimp and pork siu mai flavoured with salted duck eggs which had just enough fat to make it tender. And I relished the textures of the fine, hand cut fillings as we tucked into shrimp dumplings (har gau) and freshly made charsiew rice rolls (cheong fun) with coriander. We had avoided the "Bygone and Thai cuisine-inspired" dimsum selections because we really wanted to keep lunch simple and reasonably healthy, but I predicted that CH would order the slow braised pork belly served with butterfly shaped soft buns at the dinner he was planning to have there later in the week. The glutinous rice siew mai filled with minced pork and holy basil also sounded promising.
Sharing a whole Peking duck between three people is, in my opinion, a real treat. One gets just enough crisp, paper-thin duck skin to feel just a tad over indulged. Chef Kong suggested that we have some of the duck meat served finely minced in elegant little lettuce cups (sang choy bao). Although this is a fairly common dish, his version was deliciously refined. We ended our meal with more duck served shredded with eefu noodles (sublime comfort food in my books) before proceeding to the Tea Apothecary. I am quickly entering The China House onto my list of must-visits in Bangkok.
The China House
48 Oriental Avenue
Bangkok
Tel: 66 (2) 659 9000 Ext. 7650-1
Photos courtesy of The Oriental Bangkok 
Su-Lyn is Aun's better half and for many years, the secret Editor behind this blog known to readers simply as S. Su-Lyn is an obsessive cook and critical eater whose two favourite pastimes are spending time with her three kids and spending time in the kitchen. She looks forward to combining the two in the years to come.