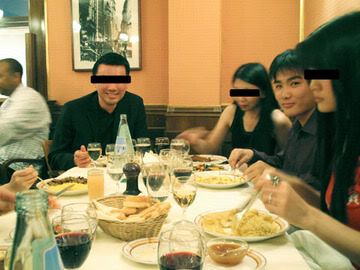 As mentioned, I made it to Harry's Bar last night. It was, as it always is, packed and buzzing with life. Our table was upstairs, tucked in a corner near the staircase. Definitely not one of the better tables available, but beggars can't be choosers. Then again, the moment that first Bellini was placed in front of me, I didn't really care where I was sitting.
The food was delicious. And outrageously expensive. Surprisingly, the wine list was really quite affordable, with most bottles priced lower than any main course. I had a tuna tartare to start followed by one of my all time fave Cipriani dishes, baked tagliolini with ham. I have to admit that I was enjoying my food and wine so much that I completely forgot to take any photos until mid-way through my pasta—which by that point would not have made a pretty picture.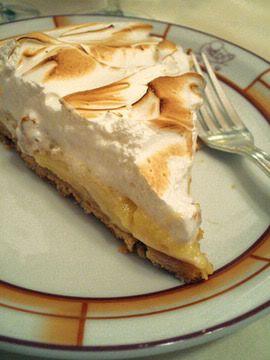 I did remember to take a picture of my dessert though. I had the lemon meringue pie, also one of my faves. Everyone else in my group had the chocolate cake, easily one of the best and most famous chocolate cakes in the world. It was this cake, in fact, that helped me convince a darling WASPish young lady, some 11 years ago, that one should live to eat, and not eat to live. All in all, it was a wonderful, decadent and bloody expensive night, as they always are at Harry's Bar.
Aun has always loved food and travel, passions passed down to him from his parents. This foundation, plus a background in media, pushed him to start Chubby Hubby in 2005. He loves that this site allows him to write about the things he adores--food, style, travel, his wife and his three kids!