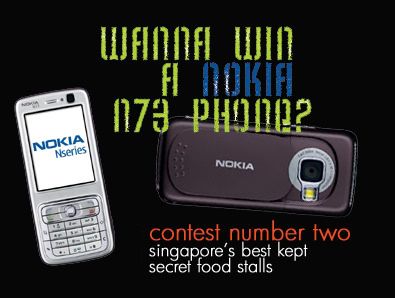 Local readers hoping to win a brand new Nokia N73 phone still have 2 more days to enter my first N73 giveaway contest, Funny Eating Fotos. So, if you have a great, hilarious picture taken of someone stuffing his or her face, hurry over to Flickr and post your photo. I'll be announcing the winner of this contest during the first week of September.
If you don't win a phone through Funny Eating Fotos, you still have a chance to win a Nokia N73. Contest 2 begins today. I'm calling this one "Best Kept Secret Food Stalls". Entering it is similar to contest 1. If you're not already registered with Flickr, you'll need to sign up (relax, it's free). Then go to Best Kept Secret Food Stalls, the Flickr pool I've created for this contest.
This contest is open only to Singapore-residents (sorry). Please post one picture per contestant only. Post a great picture which has been taken using a mobile phone of your favourite local "best kept secret food stall", i.e. that place you love to eat at that serves super-delicious food but that you're pretty sure not that many people know about. Note: the photo must have been taken with a mobile phone.
Please describe the photo after you post it. The photo can be anything from someone eating to the food itself to a shot of the stall/eatery/coffee shop itself. Just be sure to tell all of us where it is.
The contest closes 22 September 2006. The folks at Nokia and I will judge the pictures and award the winner with a Nokia N73. We'll be looking for a really cool picture… something really great… not sure exactly how to put it in words. We'll be looking for a picture that just makes us go, "wow". Good luck!
Technorati tags: Nokia, N73, contest
Aun has always loved food and travel, passions passed down to him from his parents. This foundation, plus a background in media, pushed him to start Chubby Hubby in 2005. He loves that this site allows him to write about the things he adores--food, style, travel, his wife and his three kids!