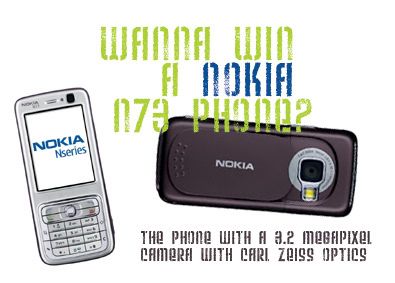 Over the past few weeks, I've had the pleasure of testing out one of Nokia's awesome new N Series phones. The N73 is a joy to use and I'm not just saying that because I got one free. The N73 is the first Nokia I've used in years. Quite a few years ago, I made the switch to PDA phones, using (in order) a Treo, HP iPaq and most recently a Dopod 838 Pro, which I totally love. But I have to admit, the N73 has been winning me over. It's a good size; it feels right in my hand. It has simple, clean looks (I hate fancy "fashion phones") and the calender software works perfectly. Keying in appointments is a breeze and the read-out on the main screen is very clear. Best of all, the Nokia N73's camera rocks. It has a 3.2 megapixel camera with a Carl Zeiss lens. I've complained in the past about the cameras on my PDA phones. The Treo's was awful and the iPaq's not much better. The Dopod's camera isn't bad but it's nothing compared to N73's. While you can't really shoot things too close, for general snapping away, it's brilliant.
But, as in all things, you should judge for yourself! So, thanks to the fine folks at Nokia, I'm thrilled to be able to give away 2 brand new Nokia N73 phones. I'll be giving each one away via 2 contests over the next 2 months.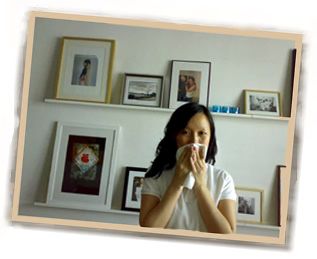 FUNNY EATING FOTOSis the first contest and it starts today! Sorry, but it's open only to Singapore residents. Starting today, post the funniest photograph that you have taken of someone (that you know) eating or enjoying a meal. The photo can also be a self-portrait. I love funny photos of people eating. I especially love snapping them. My wife S (pictured here; photo taken with the N73), however, hates it, but has learned to live with it (and me). Please only post 1 photograph per contestant.
At the end of August, I will (with input from the folks at Nokia) pick a winner. To enter, you need to join Flickr, post your photo online and then send it to this Photo Group that I have created just for this contest: Funny Eating Fotos.Good luck! I look forward to seeing your entries and I'm looking forward to sending one of you a brand new Nokia N73.
Technorati tags: contest, nokia, n73
Aun has always loved food and travel, passions passed down to him from his parents. This foundation, plus a background in media, pushed him to start Chubby Hubby in 2005. He loves that this site allows him to write about the things he adores--food, style, travel, his wife and his three kids!