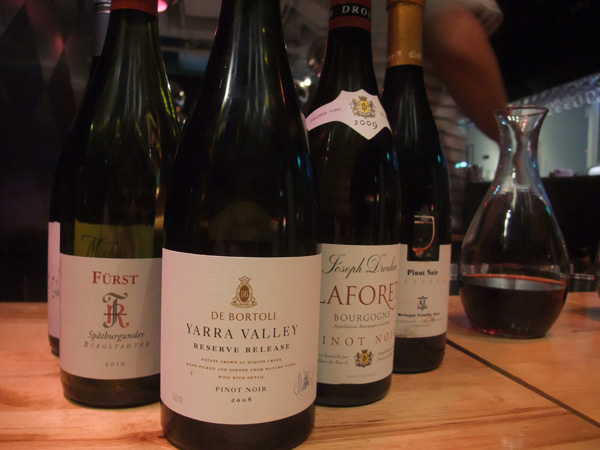 ---
"God made Cabernet Sauvignon, whereas the devil made Pinot noir."
As famously declared by André Tchelistcheff, America's most influential wine maker in the post prohibitions period (post-1930s). The Pinot Noir demands undivided attention from growers and wine makers, seduces drinkers with subtle nuances and excites those who adore it. If I am to draw literature reference from "Paradise Lost" by John Milton, then Pinot Noir can be described as "lust" manifested in, the not so glamorous, berry form.
Pinot Noir berries grow brilliantly in cool regions across the world. Easily ripened, susceptible to fungal attacks and overly expressive of its growing environment, the Pinot Noir does not carry a signature aroma profile like the Cabernet Sauvignon and Shiraz. Instead, its aroma varies depending on geographical factors such as soil type and climate. While Pinot Noir grape varietals can be found in the United States, Chile, Austria, Italy, Germany, Australia and New Zealand, the most revered origin lies within the Côte de Nuits sub region of Burgundy, France.
The Pinot noir is usually described as "expressive of its terroir". Unlike grapes such as Cabernet Sauvignon and Shiraz, which carry certain signature aroma profiles, Pinot is rather erratic. It varies its aroma based on the geographical effect such as soil type and climatic temperature.
Despite the existence of another red variety – Gamay – in Burgundy, Pinot Noir has been commonly known as the Burgundian red. A sweeping statement suggesting all red wines must be a Pinot certainly wasn't fair for the Gamay farmers but this is what the world has recognised. For connoisseurs, the most prized of all comes from the famous Romanée-Conti vineyard. Roald Dahl, in "My Uncle Oswald" described its charm with explicit details that leaves vivid visuals in one's imagination.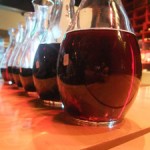 "Sense for me this perfume! Breathe this bouquet! Taste it! Drink it! But never try to describe it! Impossible to give an account of such a delicacy with words! To drink Romanée-Conti is equivalent to experiencing an orgasm at once in the mouth and in the nose."
But wait… Before I go on about all things Pinot Noir in a scholarly fashion, let me elaborate a little about my blind date with Pinot Noir and discuss what matters most for a drinker – the tasting.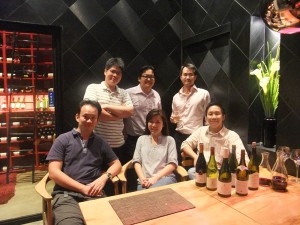 I am certainly not affluent enough to crack open a bottle of the actual Romanée-Conti, but I was able to round up a group of wine enthusiasts for a blind tasting of several Pinot Noir from the world. A bottle each for each country in my list, we pitted old world wines from Austria, France and Germany, against new world hipsters Australia, New Zealand and United States.
A young panel from diverse backgrounds, taste and style preferences, they probably represent some of the more sophisticated young drinkers today. The following is an extract of what we have to share.
1. De Bortoli Reserve Release 2008 from Yarra Valley, Australia
With five out of six members naming this as an old world wine, the Australia-based family with Italian lineage amazed the panel with its oak intensity, mouth coating tannins, restrain on the fruit aromas and meaty savouriness. Priciest of the lot and made very closely to the old-world style, it made old-world loyalist like Boon Seng of Wein & Vin remarkably impressed by the controlled fruit aroma and subtle stylistic expression.
2.  Weingut Familie Auer Reserve Pinot Noir from Thermenregion, Austria
Oddly rich in fruit ripeness, hints of sweet black fruits and spices. The mid-length finishing, smooth tannins and well-balanced sensation made this hard to fathom. Austrian wines are unusual in Singapore, so thanks to Timothy (CSW), owner of The Tastings Room and fellow Wine Specialist, we got a taste of this fine bottle.
3. Misha's Vineyard The High Note 2008 from Central Otago, New Zealand
Red fruit notes that require a short aeration to develop. The light to medium acidity with soft tannins makes this a palatable wine. Perhaps softer compared with the others for the oak or fruit intensity, this is still a welcoming bottle for any occasion.
4. Rudolf Fürst Spatburgunder 2010 from Franken, Germany
Exhibiting fruit restrain like a typical old world wine, this Spatburgunder (German for Pinot Noir) brings good acidity, showing a typical cool region. However, the red fruit carried a slight greenish tinge which adds levels of complexity, but may also suggest a lack of ripeness to deliver the intended fruit flavours. Overall well-made by the wine maker with good structures imparted by oak.
5. Joseph Drouhin Laforet Pinot Noir 2009 from Burgundy, France
Labelled under the bigger region of Burgundy, this can be think of as an entry-level French wine. Initially hit by a whiff of farm-like barnyard notes, it did not leave an appealing impression on me. However, restrained red fruit notes on the palate were noticed by Madeline (from Grand Hyatt Singapore), while Raymond (owner of EnjoyWine.Sg) pointed out the presence of strong tannins, which is essential for ageing. Perhaps there was a little over-enthusiasm when it comes to controlling the fruitiness – only time will tell how it will evolve in the near future.
6. Castle Rock Pinot Noir 2009 from Russian River, United States
For the lack of a better word, fruit bomb is the most apt descriptor for this bottle. Made from Sonoma, this Castle Rock Pinot Noir is extremely ripe with notes of sweet raisins and plums. With smooth tannins and perceived fruit sweetness on the palate, this is a highly approachable wine for those who dislike the typical coarseness from tannins and prefer a richness on the palate. This bottle conveniently came off the shelves of Wine Connection, the same place where William (CSW) operates.
Though the panel has the intent to showcase the essence of wines from different countries, this is not meant to be a definitive illustration nor indication of their wine styles. Wine making styles change with time and generation, each refining and defining their best representation. At other times, styles change to meet consumer preferences.
After all, the market is a waltz between wine makers and wine drinkers.
Wai Xin is constantly educating himself in all things wine-related. Believing strongly that wine is for enjoyment and not a trading commodity, he encourages sensible, affordable drinking and the exploration of individual preferences. A Certified Specialist of Wine, his personal wine blog is on www.winexin.sg.