This past weekend, my wife and I had some friends over for dinner. Weekend dinner parties are always an excuse for us to show off a bit. We both really enjoy taking the time to look through our pretty large collection of cookbooks, pull out recipes we love or want to try for the first time, work out wine pairings and also some table setting ideas. One thing I also enjoy doing is designing and printing out menus—let's just say it allows the graphic designer in me to have a little fun.
Since this past weekend was a holiday weekend, i.e. 3 days, we had more time to prep. My wife decided to devote a good portion of the extra time to prepare crabs. After working out 3 recipes that called for shelled crabmeat, she went to the market and brought back 5 Sri Lankan crabs, which she steamed and then spent several hours shelling.
Suffice it to say the dogs were going insane, sitting at her side and drooling in hopes that she'd accidentally drop a claw or a handful of meat.
With the crab, we served three small starters. The first was a "deconstructed California roll", inspired by a dish I had eaten at Yu'u, one of the best Japanese restaurants in Melbourne. This is a simple dish of crabmeat, avocado, ebiko and wakame tossed in a sauce made from white miso, mirin, mustard, wasabi and grapeseed oil, and topped with some lemon-infused ikura. Second was a mentaiko (spicy cod fish roe) pasta, tossed with the crabmeat and some bacon and topped with nori. The third was crab cakes, following a recipe from Chez Panisse, and served with a homemade sweet chilli-mayonnaise. We served the first two starters with a Jacob's Creek sparkling Chardonnay Pinot Noir and the crab cakes with a D'Arenberg The Stump Jump 2004, a good and extremely affordable blend of Marsanne, Sauvignon Blanc and Reisling.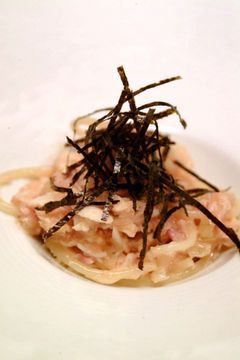 mentaiko pasta with crabmeat
For a main course, my wife tried (for the first time) a brined roasted rack of pork recipe from Thomas Keller's Bouchon cookbook. The rack is brined for 24 hours and then roasted for an hour. I paired this with a macaroni and fresh truffles recipe by Joel Robuchon, found in Patricia Wells' Paris Cookbook. I must admit, though, that we tweaked it quite a bit. First, we used elbow macaroni intead of the 16 large long pieces the book calls for and instead of making truffle butter using fresh truffles, we blended butter with Tetsuya Wakuda's jarred-truffle salsa (one of the greatest products available today). We served this with a Torbreck The Steading 2001. This Aussie GSM (Grenache, Shiraz, and Mourvedre) is one of my favourite wines.
For dessert, I made a lemon soufflé, following a Mark Bittman recipe and paired it with a homemade chocolate ice cream that my wife made in her fantastic Musso, following a Maison Du Chocolat recipe.
In all, it was a good, satisfying meal. What amused me most was that for placecard holders, we used Cadbury Peeps—little marshmallow chicks put out for Easter. We created little flags with toothpicks and paper, wrote each person's name on one, and stuck them in the Peeps, which we plated at each seat. While they were meant to be decorative, I discovered while cleaning up after dinner, that our guests had all eaten their Peeps, all except one guest who ate her Peep's body but could not bring herself to eat the head.
Aun has always loved food and travel, passions passed down to him from his parents. This foundation, plus a background in media, pushed him to start Chubby Hubby in 2005. He loves that this site allows him to write about the things he adores--food, style, travel, his wife and his three kids!