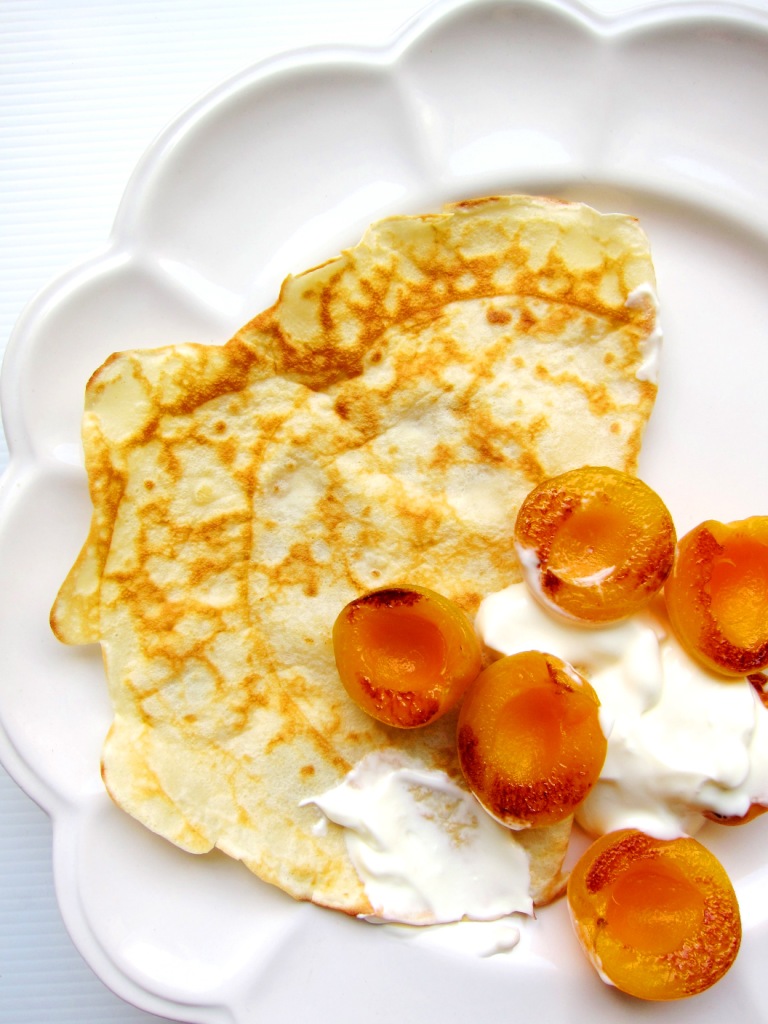 Every morning, I try to squeeze in as much sleep as possible. To do that, I often sacrifice breakfast. So when it comes to meals, breakfast receives the least attention, and is at times even forgotten. I dash out of the house with a poorly slapped together sandwich or simply drown myself with some instant hot drink. Even if I get the rare chance to savour it, it would be hawker fare like mee siam, chwee kueh and so on. Don't get me wrong, I love my hawker food – but to eat them every day – I am not sure if my arteries would approve.
With so little time in the morning, it is tough to go all fancy and creative with breakfast. That is, until I discovered the magic of crêpes. Originating from Brittany, the north-western region of France, crêpes are like the French version of pancakes. They are much thinner and lighter than the latter. The beauty of a crêpe is that it is a blank canvas, allowing you to put anything you like (or whatever you happen to have in the fridge and pantry). You can have it with jam or nutella. I often enjoy mine with homemade yoghurt and fruits. And if you prefer something savoury for breakfast instead, toss in a couple of salad leaves, some canned tuna, lemon juice and you've got yourself a delicious wrap. You can do mozzarella, basil and tomatoes, or sautéed mushroom and spinach. The combinations are endless, really.
The crêpe batter can be made the night before. Furthermore, any extra crêpes can be stored in the freezer and used whenever you need it. So if you are in a rush, just thaw the crêpe, warm it and put in your choice of fillings. Best of all, you can do this in under five minutes.
Besides being a great breakfast treat, crêpes make a fabulous dessert. Recently, I threw a dinner party – stacks of crêpes, pots of flavoured fromage frais, crème fraîche, and grilled apricots. Everyone can choose their favourite toppings and create their own dessert. This makes for a quick and easy dessert with minimal washing up afterwards.
Crêpes
(Adapted from Rachel Khoo's The Little Paris Kitchen)
Crêpes essentially consist of flour, milk and eggs. This particular recipe allows you to make the batter the night before, hence relaxing the gluten and ensuring light and airy crêpes. To me, the key to making a good crêpe is a non-stick pan and the courage to leave the crêpe alone to cook. Often, we get anxious and decide to flip the crêpe over when it is still undercooked. This often ends in tragedy – the crêpe ends up pale blonde and may even crumble. So, be brave and don't agitate the crêpe too early.
Recipe type: Snack, Breakfast, Dessert
Prep time: 10 minutes
Resting time: 60 minutes–overnight
Cook time: 30 minutes
Serve: Makes about 10-12 crêpes
Ingredients
200g all-purpose flour
2 eggs
400-600ml milk (you might need a little bit more to loosen the batter after resting)
A good pinch of salt and caster sugar (if you don't have caster sugar, granulated sugar is fine)
Melted butter for frying
– In a medium-sized bowl, mix the flour, sugar and salt together.
– Make a well in the centre of the mixture and crack in the eggs.
– Using a whisk, slowly mix all the ingredients together, while adding enough milk to loosen the batter and reach the consistency of double cream.
– Don't overmix the batter as this will cause your crêpes to be rubbery. And don't be terribly worried if there are bits of lumps in the batter. You will stir the batter again when making the crêpes.
– Refrigerate for a minimum of an hour or preferably overnight. If you choose to rest the batter overnight, the mixture might separate and thicken.
– To cook the crêpes, heat a 15-18cm crêpe pan or a flat frying pan (preferably non-stick) on a low-medium heat, and brush with some melted butter.
– Stir the batter. If the batter has thickened while resting, add in more milk to loosen and ensure that it reaches the consistency of double cream.
– Pour around 50-60ml (¼ cup) of the batter into the centre of the pan. Working very quickly, swirl the batter around the pan, and try to get the crêpe as thin as possible. I always find it easier to swirl the batter when the pan is on low-medium heat – this way, I can better spread the batter and the crêpe doesn't get burnt.
– Cook for a minute – the key telltale sign that the crêpe is ready to be flipped is when bubbles start to form in the middle. You can also try agitating the pan. If the crêpe does not loosen easily, chances are that it's not cooked yet. At this stage, it is very tempting to peek at the other side of crêpe. Don't. Try your best not to agitate the crêpe further. You should achieve a light golden brown colour before you turn the crêpe over with a spatula.
– Cook the other side for another minute. The crêpe might puff up.
– Slide the crêpe out of the pan and place on a plate (lined with a paper towel).
– Repeat to make the rest of the crêpes, greasing the pan with butter in between each one.
– The crêpes are best served warm and you can use any fillings you fancy (as long as it is not too watery).
– If you planned to freeze your crêpes, slide parchment paper in between each piece of crêpe. This way, the crêpes don't stick together and you can peel them off easily, and use only what you need.
– To re-heat, you can warm the crêpe over a low heat in a non-stick pan or cover them loosely in aluminum foil and stick them in an oven at 120oC for 10 minutes.
Mandy's journey into the culinary world began out of necessity–a means of survival whilst she was at university. She believes cooking should be simple and fun. Besides spending time in the kitchen whipping up hearty meals, Mandy also dreams of having a bottomless stomach that she can fill with all kinds of delicious things.