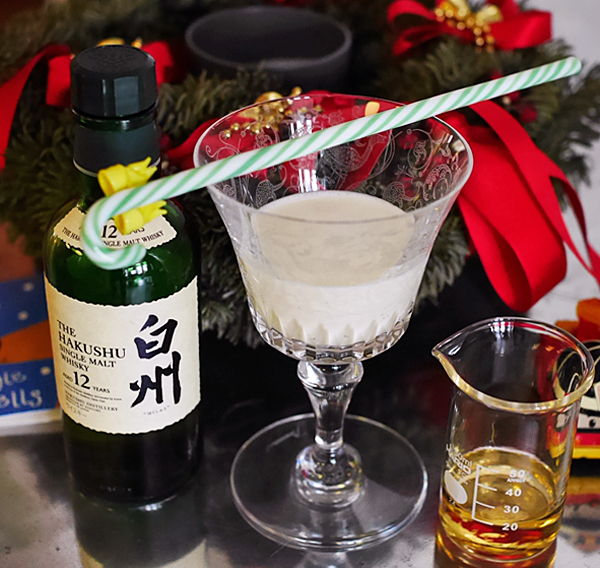 Every year, come Christmas time, my wife and I whip up a huge batch of eggnog. Truth be told, growing up, I wasn't a big fan of eggnog. But that's because for most of my life, I hadn't tasted a really good, homemade version. That is, until I discovered this amazing recipe by Melissa, founder of The Traveler's Lunchbox.
The Traveler's Lunchbox? What's that? you ask? Well, to explain, I have to go back 9 years or so. I first started blogging about food in 2005. Back then, there weren't that many food blogs on the Web. There were even fewer ones that were written well and an even smaller number that combined passionate, witty, intelligent writing with delectable, drool-worthy photos. Some of these, like Chez Pim and Delicious Days, are still around and are going very, very strong. Sadly, some of the other great early food blogs have been long abandoned, their founders moving on to bigger and better things. Nordljus is one blog that I miss dearly. Another is The Traveler's Lunchbox, written by the charming Melissa Kronenthal. In fact, of all the early food blogs, I think the one I enjoyed reading the most was Melissa's. Every single post was, to me, something that could have easily run in any top international food magazine — and I say that as someone who retired from a life of editing lifestyle magazines in 2004.
What was also wonderful about the food blogging scene back then was how small and how warm the community was. Back then, food bloggers from around the world were constantly emailing each other, supporting each other, visiting each other, and sharing their love and passion for food. The community back then was truly extraordinary to me, because it was made up of people with a profound passion for food eager (for no compensation whatsoever) to share this love with each other and the world. (How very different from today, a time in which it feels like every blogger has gotten into the game solely for fame and fortune.)
While I was (back then) a voracious reader of the growing universe of food blogs, there were few whose recipes I would actually regularly test out. Melissa's, however, I knew I could trust. I would frequently print out her posts and recreate her dishes in my kitchen. And they were always fantastic. Now, to bring us back to the point of this post, Melissa's eggnog was a revelation for me and my wife. It was the best eggnog I'd had up to that point in my life and still the standard to which I hold all eggnogs.
But, as usual, please don't just take my word for it. Test it for yourself. Spike it with rum or bourbon, or if you wanna be ultra-indulgent like me, some aged Japanese whisky. I guarantee you'll have a very, merry Christmas if you do.
P.S. Here's Melissa's recipe archive. A real treasure trove that should have been turned into a book years ago.
Melissa Kronenthal's Absolutely Amazing Eggnog (copied verbatim in her words)
Yield: just under 2 quarts/liters (recipe can easily be doubled)
4 cups (1 lt) whole milk
1 1/3 cup (270g) sugar
1 vanilla bean
1/2 teaspoon ground mace
1/4 teaspoon ground nutmeg
2 cinnamon sticks
generous 1/4 teaspoon salt
6 large egg yolks, at room temperature
2 cups (500ml) heavy cream, cold
freshly-ground nutmeg, for sprinkling
booze of your choice: rum, brandy, bourbon… (optional)
Heat the milk and sugar in a saucepan with a lid. Split open the vanilla bean and scrape the seeds into the milk; cut the pod into four or five pieces and add it too along with the mace, nutmeg, cinnamon and salt. Bring everything just to a boil, remove from the heat and let steep, covered, for at least 30 minutes.
Return the pan to the heat and bring to a gentle simmer over medium-low heat. In a bowl whisk the egg yolks until frothy. Temper the yolks by adding about 1/2 cup of the hot milk to them, stir well and then add them into the pan with the rest of the milk, stirring quickly until incorporated. Continue to heat the mixture, stirring constantly, until it thickens slightly and coats the back of a spoon, being careful not to let it boil. Remove the pan from the heat and quickly stir in the heavy cream—this will bring the temperature down and prevent it from curdling as it sits. Transfer to a covered container and chill several hours until cold. Strain the mixture through a fine-meshed sieve, discarding the vanilla and cinnamon. Serve cold, sprinkling each serving with more nutmeg before drinking (this is de rigueur). Drink as is, stir in some of your favorite booze (I like dark rum), or use to whiten (and sweeten) your morning coffee. Eggnog will keep up to a week in the refrigerator.
Aun has always loved food and travel, passions passed down to him from his parents. This foundation, plus a background in media, pushed him to start Chubby Hubby in 2005. He loves that this site allows him to write about the things he adores--food, style, travel, his wife and his three kids!