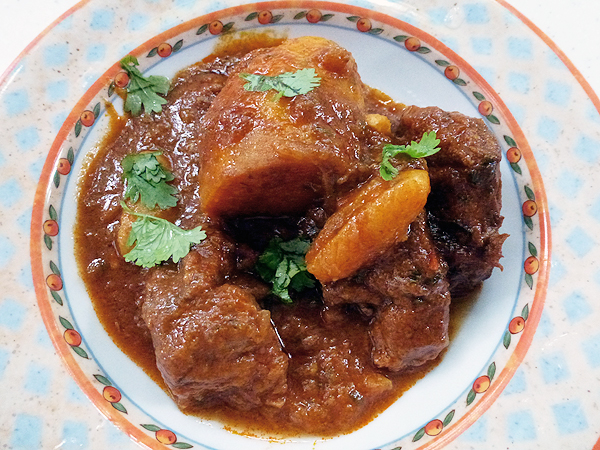 When I was growing up in my tropical island home of Singapore, I believed that stews were eaten only by Europeans. This preconception probably came from reading western fairy tales and watching movies and television. It was only when I learnt to cook in my late teens that I realised stews are actually prepared around the world in various forms. Usually a cold-weather classic, stews can be savoured any time of year, anywhere. One of my favourite stews is lamb tagine, a staple in every Moroccan restaurant. Tagine, or tajine, is a North African dish named after the earthenware utensil in which it is cooked.
Jamie Oliver once said, "I like to think of a tagine as a sort of stew with attitude." Having had variations of tagine over the past few decades, I totally agree but I would qualify that line with a "good" before "tagine". A bad tagine – I have had some – is just a bad stew.
After my inconsistent experiences in restaurants and thereafter attempting various recipes, all claiming to be authentic, I have decided that taste has to trump authenticity. I found the recipe here to be ideal, offering the perfect combination of flavours with that necessary kick often missing from some tagine recipes. This recipe is a combination of at least four recipes from various cookbooks, all of which claim to be authentic. All were good but I felt each recipe on its own lacked that certain something – a spice or flavour I could never quite put my finger on.
I enjoy the process of cooking tagine; I love the whole idea of allowing all the spices to flavour the meat and filling the kitchen with a delicious aroma. It can be quite time-consuming, especially as I make my own passata, so I tend to make it only for small dinner parties when there are no more than eight of us. It is also a hearty dish, so at such parties, I usually serve jsut three light courses, including the tagine.
I do not have a tagine (the cookware) so I use my heavy cast iron pot, although any wide, heavy-bottomed pot will do.
Tagine is typically served with couscous but with the addition of sweet potato, I usually skip the couscous and serve this with a salad and some buttered beans or sautéed spinach instead.
This recipe calls for lamb but I have found beef to be a good substitute.
Lamb Tagine
Ingredients
100ml olive oil
2 large yellow onions , chopped
2 tbsp grated  ginger
2kg boneless lamb or beef, cut into medium chunks, excess fat removed
4 cinnamon sticks, each approximately 5cm long
1 ½ tbsp freshly toasted and ground cumin
1tbsp paprika
1 tbsp coriander, ground
500ml passata*
300 ml stock (home-made or store-bought broth. Do avoid stock cubes; the artificial flavour is too strong!)
1 heaped tbsp. harissa paste**(store-bought or home-made)
700g sweet potatoes , cut into large chunks
150g pitted dates, cut into halves
150g dried apricots, cut into halves
150g almond slivers , toasted
2-3 tbsp coriander, roughly chopped
Heat the oil in a wide, heavy pot. Gently fry the onions until soft. Add the ginger, spices and cinnamon sticks, quickly stir for a few seconds and then add the meat. Fry meat on all sides until lightly coloured.
Add the passata and stock, then bring to the boil, stirring. Season well, then cover and simmer for 1½-2 hours, until the meat is tender. Half-way through cooking, add the harissa paste. If the stew threatens to run dry, simply add water or stock, a little at a time, and stir thoroughly.
Add the sweet potatoes, stir well, cover again, then cook for 15 minute or until the potatoes are just tender. Stir in the almond slivers, apricots and dates. Taste and add more seasoning if necessary.
Sprinkle the chopped coriander just before serving.
*Passata
2 tbsp olive oil
1 large red onion, diced
2 x 400g cans plum tomatoes
4 fat garlic cloves, peeled and chopped
4- 6  basil leaves, torn
2 tbsp tomato paste
1 tsp sugar
Salt and pepper to taste
Fry the onions gently until soft, add all the other ingredients except basil and bring to a boil. Simmer uncovered for 15 – 20 mins, until quite thick. Add the basil at the very end. Liquidize in a blender.
** Harissa paste. I have used bottled Asian sambal oelek to great effect. Highly unconventional but the kick in harissa is from the chilli, a key ingredient in sambal oelek. This wonderful conconction of chilli, garlic, ginger and lemongrass, is my magic paste. I will share a fail-proof recipe for sambal oelek, along with ideas for using it well, in my next post.
Mahita recently returned to Singapore after owning and managing a B&B in Bali. She now indulges in her twin passions of eating and writing. Mahita spent 30 years in advertising and hospitality. She is a sworn lover of Singapore's street food. She co-founded a small book club which has been going strong for eight years. She is also an animal lover. Mahita is married with two daughters currently in university and 3 great pets–a dog and two cats.