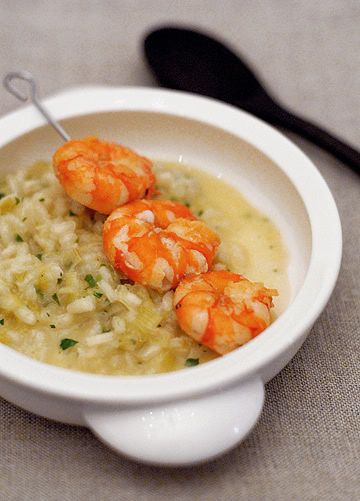 After a really long day at work, the last thing that either S, my lovely wife, or I want to do is spend more than a couple hours slaving away in the kitchen making dinner. While we often enjoy spending our weekends prepping ingredients and putting together elaborate meals for friends, most weekdays we simply can't muster the energy or enthusiasm for anything too difficult. That said, as self-described greedy gourmets, we also want to eat really good, well-made food. Over the years, we've enjoyed scouring hundreds of cookbooks for yummy recipes that take no less than 30-40 minutes to prepare. Some books, like Thomas Keller's French Laundry, have close to none. Some have a few and others, like Nigel Slater's Real Fast Food, are filled with them. Gary Rhodes' Keeping It Simple is another such book. S picked up this gorgeous hardback a couple of months ago. It's a great book for beginner cooks as well as more advanced ones. The former group will love how easy the recipes are to follow. They're neither too elaborate nor do they call for too many ingredients. They don't take too long to make and the steps are very clearly explained. The latter group will like this book because the dishes in it are photographed beautifully and sound yummy. Many of these advanced cooks probably won't need to follow the recipes item by item or step by step. But they will find them inspiring.
S and I were similarly inspired by Rhodes' "tiger prawns with a leek and mozzarella risotto". The combination of freshly grilled prawns and rich, cheesy risotto really appealed to us. After a quick read through his recipe, we started working on fashioning our own version. Instead of grilling the prawns with olive oil, as Rhodes recommends, we pan-fried ours with garlic. Similarly, we tweaked his risotto, substituting white wine with vermouth, replacing the onion with extra leeks, and increasing the amount of mozzarella in it. The dish was a breeze to make. From start to finish, it took no more than 40 minutes. Perfect for an after-work meal.
prawns with a leek and mozzarella risotto
feeds 2 as a main course or 4 as starters
12-16 prawns, peeled
2 tablespoon olive oil
2 tablespoons butter
3 leeks, cleaned and julienned
100g arborio rice
2 tablespoons vermouth
350ml chicken stock, heated
4 garlic cloves, diced
1 small round of mozzarella, grated or chopped
2 tablespoons parmesan, grated
1 tablespoon flat-leaf parsley, chopped
salt and pepper
Heat 1 tablespoon butter with 1 tablespoon olive oil in a medium-sized pot. When bubbling, add the julienned leeks and cook over medium heat until soft. Then add the rice and stir, toasting the rice slowly. Then add the vermouth and let the alcohol bubble for a bit, until the alcohol smells burn off. Then lower the heat and add about one to two ladles of chicken stock. Let the stock reduce and then add another ladle or two. Repeat until all the stock has been added to the rice and is reduced. All the stock should be absorbed by the rice. Then add 1 more tablespoon of butter, the mozzarella and the parmesan. Stir and add salt and pepper to taste.
Heat 1 tablespoon of olive oil in a frying pan over high heat. Add the garlic and let cook for a little less than minute. Don't let the garlic burn. Then add the prawns, a pinch or two of salt and sauté for 2-3 minutes or until just cooked.
When serving, add the parsley to the risotto and spoon into a shallow bowl or plate. Place the garlic prawns over the risotto and enjoy.
Aun has always loved food and travel, passions passed down to him from his parents. This foundation, plus a background in media, pushed him to start Chubby Hubby in 2005. He loves that this site allows him to write about the things he adores--food, style, travel, his wife and his three kids!