There are few events that make it to the household calendar, but when they do, they're often labeled by default as 'extremely important – forget if you dare'; and this includes La Mother's birthday. Having a mother with high expectations and exquisite tastes can be very intimidating, and it fell on me to deal with the arrangements after losing a battle of rock paper scissors with the father.
With a family of five, including myself, one has to think of real value for money locations to dine at. With the voracious appetites of Dad, S and Little A, I would have to sell more than just a limb if I picked some of the 'pricier' establishments around. After some mixed reviews from friends, coupled with some online surfing, I decided on The Clan at Bukit Pasoh Rd. Chris, who took my reservation, was very pleasant on the phone and asked if it was a special occasion, and even offered a small birthday surprise after I told him.
D-day arrived, and yay me – I forgot the birthday cake. I ran all over the CBD at lunch hour in 5-inch heels – which is no laughing matter mind you, looking for any decent chocolate cake, but every café I walked into just met my queries with a, "Sorry, but er, you need to make orders 2-3 days in advance." Clearly, I don't buy cakes often enough. Standing in the fantastically hot mid-day sun, I decided to give The Patissier a call and after some pleading and begging (they were very sweet despite my frantic-ness), they magically presented me with a delectable Double Chocolate Pralines 1kg cake. My regular florist at Eden Cottage was also very lovely, and even commented, "Oh, is it that time of year again?" Really great for anyone who needs to get his or her hands on a custom-made bouquet on a workday in the CBD. I often just tell him a colour scheme and budget and off he goes whipping something up. Beautiful bouquet for S$50 if I dare say so myself.
Before I get started on the food, I must first say that service at The Clan was excellent. The comic timing of the headwaiter was perfect and his EQ even better, when he offered Mum a cup of chamomile tea after she mentioned in passing that she had a headache. The meal itself was really enjoyable. The menu had a wide variety and really, we were quite spoilt for choice. Although, having read some reviews online, I had pretty much decided on what I would have beforehand – ahem, cheating.
The strawberry sherbet amuse-bouche was light and slightly sour, so it really got the appetite going. The starter comprised duck rillettes, seared scallop, and a prawn onigiri-esque dish. 'Omnomnom' pretty much describes it. For the cold dish (only available at dinner), I chose the Oyster in 3 ways, and that was marvelous. Of course, you've got the default fresh oyster with lemon, and there was also one with salsa; but my favourite had to be the one with the raw quail egg in a shot glass. 'Ew-ie' sounding I know, but it really went down smoothly.
Following that was the Kurobuta pork belly with pork cracker and passion fruit sauce. My goodness, it was a clog-my-heart-all-you-want pork belly that just melted in your mouth. It was so good that Mum who is on a 'diet' even ventured to poach some, and then some more. The mushroom soup was creamy and nice, but not as mind-blowing as the rest – which was good in a way, as I was getting pretty stuffed by that point.
Then came the highlight of my evening. The '48 Hours Beef Short Ribs on Hoba Leaf with Peppercorn Sauce on Lava Stone' – they really need to think of shorter names. It was eye-catching, and with the beef sizzling away, it was just 'wow'. The meat was really tender, and that slab of lava stone stayed hot throughout. Little A who likes her meat pretty much charred, dead and doubly-confirmed dead, had no problems achieving a decent well-done. While S and Little A opted for the chocolate lava with gelato, I preferred the Madeira cheese pana cotta; which came topped with just the right amount of liquor – for me that is, 'coughcough'.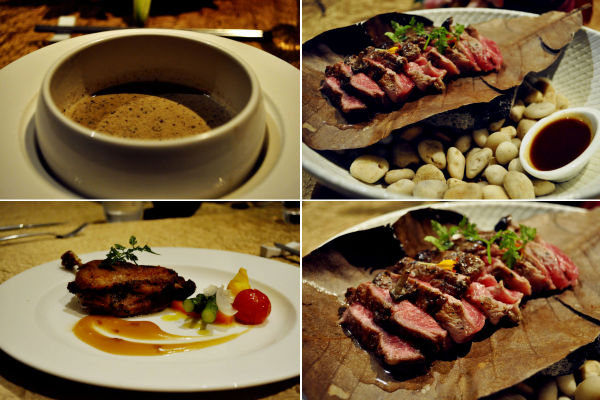 To end the evening off, we of course had to carry out a highly embarrassing version of the birthday song and safe to say the least, Mum's face achieved a whole new shade of red never seen before.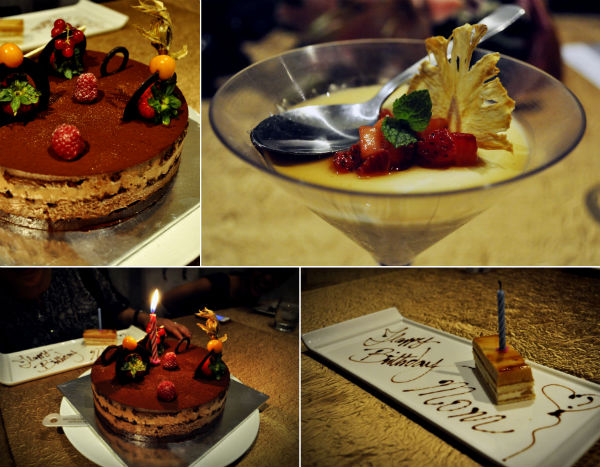 All in all, it was a very enjoyable evening, and became a new dining spot for the parents to bring their friends to. Subsequently, they have commented that while some of the dishes aren't as stellar as the others, it's still really good value for money (we paid around S$75/person that night, with some drinks) and the service has been excellent at every visit.
The Clan Restaurant
18/20 Bukit Pasoh Rd
Singapore 089832
Tel: +65 6222 2084
Lunch: 11:30am – 2:30pm (Last order 2pm)
Dinner: 6:00pm – 11:00pm (Last order 9:30pm)
www.theclanrestaurant.com.sg

Having lived in Sydney for 4 years, Amy is currently on a quest to find the best coffee joint in Singapore to supply her with her necessary caffeine dosage, as she feels an 8 hour flight on daily basis is taking things a bit too far. When she is not on her quest, she enjoys the more mundane things in life like singing in the shower as she contemplates life, as well as fashion, photography, food, music and the occasional travelling.