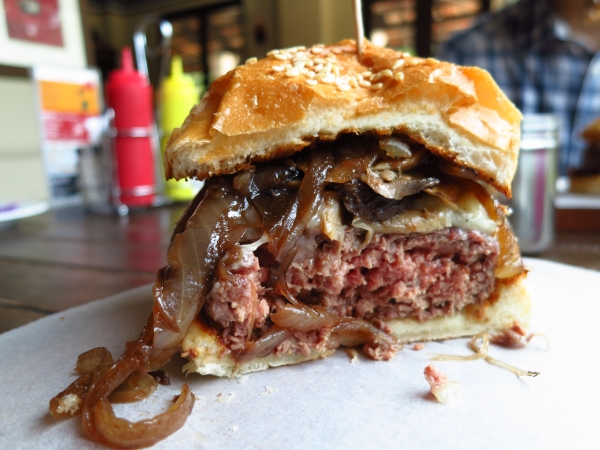 I try to eat clean and green most days. But there are times when even my steely resolve can't trump the incessant, nagging craving for a big, decadent, juicy burger (one of my favourite foods). Since I don't indulge in burgers that often anymore, it has to be a darn good one when I finally get down to it. The Privé Group has a burger joint, Roadhouse, one minute from my kids' school. This is a blessing, for almost instant gratification when I need a hit, and a curse for my waistline. I have eaten there four times in total. Thrice in the last ten days. This can only mean one thing- Roadhouse serves really amazing burgers.
Here is why a Roadhouse burger is awesome. Every one is made with a 170g Wagyu patty that is cooked in a Josper-grill, which seals in all the lovely juices and robust flavour of the beef. Another good thing about using a grill, is that the burger is hardly greasy, compared to those cooked on flat tops. The meat is seasoned to perfection, with simple salt and pepper and I suspect a touch of garlic powder too. But most importantly, it is cooked precisely to the done-ness you requested for. My medium burger was incredibly moist,  and blushing in the middle (pictured below).
To make things even better, the burger is held together by a fluffy, toasted sesame seed bun, which tasted like brioche, but proved sturdy enough to contain all the goodness within, without disintegrating. Despite my best efforts to pace myself, and prolong the enjoyment of my treat, I reckon I got the whole thing down in less than ten mouthfuls.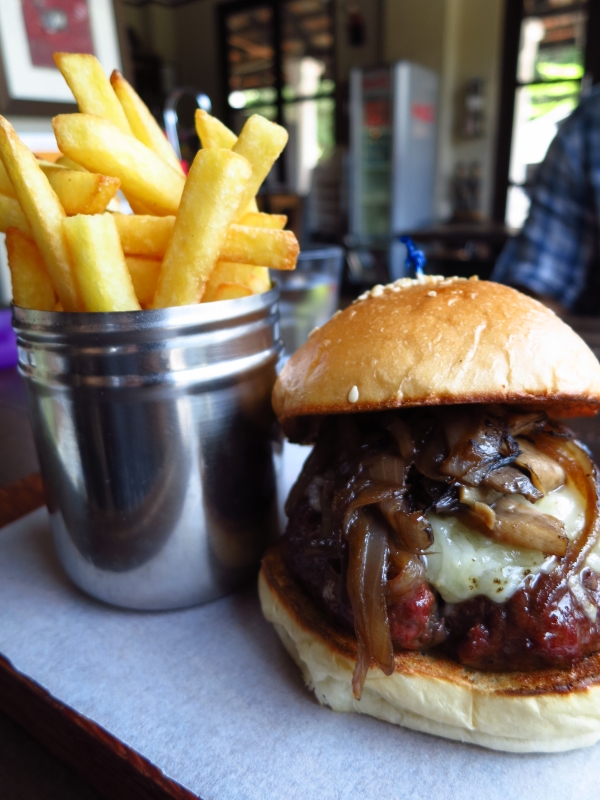 What I love about the menu is that you get to "build-your-own-burger". My dream burger is one with caramelised onions, sauteed mushrooms and Monterey Jack, plus a hefty portion of thick-cut fries on the side. I obsessively ordered the exact same thing every single time. My hubby topped his burger with streaky bacon and cheese, and chose to accompany it some very legit coleslaw. With almost 30 toppings, sauces and sides to pick from, even those with more eccentric tastes in burgers will leave happy. A pickle, Gorgonzola and garlic mayo burger anyone?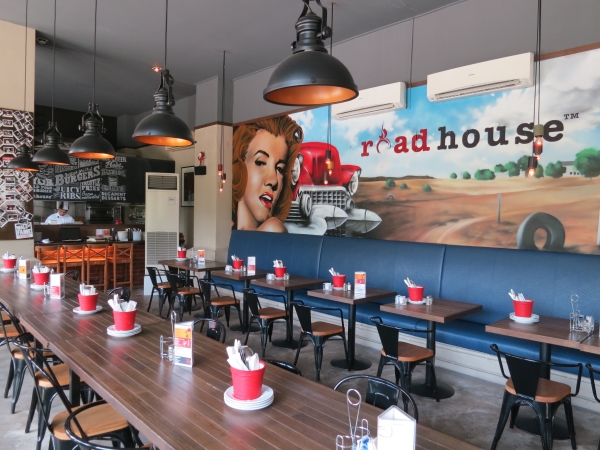 Roadhouse
13 Dempsey Road, Singapore 249674
Tel: +65 64762922
Open daily for lunch and dinner
Dawn, a lanky food-crazed lady, started out writing for lifestyle magazines, and later spent several years in banking. When not eating, she's cooking, reading about, hankering after, and writing about food. On her first date with her boyfriend (now husband), they dined at four restaurants across Singapore. He's gained 25lbs since, and their culinary escapades continue after welcoming two rotund angels. Dawn's committed to feeding them with the best, and creating lasting food memories and traditions for her family.