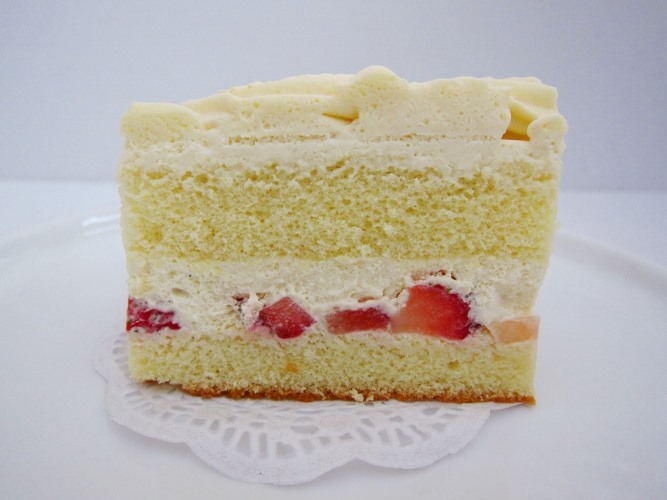 I am lucky to live in a neighbourhood where I am surrounded by food establishments that produce delicious food at a reasonable price. One of them is Ciel Pâtisserie. Nestled underneath a public housing block, Ciel Pâtisserie's chef-owner, Chara Lum (a graduate from Le Cordon Bleu, Paris) churns out an amazing array of French treats. Amongst them, my favourites are the Fuji and the strawberry shortcake.
Fuji is a cake that is made up of a green tea sponge base and mousse that resembles, you guessed it, Mount Fuji. The mousse itself is very light and the green tea flavour is quite pronounced without being bitter. What I love about this cake is the hidden sweet lychee gelee–giving the cake another layer of flavour.
As someone who is not a fan of "cream-based" cakes, Ciel Pâtisserie's strawberry shortcake is surprisingly very fluffy and not too sweet. Despite the layers of cream, it is quite light and it does not leave me sick in the stomach. I have friends who do not have a sweet tooth who love the strawberry shortcake, and rave about its texture and balance of flavours.
Ciel Pâtisserie is a refreshing addition to the estate, bringing sweetness and colours to my neighbourhood.  It is the place that I run to whenever I've got a craving for sweets.
Ciel Pâtisserie
Blk 124, Hougang Avenue 1, #01-1444
Tel: +65 63830803
Mandy's journey into the culinary world began out of necessity–a means of survival whilst she was at university. She believes cooking should be simple and fun. Besides spending time in the kitchen whipping up hearty meals, Mandy also dreams of having a bottomless stomach that she can fill with all kinds of delicious things.