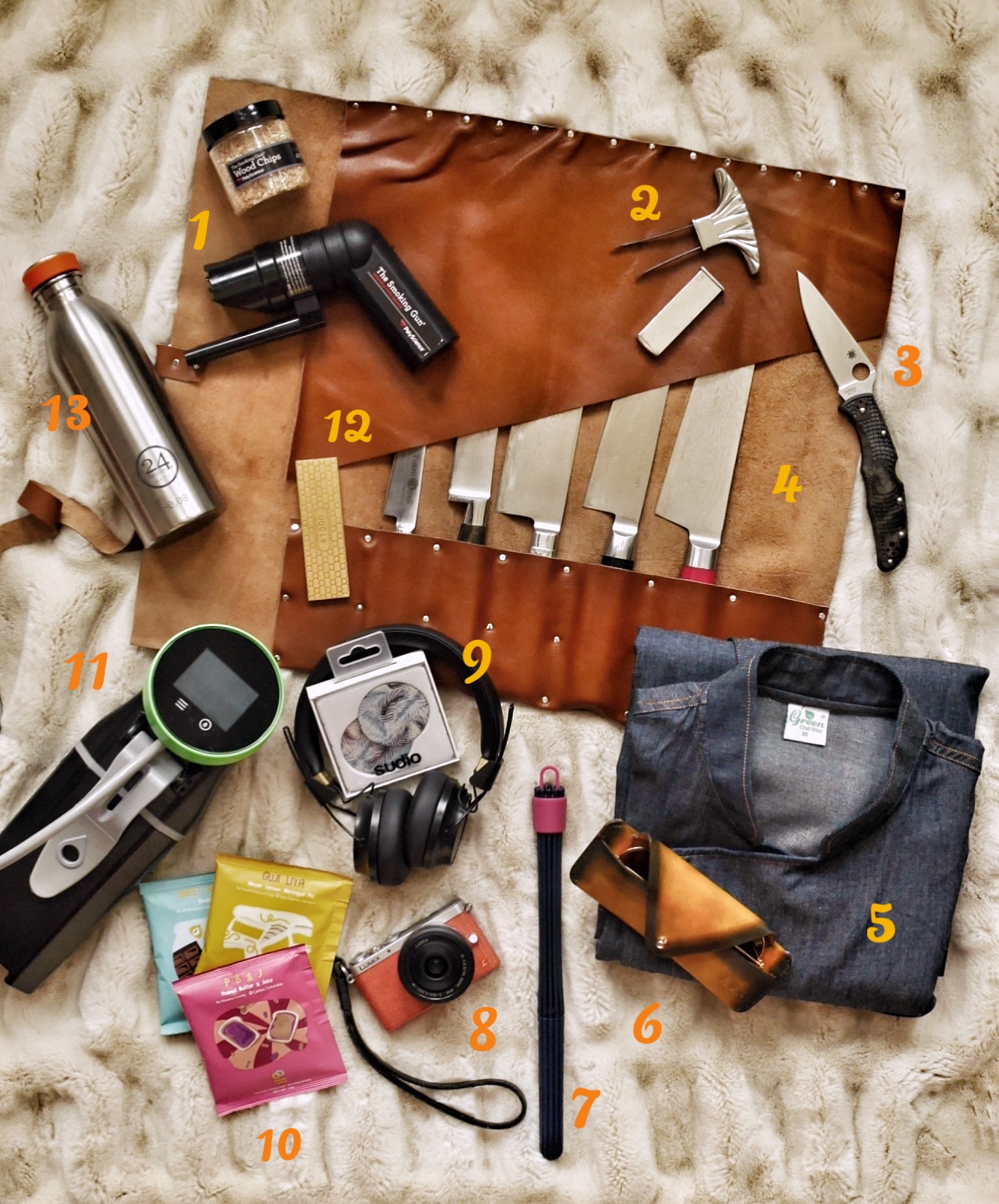 Happy holidays. This little gift guide may be coming too late for most of you, but just in case you've been a teeny tiny bit delinquent in your holiday shopping — or, like my wife and I, just too damned busy — I hope you find this useful.
I'm focusing this year's guide on presents for the nomadic (home) cook that you love, i.e. the foodie who loves to travel and also loves to spend time in the kitchen when abroad. Nowadays, when we travel, we often book apartments or houses. Not only is this an often more affordable solution (compared to hotels), but it means we have a kitchen in which to play. One of my greatest joys when traveling is discovering local produce. And it's really frustrating when you see something perishable and delicious that you know won't survive the trip home. So why not buy it and spend part of your holiday whipping up some yummy meals?
In addition to holidays, I'm also, because of a relatively new side gig, cooking for work while traveling. So some of these nifty gadgets and tools are things that I've found super useful when required to create dishes that are a little more complex. I've also thrown in some cool swag that I've found to be indispensable when on the road.
(1) Smoking Gun. Let's be honest. No one really needs a smoking gun. But they're so damned cool and so much fun to play with. My version is the old one. The new version (co-marketed by Breville and Polyscience) is a whole lot sleeker and more futuristic looking. A smoking gun allows you to infuse certain dishes and ingredients with different wood smoke flavours and aromas. Again, not something you need but super fun to play with once you have one.
(2) Selangor Pewter Fluted Cork Extractor. I love two prong wine bottle openers. In fact, I'd rather use an ah so (as its also called) over any other type of opener. The Selangor Pewter version is beautiful, hefty, and extremely functional. A must for wine lovers.
(3) Spyderco Endura 4 folding knife. A good pocket knife has so many uses. And Spyderco make some of the most durable, well-designed and dependable ones on the market. My current favourite is the Endura 4, which is one of their most admired and popular models. Admittedly, the blade may be a bit large for some people, but I love the weight and feel of this knife. The pictured model has a "zome" handle, meaning the fiberglass-reinforced-nylon handle has been hand-dyed by Japanese artisans.
(4) Leather knife roll. If I know I will have access to a kitchen, I'll always pack a few knives. I hate staying in a rental apartment only to discover that the owner's well-designed kitchen is equipped with cheap and blunt knives. A great knife simply makes cooking more pleasurable. I recently discovered this affordable and simple knife roll on Etsy. Since I'm not a pro, I don't need anything larger than this nor do I want to spend a fortune. This one works perfectly for me.
(5) Chef's jacket. Okay… call me pretentious, but I like to wear a chef's jacket when I cook. I tend to get a little messy and I hate getting sauce stains on my shirts. And when you're on holiday, you want to minimise doing laundry, right? I found this cool, ultra-soft and comfy denim chef's jacket on greenchef.sg and simply couldn't resist placing an order.
(6) Spectacle case. Not a foodie thing but a myopic thing. Or in my case, a presbyopic thing. Because I need to wear glasses (and have different kinds of specs for different situations), and because most freebie cases are just damned ugly, I've invested this past year in some nice leather cases. My fave of the year is this one, also sourced from an Etsy shop. Great slim lines. Easy to access. Cool colour gradations. And free monogramming. A must-have for specs or, if you are cooler than me, your sunglasses.
(7) Normann Copenhagen Beater Whisk. As soon as the wifey and I saw this, we simply had to have it. Push down on the ring, and the "straws" separate to form a very functional whisk. Beautiful, smart, space saving design. Gorgeous colours. This is an incredibly affordable present that will let your intended know you have great taste and an eye for good design. The hardest thing will be choosing which colour to purchase.
(8) Pansasonic GM-1. I love cameras. And I've used my fair share of different types over the years. The GM-1 is hands down my favourite travel camera. The size is amazing. The white balance capabilities brilliant. And it focuses very quickly. It has built-in wifi so you can easily beam your pictures to your phone for editing and sharing on social media platforms. All this being said, for some inane reason, Panasonic has discontinued the GM line. But that's not a completely bad thing. It means you can most likely pick up a GM-1 body on eBay or at your local used camera store for a really good deal. I use this little baby mostly with the Olympus 25mm f1.8, which is — within the micro 4/3 platform — the best food photography lens on the market. It's an affordable lens but it can also focus on subjects at a much closer distance than more expensive lenses of the same focal length.
(9) Sudio Regent Headphones. I can't travel without a good pair of headphones and over the years I've become passionate about wireless versions. And while I like wireless earbuds, for long haul flights, they're pretty useless. For transnational journeys, you need a comfortable pair of headphones with a long battery life. Sudio's version, the Regent, offers over 24 hours of play time. These on ear headphones (I also hate over the ear headphones) have great sound quality and feel luxurious. Which, given the USD$99 price, is pretty impressive. Fashionistas will also enjoy the fact that you can customise the look of the headphones with removable and interchangeable caps.
(10) Hook single serve pour over bags. I took a bunch of these on a family holiday last year and they were a complete life-saver. I love that, with these, I was able to brew a fresh cup of great quality coffee whenever I needed a little pick me up. I'm already a Hook coffee subscriber — they deliver beans to my house on a regular basis. So I'm familiar with their blends and really enjoy several. So nowadays, packing along some single serves bags is a no brainer.
(11) Nomiku Immersion Circulator. Okay, here's where I might lose some of you. I know it's a little crazy to pack your sous-vide gear on a holiday. But you know, if you're serious about whipping up some great meals while on the road, and you have the space, why not? The pictured circulator is my second from Nomiku. I bought the first through their original Kickstarter campaign and liked their product so much, I immediately bought their second generation circulator (my wife is very relieved that this one doesn't look like a dildo — seriously, google their first version!). This circulator works impressively well and is actually compact enough that I don't feel it's excessive to slip it into my bag. But then again, I am a little nuts.
(12) Ultra thin, ultra small knife sharpening plate. I recently went on a semi-work trip in which I had to prepare a meal for some guests. I brought along one stainless steel knife and my favourite carbon steel knife. After one day of prep, the carbon blade needed sharpening, but the kitchen I was cooking in didn't have a sharpening stone or anything suitable for sharpening blades. When I asked the chefs there how they sharpened their knives, they took me outside to a stone pillar and demonstrated how they honed their knives along the sides of this pillar. That night, I logged onto Aliexpress and ordered this super portable little sharpener. It has a 400 grit on one side, and 1,000 on the other.
(13) Stainless steel reusable bottle from 24 Bottles. One thing my wife has taught me over the years is to hydrate. At home, when we go out, I also carry our kids' water bottles. And when we travel, I always bring one along for myself. I like the utilitarian look and the lightweight feel of the single-walled bottles from 24 Bottles. They also makes double-walled ones, which are great for keeping drinks hot or cold.
Well, that's it for this year. I hope you found this useful. I also hope you have a great Christmas, a very happy new year and lots of joy, food and drink! See y'all next year.
Aun has always loved food and travel, passions passed down to him from his parents. This foundation, plus a background in media, pushed him to start Chubby Hubby in 2005. He loves that this site allows him to write about the things he adores--food, style, travel, his wife and his three kids!