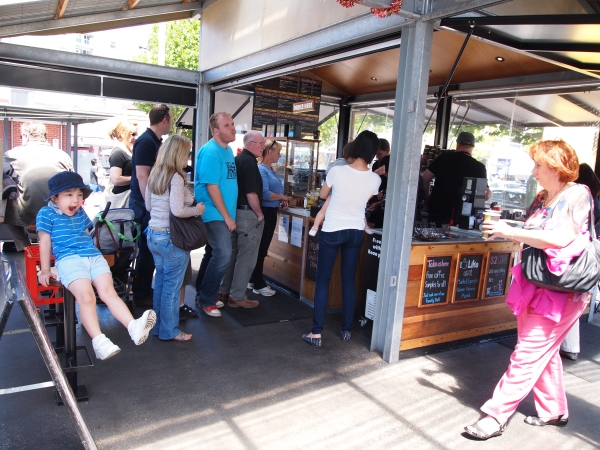 Over the past year or so, there has been a sudden surge in the number of coffee roasters and indie cafes in Singapore. Almost every weekend, we hear of a new chic coffee joints sprouting up, with even better coffee, often tucked away in an obscure part of the city. Being coffee lovers, the hubby and I are thrilled by the recent boom, and we have made checking out these coffee spots part of our weekly date routine, albeit with the kids in tow.
On our trip to Melbourne over the new year hols, we were keen to explore the well-established coffee and cafe culture there and throughout our two-week trip, I'm pleased to say that we were not disappointed even once. Whichever cafe we stepped into, there was excellent coffee to be had, and we especially liked that the roasts were mostly rich, dark and smooth. But I must say that one of our favourite cuppas came from Market Espresso, at the world famous Queen Victoria Market.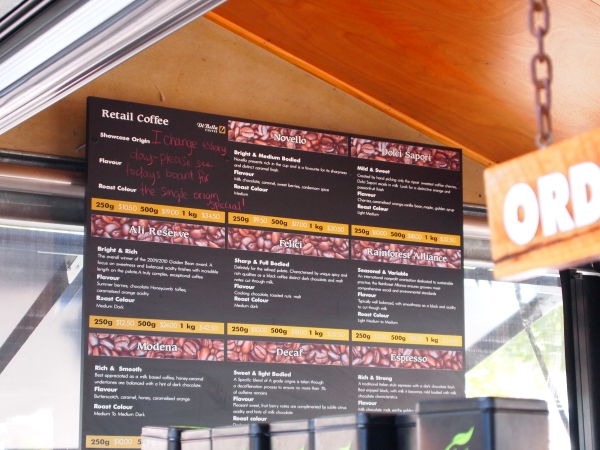 Market Espresso is situated at the entrance to the merchandise section of the market, and there's almost always a queue. Ironically, it caught my eye because it looked refreshingly plain and understated, and I particularly love its simple name. It is basically a coffee counter, with a display case of tantalising pastries by Noisette, and a few stools and tables for patrons. Nothing fancy, nothing loud. They use beans from Di Bella, who are roasters with a presence all over Australia, and the coffee certainly speaks for itself. On our first visit, we ordered a long black made with the house blend beans. Much to our liking, it was robust and full-bodied, with a nutty flavour. On our return visit, the hubby had a double espresso, and I tried a decaf flat white (I'm still nursing my baby girl). It's been a challenge for me to find good decaffeinated beans because they always taste a little muted to me. But this was a great cup of coffee; it was fruity and lively, and the flavours were heightened by the milk, which was heated to creamy perfection. The natural sweetness and richness of the milk was what really struck me, and I remember standing in the middle of that crowded spot for a couple of blissful minutes with my coffee, almost impervious to my two screaming kids, chasing each other around my knees.
We carried two bags of Di Bella beans back home (for every bag of beans you buy, you get a coffee on the house) – one Espresso roast, and a Decaf for me. We were very impressed when we brewed a cup at home, using the deeply-roasted Espresso beans. Best enjoyed black, it was exceptionally robust, sweet and chocolate-y, and left a lingering finish.
Market Espresso is as unpretentious as it gets. It doesn't need fancy decor or designer furniture, the quality of the coffee alone is reason enough to get you going back again and again. Moreover, the staff are knowledgeable and their service is warm and friendly, even when there's a long line and the orders are stacked up. It'll definitely be one of my first stops on my next trip Melbourne.
Market Espresso
Queen Victoria Market
Corner of Queen's St and L-Shed
Melbourne, Victoria
Australia
Tel: +61 478 731 673
Dawn, a lanky food-crazed lady, started out writing for lifestyle magazines, and later spent several years in banking. When not eating, she's cooking, reading about, hankering after, and writing about food. On her first date with her boyfriend (now husband), they dined at four restaurants across Singapore. He's gained 25lbs since, and their culinary escapades continue after welcoming two rotund angels. Dawn's committed to feeding them with the best, and creating lasting food memories and traditions for her family.